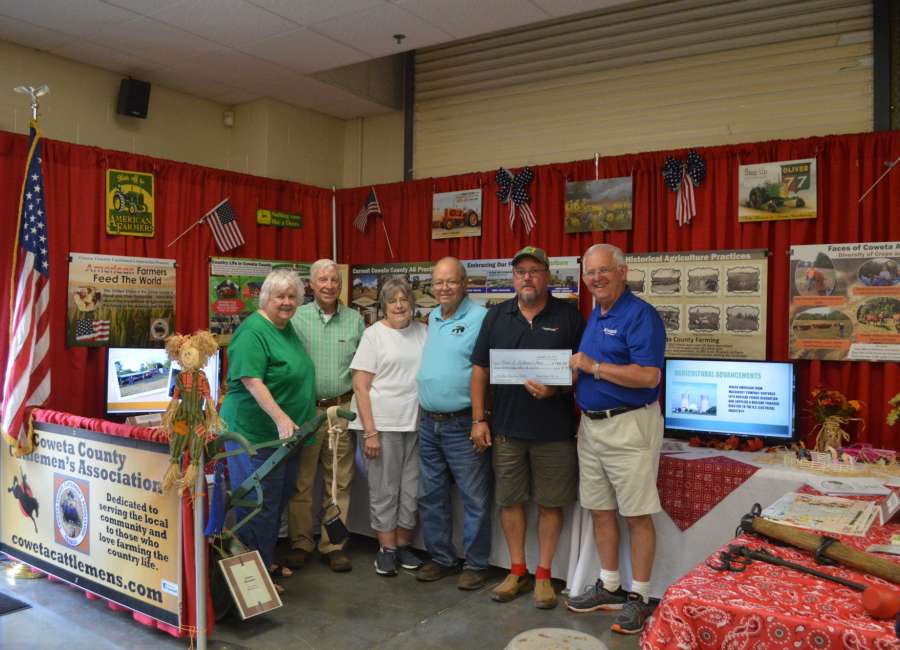 While everyone knows about the midway, and the agriculture, arts and food exhibits get a good many visitors, one of the most overlooked parts of the Coweta County Fair are the educational community booths.

People who check out the community booths can learn about local organizations and programs. And groups that put together the booths can earn quite a bit of money.
Each year, the booths are judged and cash prizes are awarded to the top five booths, with the first place winner earning $750. For some of the smaller organizations, the annual fair money can be a big financial boost.
Quilts of Valor took second place this year, and the money will go into purchasing fabric and other supplies to make more quilts, said Mary Jean Kimble.
The community booth competition is open to any nonprofit organization in the county, and there is no cost to enter, said Coweta Extension Program Assistant Karen Mansour, who coordinates all the exhibits in the exhibit hall and agriculture building for the fair.
Groups who put together booths can choose whether or not they want to be judged, and a group of judges considers each entry based on a point system.
The "blue ribbon" fair is an important part of the yearly event, said Gary Welden, fair chairman for the Newnan Kiwanis Club, which has put on the fair every year since 1947.
There are two main purposes in putting on the fair each year, Welden said. One is to raise money, which is distributed via grants to local service organizations by the Kiwanis Club of Newnan.
"The other is to put on the best fair that we can. Part of that is we want people to be involved in the community. If they come and see the exhibits, they'll understand some of the nonprofits and charities, some of the activities that go on in the community," he said.
There are many local organizations doing good things that people don't have any idea about, Welden said. "We just hope people come out and enjoy the fair, learn something and make good memories."
Mansour said that at fair time, it's like a real-life "Charlotte's Web."
"I give all the ribbons and the checks and the prizes," she said. "Whether it's a photograph, a picture, a jam or jelly, we give it a ribbon and hopefully a check in the end."
Out of the 10 booths entered for judging, this year's winners were the Coweta Cattlemen's Association, first place; Quilts of Valor, second place; 4-H Adventure Camp, third place; Newnan Coweta Historical Society, fourth place; and Coweta 4-H Horse and Pony Club, fifth place.