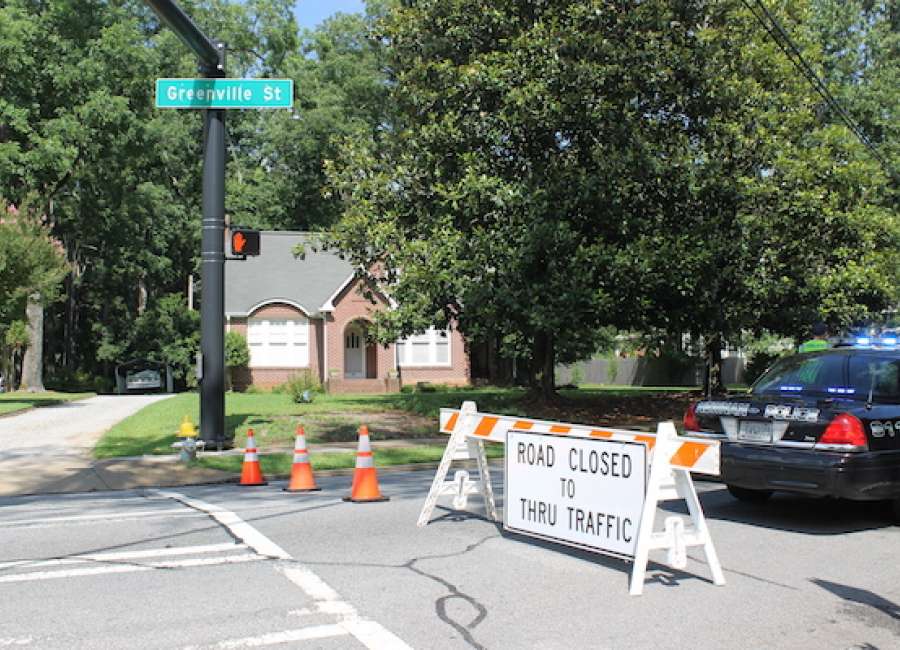 Downtown merchants and residents say they don't want Newnan to be part of "Lovecraft Country" any longer.

The Newnan City Council postponed its decision on a request to film the HBO series' "last hurrah" for two weeks, with a stern directive from Mayor Keith Brady that Random Productions representatives work out their issues with residents and business owners who will be impacted by the project.
Council members will meet again on Sept. 25, two days after prep work for filming would have begun had the request been granted at Tuesday's meeting.
"I know it doesn't fit your schedule, but our town really isn't so concerned about your schedule," Brady said at Tuesday's council meeting.
Brady said he's been bombarded by complaints from merchants and residents whose business was disrupted by street closures and production crew use of downtown parking spaces in June and August, when previous filming for the show took place in Newnan.
Several addressed the council, protesting that Random Productions doesn't care about its effect on the town, whether it's traffic snarls or insufficient (or nonexistent) compensation for lost business.
"I want it to be impressed on them that we are important, and not their movie," said Dee Glazier of Dragonfly Running Company, one of the businesses that has not reached an agreement with the production company. "I keep hearing, 'We have a budget.' Well, that's great. I have sales."
Random Productions requested full closure of Greenville Street at various times over a five-day period while filming takes place at 155 Greenville Street; full closure of LaGrange Street on Sept. 30 and Oct. 1; and full closure of East Broad Street on Oct. 1.
The company also is asking for the use of as many as 244 downtown parking spaces over a production period from Sept. 18-Oct. 2. The city of Newnan will receive an estimated fee amount of less than $22,000 if it grants Random Productions' request.
Jason Kanner, owner of Ace Beer Growlers, said he attempted to discuss the impact on his business with a company representative.
"I said, 'Hey, you're taking the street next to me and that impacts me directly,'" Kanner said. "And I was told, 'We pay the city. Why should we pay you, too?' They come in, they talk, they say what they want to say, and when it comes down to brass tacks, they do whatever they want."
Hutch Murphey of Murphey's Florist is one of the merchants who has yet to finalize a compensation agreement. He said working around film projects has become a hassle.
"All these business owners I assume go in for one reason, and that's to make a living every day," Murphey said. "These movies are just an interference."
Brady told Maria Bierniak, the supervising location manager who spoke on behalf of Random Productions, that he's not sure the project can happen because of the scope of the request.
"It's overwhelming, what you're asking for," Brady said.
Bill Carraro, an executive producer for the series, also addressed the council, apologizing that people in Newnan feel they haven't been heard.
"I assure you that we will attend to those issues and I will personally look into it myself," he said. "We committed to coming here, we established a certain look at a certain area of this town. We'd like to finish that work."
Brady said he'd take Carraro at his word, advising him to resolve the issues by Sept. 25.
"If you can come back and…the people who are here who will be impacted by this can convince us that you have fixed this problem to their satisfaction, then we will be happy to hear what you have to say," Brady said.