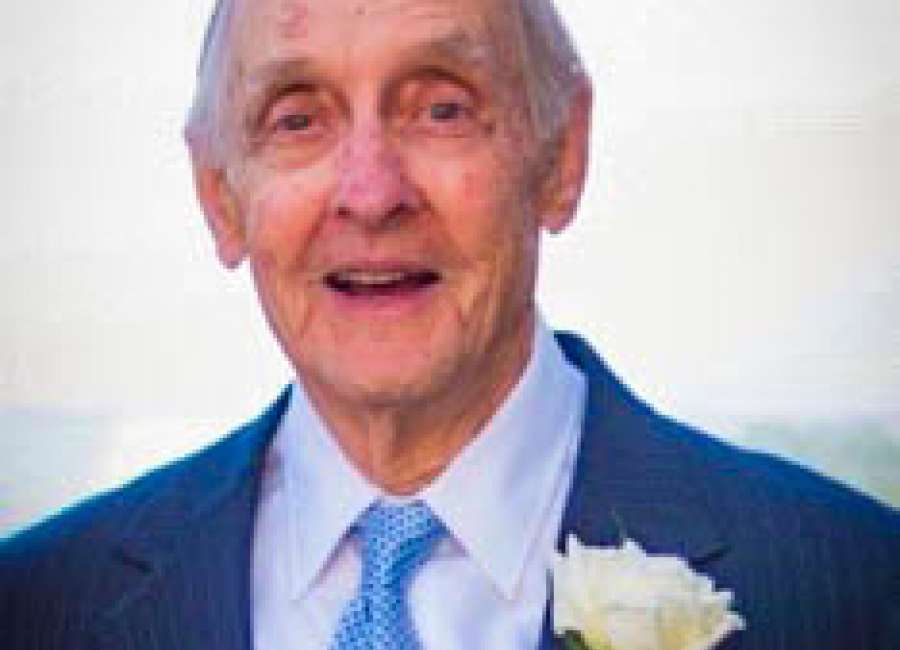 Charles Marion Barron, 97, of Newnan Georgia died at his home on September 18, 2019.
He was born in Newnan, Georgia to Thomas Kellam Barron and Othera Spraggins Barron. His older brother, Harold, called him "Bro," a nickname that stuck with him throughout his life. 
He graduated from Newnan High School in 1939 and then enrolled at Emory University where he received a B.S. degree from the College and a D.D.S. degree from the Dental School. While he attended Emory University, he was a member of the Signa Nu Fraternity and a member of the Emory Swimming and Diving team.
He participated in multiple swimming and diving events and was often the high point leader. In recognition of his athletic accomplishments and his overall service to the University, Emory named the Barron Highpoint Trophy in his honor as an award to the top male and female swimmers each year. During World War II, he served in the Army Reserve. During the Korean War, he served as a Captain in the Air Force at Fort Benning.  
Upon graduation from Emory, Dr. Barron began his dental practice in Manchester, GA where he met the love of his life, Lavinia York. They were married in 1947. He brought his family back to Newnan in 1954 where he practiced dentistry for over 30 years. He served a large number of patients in his practice and also provided invaluable emergency oral surgery services to patients at Newnan Hospital.  
He played an active role in the local community while serving in leadership positions on the boards of the Newnan-Coweta County Airport Authority, the Newnan Historical Society and the Newnan Country Club. He was inducted into the Newnan-Coweta Sports Hall of Fame in 2016 in recognition of his achievements as a swimmer in college, his accomplishments as a multi-sport athlete in high school, and his lifelong skill in golf which he continued to enjoy until the age of 96. 
Upon retiring from his active dental practice, Dr. Barron continued to pursue a wide range of activities. He was a woodworker of great skill and productivity, and many family members and friends are the proud recipients of the results of his craftsmanship. He also applied this expertise to building wheelchair ramps for Habitat for Humanity and various projects that were needed throughout the community. 
An avid gardener, his organic vegetables were enjoyed each year by a wide range of people. He maintained a keen interest in a variety of intellectually demanding topics such as physics and astronomy. In 2015, at the age of 93, he audited an astronomy course at the University of West Georgia-Newnan.
Although he was a highly accomplished individual on many fronts, his greatest joy in life was his family. Dr. Barron is preceded in death by his wife, Lavinia York Barron; parents, T. K. Barron and Othera Barron; brother, J. Harold Barron; and daughter, Lavinia (Vinnie) Barron Rosenzweig. He is survived by his daughters, Sara Kellam Barron (Chet Hurwitz) of Atlanta, Carolyn Barron Watford (Michael Watford) of Newnan; son-in-law, George Rosenzweig of Newnan (Heather Rosenzweig); grandchildren, Gray George of Yuma, Arizona; Guion Rosenzweig (Nick Hernandez) of Tacoma, Washington; Anna Barron Hurwitz Cardamon (Mike Cardamon) of Atlanta; David Hurwitz of Atlanta; sister-in-law, Orlean York Castronis of Athens; and brother-in-law, Marion York (Lore York) of Conyers, as well as many nieces, nephews, and cousins. 
Visitation will be held in the Fellowship Hall of the Central Baptist Church in Newnan on Sunday, September 22, from 2:00-3:30 pm. 
Rather than flowers, the family requests that you make donations in his memory to the charity or organization of your choice.