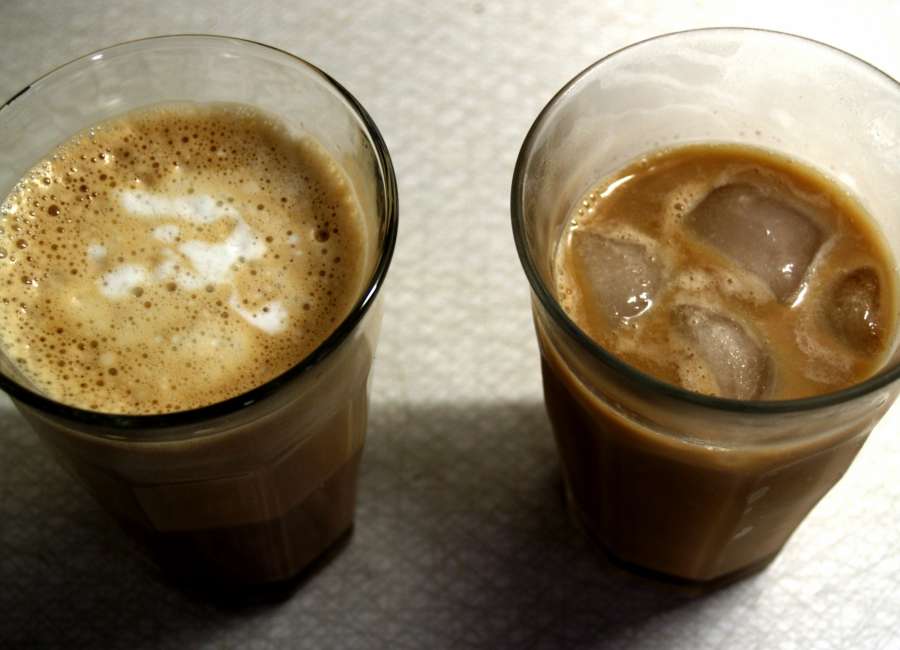 Here are some coffee-inspired recipes to try at home to celebrate National Coffee Day.
Coffee Ice Cream
Ingredients:
2 cups heavy cream
2 cups whole milk
3/4 cup granulated sugar
2 tablespoons instant coffee granules
6 egg yolks
Chocolate curls, for garnish
Recipe:
Combine the cream, milk, sugar and coffee in a medium, heavy saucepan. Bring to a gentle boil over medium heat. Remove from heat.
Beat the egg yolks in a medium bowl. Whisk 1 cup of the hot cream into the egg yolks. Gradually add the egg mixture in a slow, steady stream to the hot cream. Cook over medium-low heat, stirring occasionally, until the mixture thickens enough to coat the back of a spoon and reaches 170 degrees F on an instant-read thermometer, about 5 minutes. Remove from heat and strain through a fine mesh strainer into a clean container. Cover with plastic wrap, pressing down against the surface to keep a skin from forming. Chill in the refrigerator for 2 hours.
Remove from the refrigerator and pour into the bowl of an ice cream machine. Freeze according to the manufacturer's instructions. After the ice cream is made, transfer to an airtight container. Cover tightly and freeze until ready to serve. Garnish with chocolate curls.
(Recipe courtesy: foodnetwork.com)
Coffee Cake
Ingredients:
Nonstick spray
2 sticks unsalted butter, room temperature
2 1/4 cups sugar, divided
2 eggs
1 cup sour cream
1 teaspoon vanilla extract
2 cups all-purpose flour
1 tablespoon baking powder
1/4 teaspoon salt
1 tablespoon ground cinnamon
1 tablespoon brown sugar
2 tablespoons powdered sugar
Recipe:
Preheat the oven to 350 degrees F. Spray a bundt pan with nonstick spray.
Using an electric mixer, mix together the butter and 2 cups of sugar in a small bowl. Add the eggs, 1 at a time, then add the sour cream and vanilla and mix until blended. In a separate bowl, mix together the flour, baking powder and salt. Add half of the dry ingredients into the wet ingredients and mix until just blended, then add the remaining dry ingredients and mix until well combined.
In a small bowl, combine the remaining 1/4 cup sugar, cinnamon, brown sugar and mix until well combined.
Pour half of the batter into the bundt pan. Sprinkle the cinnamon sugar mixture over the batter, then pour the remaining batter over the sugar mixture. Bake until a toothpick inserted into the center of the cake comes out clean, about 50 minutes to one hour. Let cool until just slightly warm. Remove the cake from the bundt pan to a serving dish and sprinkle powdered sugar over the top.
(Recipe courtesy: foodnetwork.com)
Iced Coffee Latte
Ingredients:
1/2 cup instant coffee granules
1/2 cup boiling water
4 cups chocolate milk
2 cups cold water
1 can sweetened condensed milk
Ice cubes
Recipe:
In a large bowl, dissolve coffee in boiling water.
Stir in the chocolate milk, cold water and condensed milk.
Serve over ice.
(Recipe courtesy: tasteofhome.com)
Hot Mocha
Ingredients:
1 tablespoon unsweetened Dutch-processed cocoa powder
1 packet granulated sugar substitute, or to taste
1 cup hot coffee
Skim milk
Cocoa powder, for garnish
Recipe:
In a small mug or coffee cup, mix the cocoa and Sweet'N Low together. Add a few tablespoons of the coffee and stir until the cocoa is completely dissolved.
Pour in the remaining coffee.
Foam the milk. Spoon a generous amount over the hot mocha.
Garnish with a pinch of cocoa powder, if desired.
(Recipe courtesy: allrecipes.com)
Pumpkin Spice Latte
Ingredients:
1 cup milk
2 tablespoons pure pumpkin puree
1 tablespoon sugar
1/4 teaspoon pumpkin pie spice, plus more for sprinkling
1/4 teaspoon pure vanilla extract
1/4 cup hot espresso or strong brewed coffee
Sweetened whipped cream, for serving
Recipe:
Combine the milk, pumpkin puree, sugar, pumpkin pie spice and vanilla in a microwave safe bowl, cover the bowl with plastic wrap and vent with a small hole.
Microwave until the milk is hot, 1 to 2 minutes. Whisk until the milk mixture is foamy.
Pour the espresso or coffee into a large mug and add the foamed milk.
Top with whipped cream and a sprinkle of pumpkin pie spice.
(Recipe courtesy: foodnetwork.com)