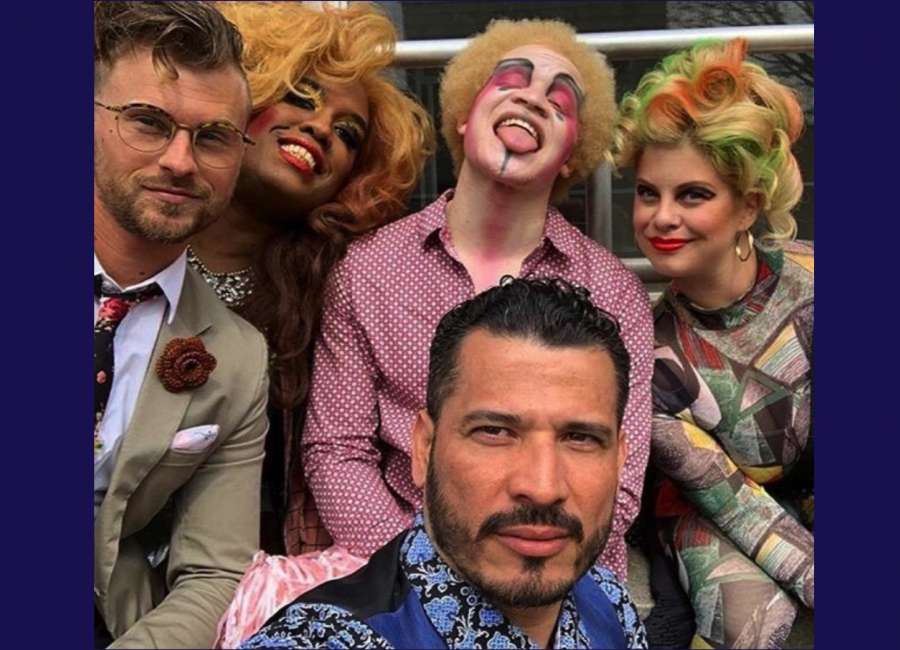 When A. Brown decided to look for a part-time job while she prepared for nursing board exams, she looked to a friend for advice.

"I had an old friend who said, 'If you're looking for something to do to earn a little extra money, why don't you look at doing background work or being an extra?" she said.
For about six months, Brown – who said she still does a little work as an extra – worked regularly in the background on projects like "Insatiable," "Watchmen," "Lodge 49" and "Doom Patrol."
While it may sound glamorous, Brown's particular side hustle isn't for everyone.
"It's stressful in the sense that there's a lot of sitting and waiting," she said. "There are times that you sit up waiting until 11:30 at night to find out a call time, and it turns out to be 5:30 a.m., the next day, in Atlanta. Your day might be as short as two hours or as long as 22 hours. Sometimes you have to bring your own clothes, and sometimes you have to go to a separate fitting, especially for period pieces – I've done '30s, '40s, '60s and '80s."
There are several reputable casting agencies in the area, and to be considered for background work can be as simple as signing up via Facebook and submitting photos and other information. But Brown said it's important to vet any agency that seems "shady" or that asks for information – like your Social Security number – that doesn't seem appropriate or necessary.
Potential scams aren't surprising considering the film and television industries reportedly generated $9.5 billion in Georgia last year, with up to 20 productions filming here at any given time. That can make working as an extra well worth the unpredictable schedule.
"On a good day, I made as much as $420," Brown said. "On a bad day, I probably made around $115. You get paid a minimum of 80 bucks, so it's not a bad deal. A lot of times, people get lucky and get a line here and there, and that ups the pay significantly."
Brown said she got steady work by networking.
"At first I wanted to just get out of the house and do something while I was studying, but I figured out you can really move up if you know how to talk to people," said Brown, who also has worked as a production assistant and a stand-in.
It helps that there are regular "crews" of extras who show up at the same filming locations.
"There are the retirees who aren't there for the money but just want something to do," Brown said. "There are the 'babies' that are around 18-21, trying to figure out what they want to do with their lives. There are those of us wanting to supplement our incomes, and then there are those who are genuinely trying to break into the acting world. It's kind of like a little family that you make."
The one common factor is flexibility.
"You might as well clear your schedule for the next 24 hours," she said. "It's hit and miss – you never know where it's going to be. You really don't know what you're about to be doing. You may never get used, or you may be used the whole time. You can't discuss what you're doing at the time, or what scenes."
But "it's still cool," Brown said.
"It was something that I really thought I'd do three times and be over it, but I really liked doing it," she said. "It's opened up other doors."
•••
Side hustle schemes
Looking to earn some extra cash? Here are some out-of-the-box ideas, courtesy of www.entrepreneur.com :
Rent your spare room on Airbnb. You'll get paid 24 hours after a guest checks in, which helps avoid potential scams. Some people earn their primary income by renting out rooms or homes on Airbnb.
Answer questions on JustAnswer. If you have a high-level skill such as experience in law, medicine or information technology, you could get paid to help others navigate certain topics or areas of contention.
Tutor over Skype. This is ideal if you're looking to earn more money than the local job market can potentially provide in your field.
Become a personal chef. If you're a good cook, you could easily market your services on social media or build a personal website, or you can use established websites for advertising personal chef services.
Participate in marketing focus groups. Marketing companies are always holding focus groups to study the consumer's response to products, services and advertisements across a variety of mediums. No special training is required.
Create YouTube tutorials. Creating YouTube tutorials can help you earn a respectable amount of income as long as what you deliver is engaging and keeps people interested for long enough.
Become a personal shopper. Scour the web and other online resources to find people looking for personal shoppers.
Teach a language. If you know a second language, and you're well-versed enough in it, you could teach it to others. You can even teach English to students.
Sell your hair. If you have long hair and don't mind a new style, you can advertise your hair for sale on any number of websites.
Become a virtual assistant. Virtual assistants are in high demand, but it only makes sense from an income standpoint if you have lots of free time and you're very organized.
Are you one of the millions of Americans who have a side hustle? Tell us about it at news@newnan.com.