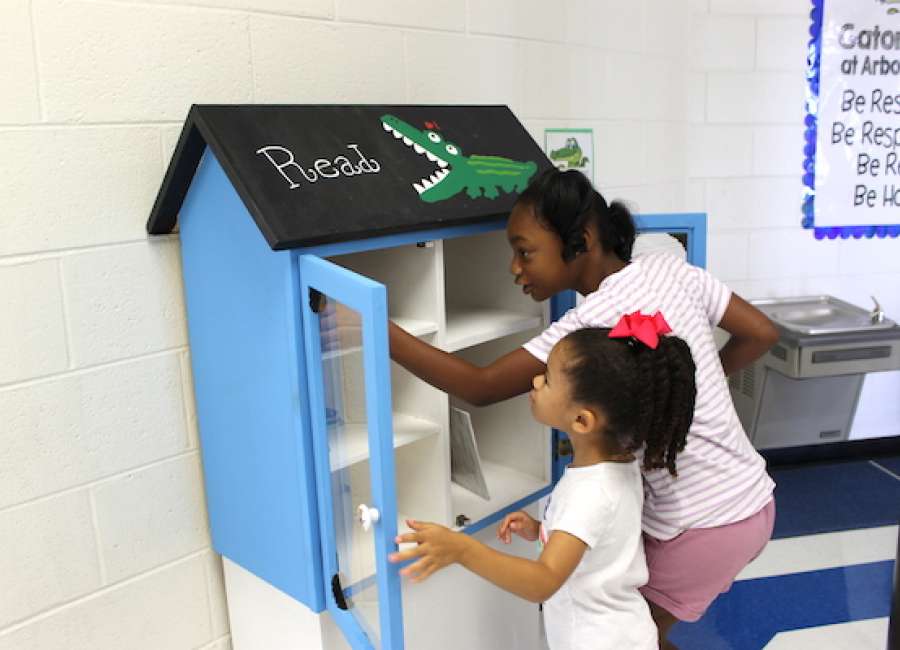 Arbor Springs Elementary School has a new incentive to get their students reading: the addition of a "Little Free Library." 

The library was built by school Librarian Carla Dickerhoff, with help from her father and husband. 
Dickerhoff said she wanted to debut it on National Read A Book Day, which is celebrated annually on Sept. 6. 
She said students are going to donate books from home, take a book out, read it and bring it back for other students to borrow. 
The Little Free Library is positioned in the hallway next to the lunchroom. Dickerhoff said it will be easy for students to donate some of their old books. 
Principal Julie Durrance said the addition of the Little Free Library is part of getting students more excited about reading. 
She said last year they started an initiative for everyone in the school to read 30 books throughout the year. 
"This is a school-wide program. Students, teachers and administrative staff are all encouraged to read 30 books," Durrance said. 
Teachers are also encouraged to display the book covers of the books they have read to show their progress. 
Last year, 74 percent of the student population read 30 or more books, according to Durrance. This year, they are aiming for 100 percent. 
Durrance said the administrative staff at Arbor Springs read "The Book Whisperer," which gave them the idea to teach students how to be readers for life. 
The students have had the opportunity to choose the books they want to read, and every teacher allows independent reading at certain points throughout the school day. 
So far, the initiative seems to have made an impact on the school. Dickerhoff said regular library circulation has gone up significantly. 
Durrance said there has been an increase in reading school-wide, with students bringing books to lunch, waiting in line for picture day and on the playground.