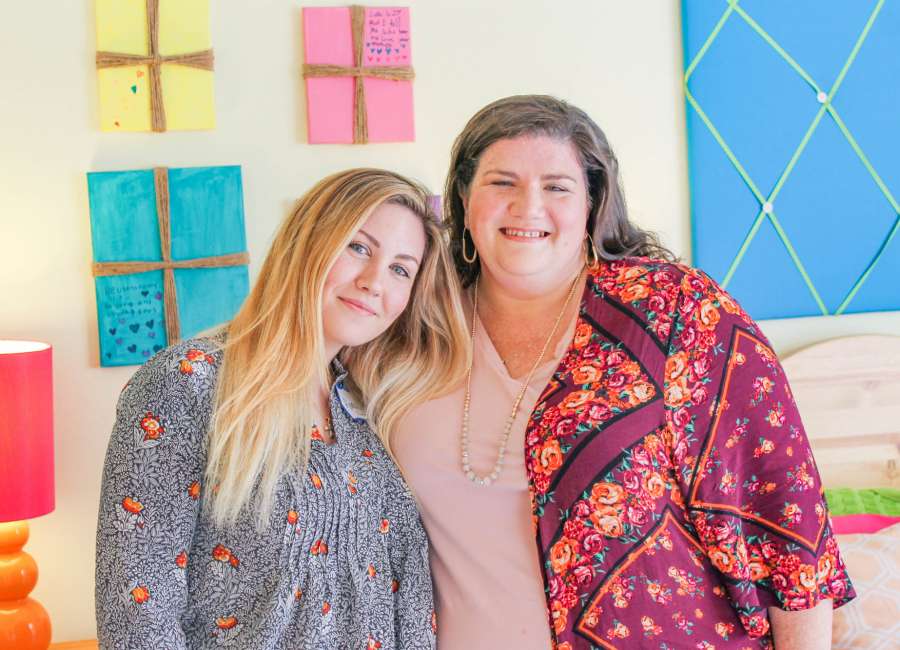 When you walk down one of the hallways in Angel's House, each door has a card that says how long the child that lives in the room has been there. 

The first child's room says she has received 1,055 nights of care at the Angel's House and that she is an avid reader. 
The rooms are decorated perfectly for the teenage girls who come to stay for a few nights or several months. 
Angel's House opened on June 21, 2004 and celebrated its 15th anniversary Sept. 18. 
For Alena Andrews, attending the anniversary celebration was like coming home. 
Andrews stayed at Angel's House for almost a year when she was a teenager. She came from a group home in Atlanta and said she was surprised by how different Angel's House was. 
"I was unexpectedly greeted with open arms," she said. "Angel's House really helped me find my way and changed my life." 
Now, she attends Georgia State University and is studying public relations. She also has two sons, ages 3 and 5. 
Andrews had the opportunity to visit the room she lived in while she was at Angel's House.
"To be here today is incredible," she said. 
Andrews was also able to catch up with someone who was on staff when she was there. Sania Elshorbgy worked at Angel's House for six years, and her time overlapped with Andrews' stay. 
"It feels like I never left. It feels good to be back," Elshorbgy said. 
Over their 15 years, Angel's House has helped 260 children. Now, they provide a safe place for teenage girls ages 11-18 who are in crisis, according to Kaye Todd, the administrative assistant at Angel's House. 
Some of the girls they serve are placed in DFCS custody because of abuse, neglect or risky behaviors. Some are transitioning between foster homes or require immediate assistance in other circumstances, according to Todd. 
A majority of the girls that come to Angel's House – 63 percent – are from Coweta County. Others come from counties all over Georgia, according to www.theangelshouse.org . 
Angel's House is managed by the Georgia Baptist Children's Homes and Family Ministries, Inc. Four direct care staff act as the "parents" of the house, rotating week by week, and two are always in the house. 
Angel's House can hold up to 10 girls at once, according to Todd. They are provided with shelter, clothing, transportation, food, education and activities. 
The staff tries to make Angel's House feel as much like a home as possible, according to Todd. Each night, the care staff who are on duty cook dinner, and they sit at the dining room table with the girls as a family. 
For direct care staff members Erik and Angela Vielhaber, working at Angel's House is their calling. They have been with Angel's House since 2009. 
Angela said she has known since she was 16 that this is what she wanted to.
"We prayed, and God opened all the right doors," she said. 
She said they work with many girls who have varying levels of emotional needs and are behind in school. 
"We have a small window to pour as much love into them as we can while they are here," Angela said. 
Erik said they have the opportunity to take the girls out to eat, to the movies, shopping and educational trips to the zoo and the aquarium. 
He emphasized that they try to teach them life lessons, such as budgeting and manners, in everything that they do. 
"We try to instill lessons for them all along the way," said Erik. "We work on teaching them as many life skills as we can." 
The Vielhabers added that many of the girls get to experience things for the first time while they are at Angel's House. 
"Whether it is a baseball game, or even going out to eat, many of the girls experience things here for the first time that we take for granted," Erik said. 
Cortney Lyle, vice president of the Angel's House board, said that it has been neat to see the ripple effect of the Angel's House in the community. Girls who had been served by Angel's House have graduated and become part of the community. 
"As long as there is a need for us, we will be here," she said. "We will be making girls feel loved for another 15 years."