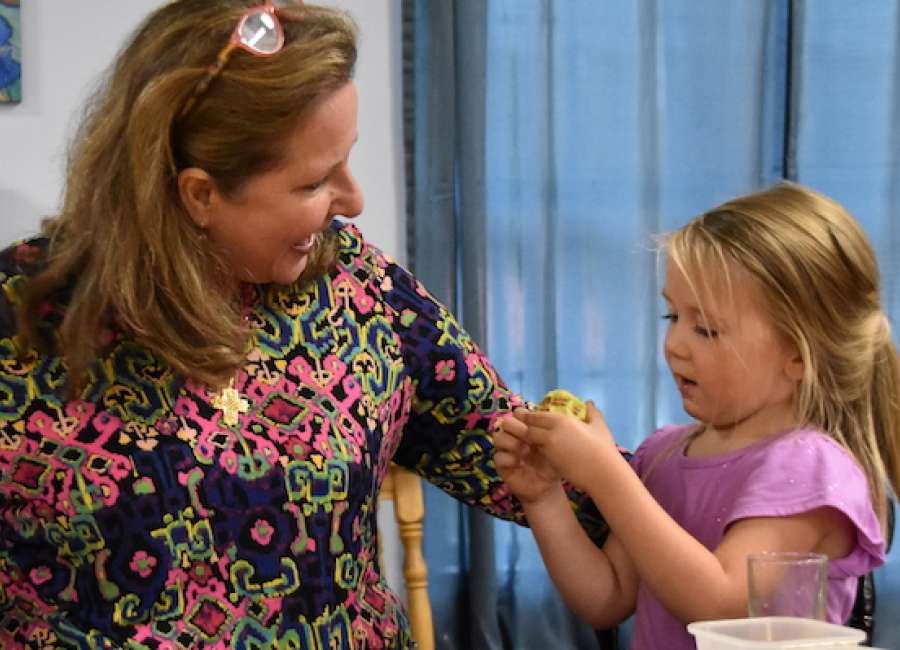 Beth Wagstaff's journey to becoming the head of school at the Carolyn Barron Montessori School bears witness to the validity of "cosmic education," the foundational sense of perspective that allows you to find your connection to the universe.

Wagstaff is the eldest daughter of Carolyn Barron, who passed away at age 54 from a subarachnoid hemorrhage – the same type of hemorrhagic stroke that claimed the life of Maria Montessori, creator of the Montessori method and a proponent of cosmic education.
Wagstaff lost her mother when her firstborn son was just three and newly thriving in a one-room Montessori preschool program. 
"My oldest had been in all kinds of daycare situations, but I was not satisfied with what I was getting," she said. "He was not challenged, and he was like a caged tiger in the evenings."
Barron encouraged her daughter to enroll her son in Robin Huff's program, where Wagstaff said he immediately flourished.
"Literally within one week, I had a new child," she said. "Everybody saw the changes, and all my family was amazed."
'How can we honor your mother?'
When her mother passed away unexpectedly, mourners made donations to Central Baptist Church in lieu of funeral flowers. 
When Joel Richardson, Central's pastor at that time, asked the family how the funds could best be used to honor Barron, the Carolyn Barron Montessori School came into being.
"Robin came to us and asked us if the church would like to purchase her program," Wagstaff said. "I knew Mama had loved it, and we didn't have a mother's morning out program. It grew out of the church and eventually became its own entity."
So how did the registered nurse with careers in critical care and pharmaceutical sales end up as head of a Montessori school? 
Montessori's insistence on giving children an opportunity to figure out how they came to be and how they fit into the big picture makes perfect sense to Wagstaff, who said it was like a plan was already in place and all she had to do was follow it.
Wagstaff was involved as a parent while her three sons attended CBMS, and she was board chair of the PK-8 school in 2012 when she decided to accept the offer of an early retirement package from her pharmaceutical company employer. Shortly after, her father was diagnosed with pancreatic cancer and she became his caretaker.
A love of the educational process
Serving on the Coweta County Board of Education in the late '90s, Wagstaff was familiar with the wider educational process, and all of her children graduated from Newnan High School. But she remained fascinated with Montessori.
"I have loved the educational process for a long time, and I am so enamored and in awe of the genius of Dr. Montessori," Wagstaff said. "It's amazing when you align the ability to challenge the brain and the physical growth."
It made Wagstaff a natural fit for the head of school position, which she took over three years ago. In June, she completed a Montessori leadership course, and she said her big question for parents who are considering CBMS is "What kind of adult do you want to raise?"
The Montessori method follows the child, providing "freedom within limits" as they learn practical life skills along with academics. Self-directed activity, hands-on learning and collaborative play in multi-age classrooms allows children to make their own choices as teachers provide age-appropriate activities.
All of the lead teachers at CBMS are Montessori trained and use authentic Montessori materials. Three-hour, uninterrupted work cycles mark school days for each classroom and students work in five classrooms: toddler (18 months-3 years); primary (ages 3-6); lower elementary (ages 6-9); upper elementary (ages 9-12) and middle school (ages 12-14).
It's a situation in which every student can thrive, said Wagstaff, who also happens to be the mother of a special needs child.
"The key factor is trust for every type of education, trust in the child, the parent and the method," she said. "(My son) is living proof for me as a mom and as a head of school. I've seen it from both ends."
Providing a moral education
Grace and courtesy are important components as well, Wagstaff said.
"We teach a moral education," she said. "Do unto others as you would have them do unto you. Be kind to one another. Have kindness and compassion for your classmates."
Kindness and compassion extend outside the classrooms as well.
"We spend a lot of time doing giveback," Wagstaff said. "It's part of the curriculum to think outside ourselves and the things we're involved in."
At Thanksgiving, each class decides on a charity to support – a coat drive, food drive or blankets for nursing homes. Every other Thursday, the adolescent program students volunteer at Bridging the Gap, and students also have participated in Central Baptist's "Feeding Our Friends" program, putting together meals for delivery to people in need and shut-ins.
Last year, six elementary students worked with Scholastic and raised $2,500. The money was donated to Leap for Literacy – a nonprofit that addresses the lack of access to printed materials in at-risk communities – and purchased 1,000 books. That allowed every child at Ruth Hill Elementary School to choose a free book to take home.
The totality of her experiences as a mother and educator, along with the results she's seen in her students, is "cosmic" enough for Wagstaff.
"It matches everything I know about what the process should look like," she said.
•••
At a Glance:
Carolyn Barron Montessori School
195 Jackson St., Newnan
770-253-2135
Head of School: Beth Wagstaff
Population: 100
Staff: 25
Facebook: @CBMSNewnan
Twitter: @CBMSNewnan
What makes CBMS unique? Montessori-trained lead teachers; multi-age classrooms; three-hour uninterrupted work cycles; use of authentic Montessori materials.