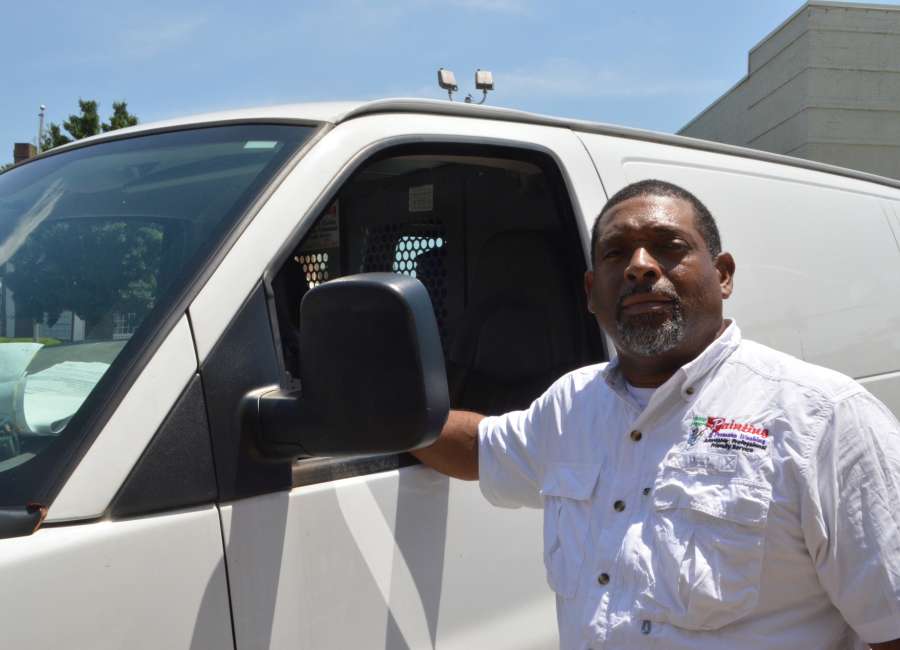 When Jarmaine Elder got a letter saying his license had been suspended – from speeding tickets from 2005 and 2007 – he at first thought it was a scam. 
Elder hadn't heard about the computer glitch at Coweta County State Court that had caused some 2,000 traffic violation records to be inadvertently transmitted to the Georgia Department of Driver's Services.
The letter said that Elder could have the suspension lifted – and points removed from his driving record – by taking a defensive driving course. So he decided to go ahead and sign up for the $100 course.
"As soon as I had paid, my mom called and told me it's a mistake," Elder said. "She said, 'You just have to go to get it taken care of."
He decided to take the class anyway. Then he headed to Coweta State Court.
Elder said the woman at the clerk's office looked over his case and told him, "Everything is OK, you're good," and so he left assuming that everything was fine, he said. 
But everything was not fine. That evening, Elder got pulled over. He knew why as soon as he saw the blue lights – he'd renewed his vehicle tag but hadn't yet put the stickers on. 
Then the officers with the Newnan Police Department ran his license. It came back suspended. They gave him a warning for the tag stickers but arrested him for driving on a suspended license.
Elder said he told the officers about the computer glitch.
"I said I have taken care of it, they said I was good," he said. "They said, 'No, your license is suspended.'"
Elder said he eventually gave up trying to convince them, and headed to jail. He said he was grateful that they didn't have his work van towed. And the officers were very kind and courteous, he said.
After about five hours in the Coweta County Jail, Elder said he posted a property bond and was released. He spent most of Tuesday trying to get to the bottom of things. He said he spent about two hours at Coweta State Court, and was told that the suspension was cleared but not to drive for about 24 hours to make sure everything was OK.
He called a number to check his license status and it came back valid, and then he went to the local DDS office to make sure. 
Most of the records that were inadvertently sent to DDS through the glitch were duplicates. The records dated from a time that state court was still using paper tickets. Over the years, court staff have entered those tickets into the new electronic system. 
But 119 of the records were never sent to DDS when they were supposed to be, and that appears to be what happened in Elder's case. 
Back in his younger days – what Elder called his "didn't care days," he had a bit of a lead foot. Between 2005 and 2007 he accumulated several speeding tickets and traffic infractions. When a ticket from 2005 was added in to the others in that two-year period, Elder was suddenly over the 15-point threshold for a license suspension. 
Elder said he is a different person than he was back then. "Most definitely, because of that man upstairs who intervened in my life," he said. Now, he's a pastor. 
Coweta County will be reimbursing Elder for his expenses related to his arrest, said Coweta Communications Manager Tom Corker. State Court Judge John Herbert Cranford signed an order on the issue Thursday and Elder should get a check next week, he said.
Elder said he went to the NPD Friday afternoon to pick up his license, which was taken when he was arrested. He's waiting to hear that the charge of driving on a suspended license will be dropped. 
Corker said Coweta State Court officials are still working through the list of records affected by the glitch.
"At this time, we know of 15 individuals who need to have corrections made," he said. 
The court has a list of the people who received letters from DDS saying their licenses had been suspended, he said.
"It seems the majority of those are on the duplicate list. DDS continues to work on the remainder," Corker said. 
Until DDS completes all the paperwork, "there is still a chance that there could be a problem should an individual be stopped for an unrelated violation," Corker said. 
Elder said he wants to raise awareness of the problem so that what happened to him doesn't happen to someone else. 
He's self-employed, didn't have to pay a bondsman, didn't get his vehicle impounded, and got arrested in Coweta County. But others affected by the glitch might not be so lucky. 
An arrest could be devastating to someone that really doesn't know what is going on or how to handle the situation, Elder said. Someone could lose their job for missing a day of work, or the arrest could cause major problems for someone who is on probation in another county. Someone might not be able to get their car back from the impound to pick up their children, and they might not have friends or family to help. 
"It can escalate into something more and cause a snowball effect down the road," he said. "Everybody is not as fortunate as others in being able to take care of business."
Elder said he wants to make sure everyone – particularly law enforcement – knows about the situation. 
And "everybody's got to stop playing the blame game," he said.
Though he spent an entire Saturday taking the defensive driving course, he learned a lot. 
"I try to look on the positive side of things," he said. "I advise anyone, especially our young drivers, to take the class."
If you have concerns about your driver's license status in relation to the glitch, you can check your license at https://online.dds.ga.gov/DLStatus/ or by calling 404-657-9300.