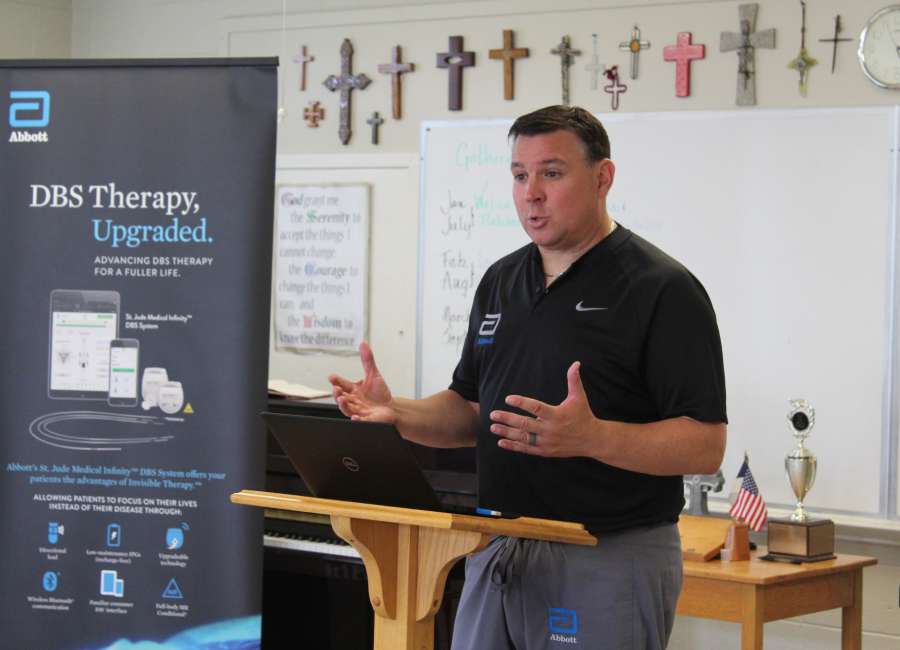 Tim O'Brien, a clinical specialist with Abbott, spoke to the Newnan Parkinson's Support Group on Deep Brain Stimulation (DBS) and the procedure's ability to treat Parkinson's Disease.
The procedure affects areas of the brain through an electrical lead that can help with motor fluctuations, rigidity and medicine reduction, said O'Brien.
The treatment is for "when the burden of Parkinson's Disease is interfering with your daily function, quality of life, occupation and leisure activities," O'Brien said. "It's not a cure because there isn't a cure, but it will help you. It's not a last resort."
According to O'Brien, the lead is implanted through a surgical procedure on the skull. After two to three weeks a second procedure is required to install a small generator that looks like a pacemaker near the collarbone. A wire underneath the skin connects to the two devices.
"There was a guy I met in Myrtle Beach, and he was taking 16 pills a day," O'Brien said. "He started DBS and now he's down to two pills."
Before meeting with their doctor about DBS, O'Brien said a Parkinson's patient should have the disease for three to four years, respond to levodopa – a common medication for Parkinson's patients – and have some impaired movements.
The evaluation to receive DBS consists of a magnetic resonance imaging (MRI) scan, a neural psych test and an activity and daily living assessment, according to O'Brien. The patient will also come in off medications so they can receive the drugs during the appointment to see which they are benefitting from.
After the procedure, O'Brien said the level of stimulation supplied can be controlled through a smartphone app and patients should work with a specialist to find what level of stimulation is comfortable for them.
The Newnan Parkinson's Support Group meets the second Tuesday of each month at First United Methodist Church of Newnan. Their next meeting will feature Michele Drew, a pilates instructor, on Sept. 10.