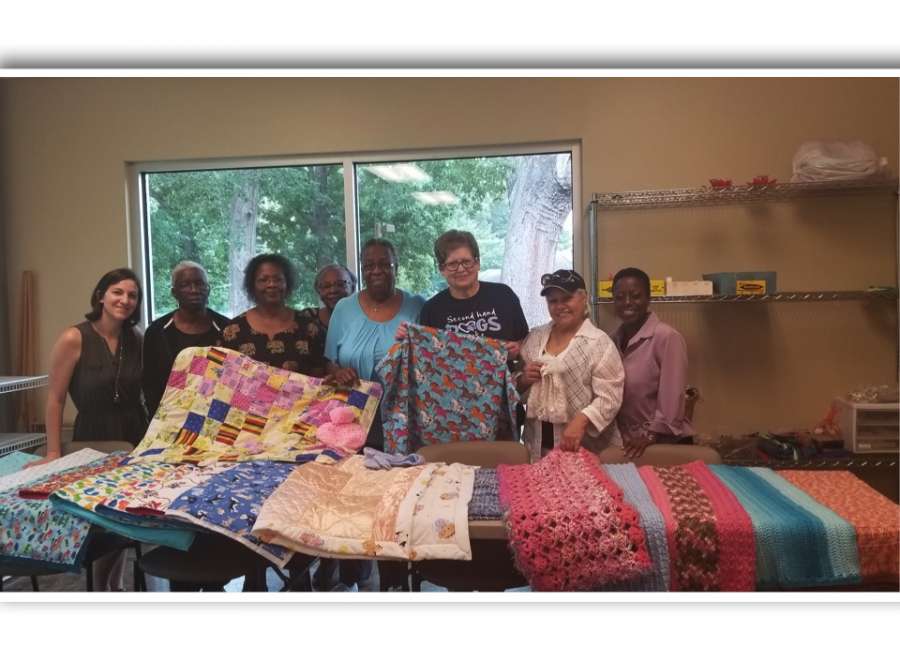 Seniors at the Tommy Thompson Senior Center have spent many months this year sewing quilts for philanthropic causes, and their latest project is geared toward domestic violence victims. 

Marquetta Smith, executive director of Safe Harbor International Ministries, said she is partnering with different organizations and senior centers for the Love Project, which highlights families, military families, victims of abuse, children who are facing life-changing terminal illnesses, soldiers who are being deployed and many more individuals in need each month.
"We can't do what we do without these individuals that take the time out of their days to sew for us," Smith said. "Our quilts are a representation of a hug because it feels like we are giving these families a big hug from everyone. These quilts show individuals that we took the time to make something special just for them to say that they are loved and not forgotten in their most crucial time of need."
Safe Harbor International Ministries in Fayetteville offers victim advocacy services, counseling, mentoring, training programs and educational and social service initiatives to transform the lives of men, women and children, according to Smith.
The ministry serves Coweta, Troup, Clayton, Fayette, Henry, Spalding, Pike and Jefferson counties, other surrounding counties in need and international communities.
Margie Williams is one of the women working on the quilt. She also worked on the quilts for the Hatian widows last month. 
The Newnan native said she has been sewing all of her life, making her own clothes out of flour sacks her mother would purchase.
Mary Daniels, Hazel Rush and Betty Moore are also working on the Love Project and worked on the quilts for the Hatian widows. Mimi Martinez and Linda Carter joined the veteran sewers on this project.
Carter said she knew how to sew, but had never made a quilt or blanket.
"I loved it," Carter said. "I crocheted some blankets and plan to make more."
Martinez knitted hats for babies and small children, even spending time at home to complete the project. Some of the other women said they also worked on the quilts and blankets at home and on the weekends.
"I just love the little ones," Martinez said. 
Smith said the ministry's goal is to give away 1 million quilts, which she said would equal 1 million hugs to those in need around the world. 
"We will keep going until we reach our goal," Smith said. "We know this is a big goal, but with the help of our communities in Coweta, I know we can reach this goal."
Smith said The Love Project was started more than three years ago after she and her mom had their own experience with domestic violence.
"We needed something to help us heal from all the pain we suffered, so we started sewing," Smith said. "Each time we worked on a quilt, it felt like we were releasing our pain, frustrations and our past. Quilting together gave us an avenue to talk about our painful past and to plan for our future."
Smith said after sewing the quilts, she and her mother looked for people to give the quilts to. When they were able to gift them, Smith said they received good feedback.
"People would tell us how much the quilts made them feel special and blessed and appreciated that someone thought enough of them to give them something that was so unique and special, so we started giving more quilts away," Smith said.
So far, the ministry has given away 323 quilts, according to Smith. 
Sewers at the Tommy Thompson Senior Center will add an additional 16 quilts to that number.
Smith said the quilts will be hand-delivered to Promise Place in Fayetteville, which exists to prevent domestic violence through awareness programs, educational training and providing safe environments for the victims and their families and utilizing legal advocacy, emergency shelters and transitional housing, according to its website. 
Leila Heptinstall with the senior center said donations were made to buy the fabric for the blankets. She said more donations are being accepted so the women can continue to sew and be involved with the project.
For more information about the Love Project or to donate, contact Smith at 
404-692-3245 or contact@safeharborim.com