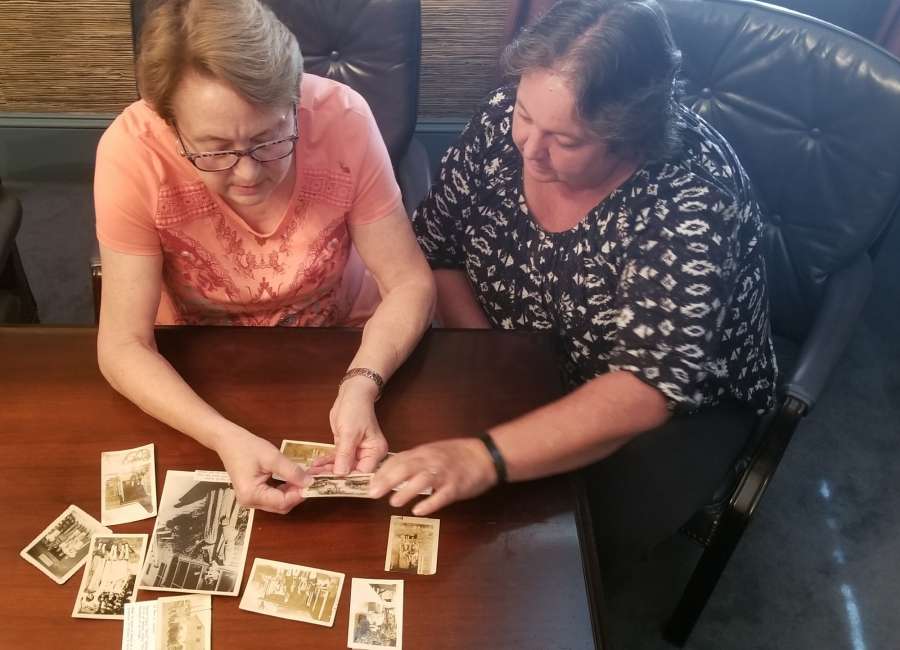 September is just around the corner – a month when many families hold their annual reunions.

As relatives get together to see their oldest aunt and favorite cousin, they also often are celebrating a shared spiritual heritage. Some reunions are actually held at churches – often churches that are part of the family's heritage – and others have some spiritual component such as a prayer before the meal or the singing of hymns.
The Hunter Reunion will be held Sept. 8 at 1 p.m. in White Oak Hall at White Oak Associate Reformed Presbyterian Church, 2796 Gordon Road, Senoia.
"So many of us grew up in White Oak," said Kristi Coggin, a Hunter descendant who helps put the reunion together each year and who is an active member at the church.
This marks the 38th year for the reunion. Melanie Whitehead, who also is one of the prime movers in making the Hunter Reunion happen, reflected on the importance of the reunion to collect family history, stories from the various branches of the family and even photographs of Hunters from years ago.
"Someday this is going to be gone," she said, unless the stories and pictures are collected and documented. "We need more stories."
The reunion has been held at White Oak Presbyterian most years and was started by Sue Gantt Hunter, a longtime church member. In addition to bringing the descendants of Civil War soldier Nathan Young Hunter together for food and fellowship, the reunion also has a heritage of its own.
"I'm intrigued by all this," Whitehead said. "I was reading some of the notes from past reunions."
A number of Cowetans attend the Quick-Turner-Stubbs Reunion each year. Coweta resident Linda Thigpen has been a part of the reunion since it began 20 years ago.
 "I'm the only one who's made it for all 20 years," she said.
That reunion will be held Sept. 7 at the Birdie Clubhouse, 1669 Birdie Road, Griffin. Hours for the gathering are from 11 a.m. to 3 p.m.
"This year we are celebrating 20 years of meeting extended family members and sharing family history," Mary Quick Binsion said.
"These families settled in Fayette and the surrounding counties in the early 1800s after leaving their homes in South Carolina," Binion said. "Some of the other surnames related to these families are Middlebrooks, Newton, Thomas, Eady, Kelley and numerous other families."
The first reunion meetings were held at Inman United Methodist Church. Thigpen said that church is one that included pioneer members of the families as members.
The Strickland Reunion has met in different places, including in Newnan and in Luthersville. For the past six years, the reunion has been held at Bethel Baptist Church near Luthersville.
Margie McCoy, who is getting ready to mail invitations soon for the Sept. 29 reunion, said attendance at the reunion has grown since the meetings were moved to Bethel's spacious fellowship hall.
"It's the root of the Strickland family history," McCoy said of Bethel. "That's the church that our family helped found when they settled here."
Many family members are buried in Bethel's cemetery, while others rest in the Luthersville City Cemetery or the Strickland Town Cemetery, which is in a rural spot just a few miles from Bethel.
McCoy said each piece of wood panelling and each weathered pew makes her think of Stricklands from years past who worshipped there, worked to keep the church alive and found God in its sanctuary – often during a two-week summertime revival.
"They worked to keep the church going all these years. It's God's house and an honor to worship there," McCoy said.
Visits to Bethel on reunion day often include a time looking at graves in the cemetery – and a trek into the woods to see the spring fed baptismal pool where many of the clan have been dipped into the water.
"We always have to walk to the pool," McCoy said.
Organizers of all three reunions ask that attendees bring covered dishes and memorabilia that shares some aspect of the family's history.
Putting together a reunion is a lot of work. "The reward is having everybody come together," McCoy said.
She said having a family reunion means cousins see each other sometime other than at a funeral. "There are so many wonderful times" to remember, she said.