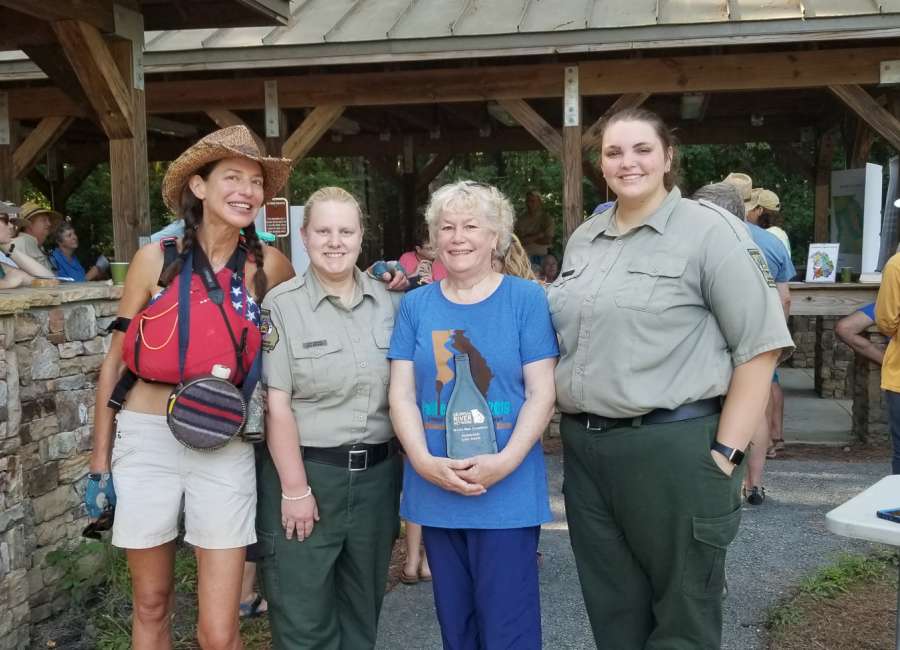 Chattahoochee Riverkeeper celebrates 25th anniversary with paddle trip 

Nearly 80 paddlers participated in the The Georgia River Network and Chattahoochee Riverkeeper Way Down Yonder on the Chattahoochee paddle trip Saturday, according to Rena Peck-Stricker, executive director of the Georgia River Network.
The trip was part of Chattahoochee Riverkeeper's 25th anniversary Relay Down the Hooch Celebration. 
Founded in 1998, Georgia River Network serves as the voice of Georgia's rivers and works to empower everyone to enjoy, connect with, and advocate for economically vital and clean flowing rivers, according to its website.
Peck-Stricker said the Georgia River Network is working hard to connect more underprivileged youth to wilderness and the river.
She said the Chattahoochee Bend State Park is a jewel water trail.
Chattahoochee Bend State Park  ecompasses about 2 ,910 acres, and  is one of Georgia's largest state parks, protecting five miles of river frontage, according to www.gastateparks.org. 
"There are 18 established water trails in Georgia and 20 developing," she said.
Peck-Stricker said the Chattahoochee in Coweta is special to her because of her roots.
"I have family here," she said. "The Bridges and the Lawsons. I remember spending holidays down here with them."
She said many of her family members are buried in Sharpsburg, so she visits the Chattahoochee in Coweta often. 
Chattahoochee Riverkeeper works to protect and preserve the Chattahoochee River, its lakes and watershed, according to its website.
Participants arrived at Chattahoochee Bend State Park in Coweta County Saturday morning to unload boats and begin the journey.
Paddlers had a short safety briefing and educational program before launching on the river, and were given information on birds, wildlife and historic sites along the way. 
Rep. Lynn Smith (R-Newnan) was one of the paddlers on the trip.
Smith, who was instrumental in the formation of the Chattahoochee Bend State Park, said it was nice to see the paddlers, and said the trip was good for the Coweta community.
"Many of the paddlers here are staying and visiting in the Newnan area," Smith said. "They're already talking about downtown Newnan. So, they are visiting, talking, and spending money in Coweta."
Peck-Stricker said the trip was a reality because of Smith's efforts.
"Thanks to Rep. Lynn Smith for helping create the park and making sure land and water trails in Georgia connect," Peck-Stricker said.