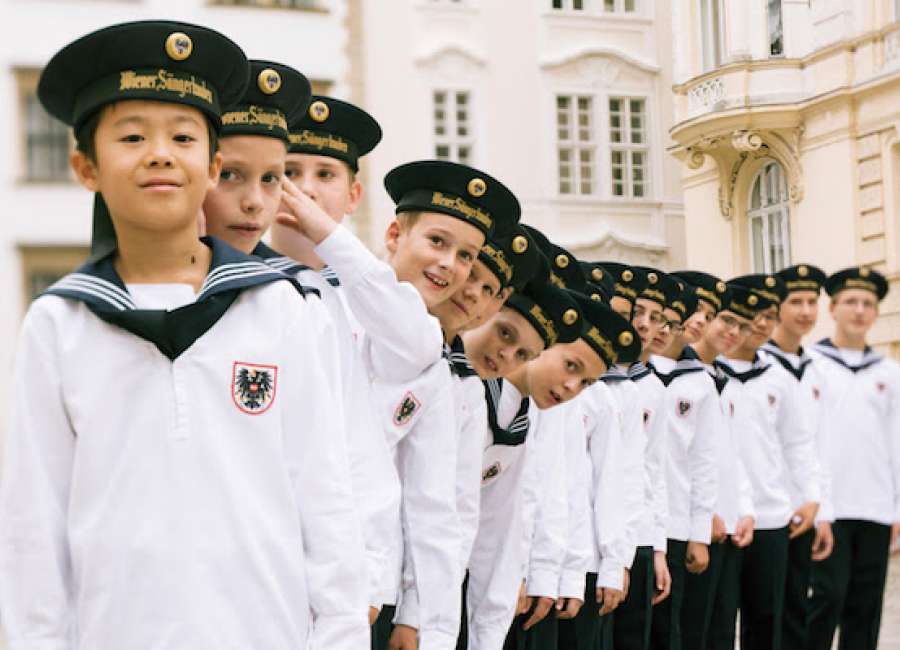 The Nixon Center for Performing and Visual Arts recently announced its 2019-20 season offerings, which include free shows, patron presentations and performances ranging from music to drama to magic.

Tickets are all gone for the free Sept. 24 show by The Queen's Cartoonists – who play music from classic cartoons and contemporary animation set to video projections of the original films – but plenty of other opportunities to see performances at The Nixon Center remain.
World of Faith Flowers: Morning Coffee
Monday, Sept. 30, 10 a.m.
Patron Artistic Offering
$15
Laura Iarocci is a nationally recognized speaker and teacher of flower arranging. She is a Certified Floral Designer (CFD) with the American Institute of Floral Designers. Iarocci has studied with leading floral designers around the world and leads an annual European flower tour to study floral design. She has recently published her book, "Faith Flowers." Iarocci is a frequent speaker at flower shows, garden clubs and churches. She has chaired the 50-member Flower Guild at the Cathedral of St. Philip for 17 years. The Patrons are bringing Iarocci to speak and demonstrate at a Morning Coffee. Limited seating event.
Beginnings: A Chicago Celebration
Sunday, Oct. 6, 3 p.m.
$15 senior, $20 adult
Mix together a group of extraordinarily talented musicians with a long list of experience in the music field, add in a love and deep respect for the music of the band Chicago and you have Beginnings: A Chicago Celebration. These veteran musicians have worked with such famous artists as Peter Frampton, Don Henley, Joe Walsh, Constantine Maroulis (American Idol) and Blood Sweat & Tears and have even appeared in the Broadway musical Rock Of Ages. In February 2016, the band added the crowning touch when it was joined by former Chicago guitarist, Donnie Dacus. Performing without the use of pre-recorded tracks, these musicians give concert audiences the experience of a vibrant and high-energy live performance of some of the greatest songs from the golden age of Chicago.
One Night in Memphis
Sunday, Oct. 20, 3 p.m.
$15 senior, $20 adult
One Night in Memphis, created and directed by John Mueller, is a critically acclaimed tribute to legendary Sun Records recording artists Carl Perkins, Johnny Cash, Jerry Lee Lewis and Elvis Presley. This tribute features former cast members of the Broadway smash, "Million Dollar Quartet," and more than 90 minutes of rockabilly, country, gospel and 1950's rock and roll. The show boasts an ever-growing list of sold-out performances, outstanding reviews and a large social media presence and fan base.
Vienna Boys Choir
Saturday, Nov. 9, 7 p.m.
$15 senior, $20 adult
Today, the Vienna Boys Choir features 100 choristers between the ages of 9 and 14, divided into four touring choirs. Each choir spends nine to eleven weeks of the academic year on tour. Together, the choirs give 300 concerts each year, attended by almost half a million spectators around the world. The choir regularly tours Europe, Asia, Australia and the Americas. Since 1498, the boys have performed on Sundays with members of the Vienna Philharmonic Orchestra and the Vienna State Opera Chorus in Vienna's Imperial Chapel. The Vienna Boys Choir repertoire includes everything from medieval to contemporary music.
Sinatra Forever: A Tribute to Frank Sinatra
Thursday, Nov. 14, 7 p.m.
$15 senior, $20 adult
Sinatra Forever is a concert that pays homage to one of the greatest singers of all time by Rick Michel. Since he was a teenager, Michel has been singing Sinatra's music and has performed with big bands since the early 1980s. "I think Frank Sinatra was the most articulate of all the pop and standard singers," said Michel. "He made songs his own by uniquely phrasing the words to wrap around the melody line like no one else before him or since. I am not trying to impersonate Frank Sinatra, just pay homage to the man's music and share the stage with the original members of his band." Sinatra Forever includes the original arrangements and musicians that backed up Frank Sinatra.
Ensemble Chaconne
Tuesday, Nov. 19, 7 p.m.
Centre Stage Series
Complimentary event (Tickets available only at the box office.)
Ensemble Chaconne enthralls audiences with dramatic period-instrument performances of music from the Renaissance and Baroque Europe. Their repertoire ranges from well-known masterpieces to recently discovered works. Peter H. Bloom (Renaissance and Baroque flutes), Carol Lewis (viola da gamba) and Olav Chris Henriksen (lute, theorbo and early guitar) bring exhilaration and theatrical intensity to an intimate chamber setting.
Merry Country Christmas
Monday, Dec. 9, 7 p.m.
$15 senior, $20 adult
Merry Country Christmas presents all of your favorite Christmas songs in authentic Nashville country style, with dazzling guitars and fiddles along with soaring harmonies. The joy of Christmas comes to you in this delightful production of toe-tapping, heartfelt music of the holidays, including favorites such as "Old Saint Nick," "Oh Come All Ye Faithful," "Up on the Housetop" and "Silent Night."
The Diary of Anne Frank
Thursday, Jan. 30, 7 p.m.
$15 senior, $20 adult
In 1941 Amsterdam, 13-year-old Anne Frank goes into hiding with her family from the Nazis. For the next two years, she never leaves the attic where her family is concealed. With fear of discovery ever-present, Anne finds solace writing in her diary, capturing the daily lives of the secret annex's inhabitants – from the horrors of war to the excitement of first love – with wit, determination and idealism. With a multicultural cast, National Players brings to the stage "The Diary of Anne Frank," the true story of this incredibly insightful young girl, in hopes of inspiring the next generation to stand up for justice rather than sit back in apathy. By Frances Goodrich and Albert Hackett, adapted by Wendy Kesselman.
Lisa Wingate
Lecture and Book Signing
Wednesday, Feb. 5, 7 p.m.
Patron Artistic Offering
$15
Lisa Wingate is a former journalist, inspirational speaker and New York Times Bestselling Author of 30 novels. Her work has won or been nominated for many awards, including the Pat Conroy Southern Book Prize, the Oklahoma Book Award, the Carol Award and the Christy Award. "Before We Were Yours" remained on the New York Times Bestseller List for more than a year, was Publishers Weekly's #3 longest running bestseller of 2017 and was voted by readers as the 2017 Goodreads Choice Award winner for historical fiction. Wingate will be lecturing and signing books. Limited seating event.
Jukebox Saturday Night
Friday, Feb. 7, 7 p.m.
$15 senior, $20 adult
Jukebox Saturday Night is a music review of the Big Bands during the 1930s, '40s and '50s. It celebrates America's Swing Era with performances of the greatest hits as recorded by Tommy and Jimmy Dorsey, Glenn Miller, Duke Ellington, Jimmy Lunceford, Harry James, Artie Shaw, Cab Calloway, Benny Goodman, Bunny Berigan and Count Basie. Vocal selections will include songs made famous by Frank Sinatra, Doris Day, Bob Eberly, Helen O'Connell, Rosemary Clooney and other vocal idols.
Shana Tucker
Thursday, Feb. 27, 7 p.m.
Centre Stage Series
Complimentary event (Tickets available only at the box office.)
With a deep respect for lyrical storytelling, cellist/singer-songwriter Shana Tucker delivers a unique voice through her self-described genre of ChamberSoul. Shana's melodies weave strong hints of jazz, classical, soulful folk, acoustic pop and a touch of R&B into a distinctive rhythmic tapestry. Touted by JazzTimes Magazine as a jazz talent "...whose imprint and vitality have already been quite visible..." Shana's style and sound have been described as a blend of Dianne Reeves, Joni Mitchell and Tracy Chapman, with an efficient complexity that is reminiscent of Bill Withers. ChamberSoul best describes what the listener should expect when experiencing Shana's music. "I'm intrinsically drawn to 'real' instruments, with resonance, tone and depth that can sound without amplification. Whenever and however possible, I always try to set a tone of acoustic intimacy with my colleagues on stage and also with the audience, so that the music, performers and audience feel close and tangible, no matter the size of the venue," she says.
Mollie Burch
Luncheon and Fashion Show
Thursday, March 19, noon
Patron Artistic Offering
$15 senior, $20 adult
CROSBY by Mollie Burch is a women's clothing line distinguished by custom prints, vibrant color and whimsical design. Founded on the desire to fight social injustice, CROSBY uses bright designs to support organizations that aid victims of sex trafficking. The company was founded in Atlanta in October 2015 by University of Virginia alum Mollie Crosby Burch, with the help of fellow alum Taylor Richardson. CROSBY is recognized by abstract prints and easy to wear feminine silhouettes. Inspired by unexpected color palettes, vibrant cultures and the beauty of nature, each season takes on a story of its own. Mollie will be speaking about her clothing line and mission at this limited seating luncheon and fashion show. A portion of the ticket sales will be used for the Patrons Teacher Assistance Fund.
Liverpool Legends
Thursday, March 26, 7 p.m.
$15 senior, $20 adult
Liverpool Legends includes four musicians and actors hand-picked by Louise Harrison, sister of the late George Harrison. "Each member of the group is so close to the original that I often feel like I'm transported back in time with the lads. These are exactly the kind of fun-loving, quality musicians that my brother George would have loved to hang out with," Harrison said. Liverpool Legends performs songs spanning the entire career of The Beatles and on through the solo years, with precise attention to every musical detail, along with costume changes, vintage instruments and special effects.
JigJam
Thursday, April 2, 7 p.m.
Centre Stage Series
Complimentary event (Tickets available only at the box office.)
JigJam is a multi-award winning quartet from the heart of the midlands in Ireland. Blending the best of traditional Irish music with Bluegrass and Americana in a new genre which has been branded as "I-Grass" (Irish influenced bluegrass), their onstage energy along with their virtuosic musical ability has captivated audiences throughout the world. All four members grew up immersed in Irish traditional music and culture, which are reflected by the band collectively achieving more than 20 All-Ireland titles at Fleadh Cheoil na hÉireann competitions. All multi-instrumentalists, members of JigJam interchange between banjos, guitars, fiddles, mandolins and double bass onstage.
Bee Gees Gold: The Tribute
Sunday, April 19, 3 p.m.
$15 senior, $20 adult
John Acosta has performed in Bee Gees tributes all over the world. From the look to the falsetto, it is a replication of the Bee Gees in their prime. It includes the detailed vocal stylings of Acosta (Barry), Daryl Borges (Robin) and Jeff Celentano (Maurice) as the brothers Gibb. Backed by a live band, Bee Gees Gold: The Tribute creates the look and sound of the Bee Gees from the '60s to the late '70s, with their unique falsettos that made them legends.
Spidey Presents: Make Believe
Thursday, May 14, 7 p.m.
$15 senior, $20 adult
Spidey has captivated the minds of people around the world with his tours across North America, seven international TV shows and more than 10 million online viewers. His mind-blowing and hilarious mind-reading show, Make Believe, will freak you out with his eerie mental demonstrations bordering on the supernatural. This is not your typical mind-numbing magic act. It's a performance that pushes the boundaries of the believable. Whether it's playing a game of Mind Pictionary or a heart-racing game of Russian Roulette, you will see and experience things you never thought possible. He'll even tap into someone's happiest memories and reveal impossible details. The show brings mind-reading to levels that have never been seen on performing arts stages, leaving audiences in awe – with laughter and standing ovations every time.
The Nixon Centre is located at 1523 Lower Fayetteville Road in Newnan. For more information or to purchase tickets, visit www.thenixoncentre.net or call 770-254-2787.