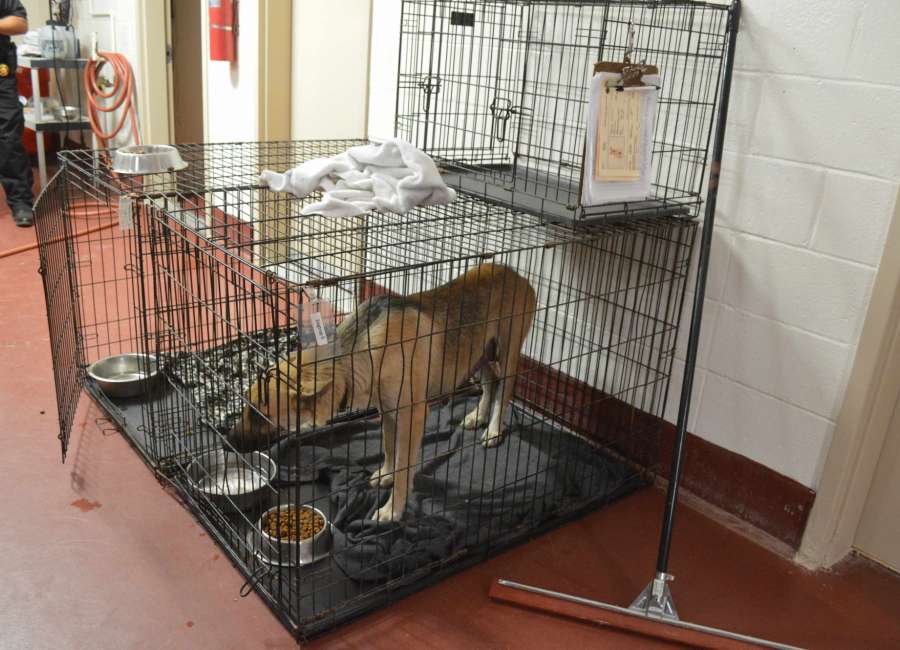 When Coweta Animal Services has more dogs than it can house in its permanent runs, the staff keeps dogs – and cats, if necessary – in wire crates or large plastic carriers until room opens up in the concrete runs instead of euthanizing the animals that have been there the longest.

But a rule change by the Georgia Department of Agriculture forbids licensed shelters from keeping animals in wire crates or plastic carriers for more than 24 hours.  
During the shelter's regular inspection in late June, Department of Agriculture officials told local officials of the new rule, but informed them there is a grace period to get the dogs out of the temporary crates. 
On Friday afternoon, there were only three dogs in crates. 
Several years ago, the large dog runs, which have indoor and outdoor sections separated by a door, were divided into two runs – with one dog on the inside and one dog on the outside to increase the capacity of the shelter. Rollup doors were installed in front of the runs so that in the winter the doors can be closed to keep out the cold and wind, and there are heaters for each outdoor run. 
County staff said they hope the outdoor runs will be acceptable to the Department of Agriculture. 
Coweta County Associate Administrator Eddie Whitlock said the county is asking a representative from the department to come down and clarify the issue. 
Using crates gave animal services some flexibility in the number of pets that could be housed at the shelter and helped keep the euthanasia of adoptable pets very low. 
With the new rule, "We've got no wiggle room," said Warden Bill McKenzie, director of Coweta Animal Services.
The shelter's official capacity is 92 dogs and 92 cats. As of Thursday, there were 135 dogs and 131 cats at the shelter. 
There have been times over the years when there were 50 to 60 animals in crates, McKenzie said. 
A few years ago, animal services responded to a hoarding situation and removed 234 cats from a house. A trailer was brought in to house the cats in plastic crates. 
"That would have been against that rule," said Whitlock. "Every one of those cats would have had to be euthanized, the way I understand it."
In addition to only allowing animals to be housed in crates or carriers for 24 hours, the rule states that anything with a mesh or wire bottom isn't suitable for animals. 
Some of the crates used by Coweta Animals Services have plastic trays in the bottom, while other crates were lined with towels. 
"The portable wire crates are customarily constructed of materials that are not robust enough to contain an animal long-term and we often find them in disrepair," Julie McPeake, director of public affairs for the Department of Agriculture, said in response to questions about the reasons for the new rule.
There are also concerns with stacking the crates, which can allow cross-contamination from waste, and the crates being used to house multiple animals, McPeake said in an email.
McPeake did not respond to a question asking if variances are available for special situations or a question about why crates that are kept in good repair and not stacked aren't suitable. 
The new rule came as a surprise to officials at Coweta Animal Services.
"We want to have a sit-down and come to an understanding," with the state, McKenzie said. 
Some dogs have been there for many months and some over a year. Of the dogs who have been at the shelter for more than 45 days, only four weren't pit bulls or pit bull mixes, Whitlock said. 
Several years ago, animal services stopped euthanizing pets that were deemed adoptable, even if they were at the shelter for a long time. 
"We've got a lot of dogs that are hard to adopt for whatever reasons," Whitlock said. When dogs have been in the shelter for a months or years, Whitlock said sometimes the humane thing to do is euthanize them, as opposed to caging them indefinitely.
McKenzie is asking for people who have "a big heart and space at home" to adopt the dogs. 
Animal services also works with senior citizens and military families to lower adoption fees, he said.
"I don't want to have to put down any more of what I would consider adoptable animals than I have to," McKenzie said. However, he said, "This does somewhat force our hand."