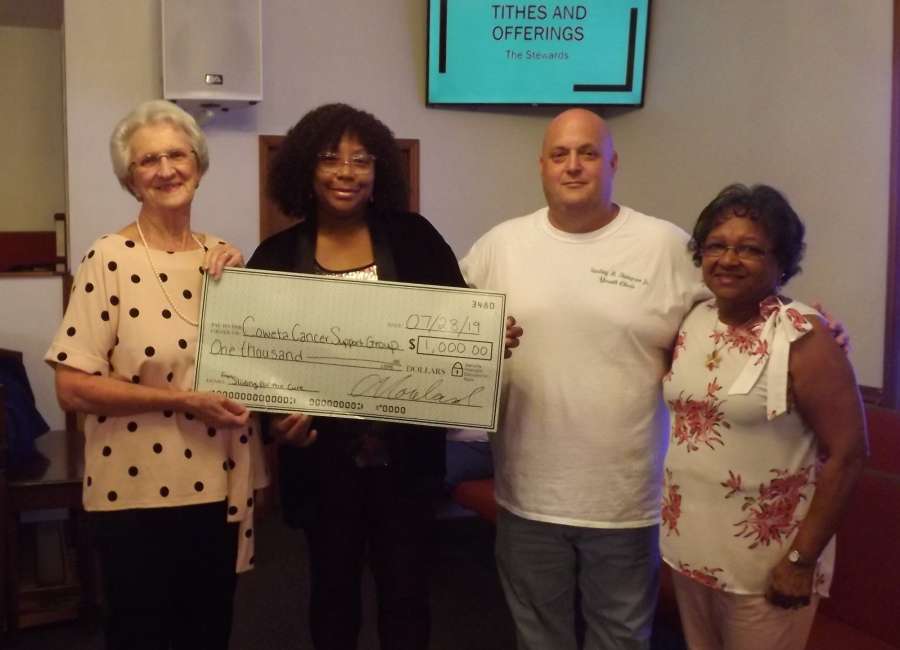 Members at Mt. Olive United Methodist Church have been sliding to fight cancer.

The church's outreach ministry has chosen Coweta Cancer Support Group as one of its projects for financial aid. This past year, funds were raised by line dance events involving Mt. Olive and its sister churches.
Slide for a Cure was a fun event with a hamburger and hotdog cookout with all the trimmings. Angela Moreland, who coordinates the project, is a cancer survivor and is dedicated to helping others fights the battle against cancer – and the financial burdens that come along with recovery.
On July 28, Pat Craven of the Cancer Support Group attended the service at Mt. Olive and was presented with a $1,000 donation. Michael Cain, minister at Mt. Olive, and Gloria Glass, a member of the outreach ministry at the church, joined Moreland in presenting the check to Craven.
Cancer Support Group is an all volunteer group of survivors, caregivers and treatment personnel working with oncologists and treatment centers serving individuals in treatment and recovery. In the first six months of 2019, 21 requests by 16 patients have received assistance.
Tax exempt donations can be made to Coweta Cancer Support Group, First Baptist Church, 15 W. Washington St., Newnan, GA 30263.
Meetings are quarterly – the first Wednesday in September, December and March – in room 216-C at First Baptist. Meetings are open to survivors, caregivers, family and friends.