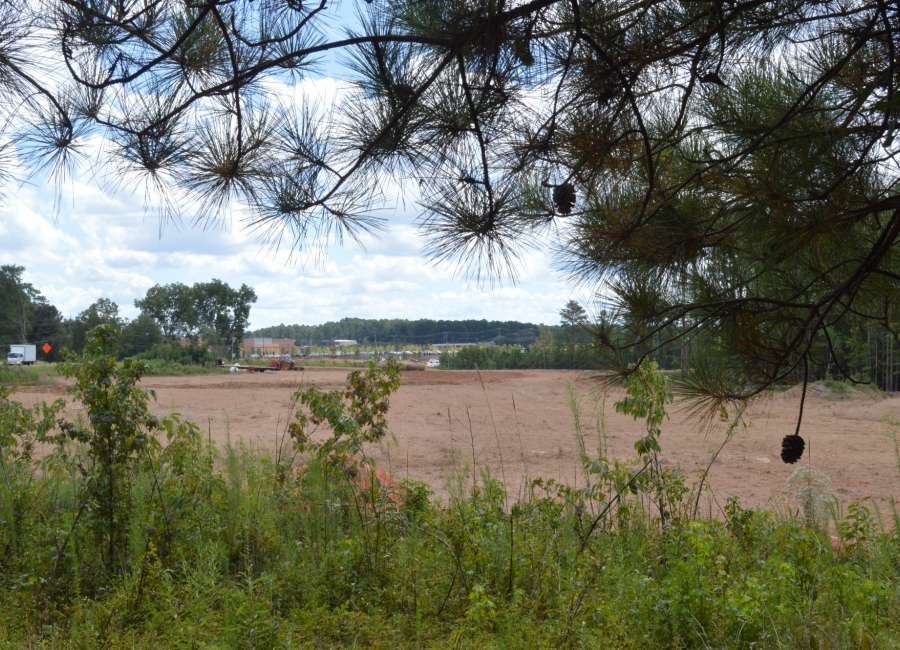 Editor's note: The developer of the proposed Celebration Village withdrew the request for a conditional use permit and zoning changes Monday. When a development request is withdrawn it can be resubmitted at anytime without penalty. Under state law, if a petition is denied, it cannot be reconsidered for six months. 
When the property between the Brave's Crossing subdivision and Sam's Club was rezoned to allow a retirement community with 70 single-family lots, Brave's Crossing residents were OK with it. 
But now a new developer has proposed using the property for a retirement "village" with 375 units and no individually owned lots, including assisted living, "concierge" independent living, memory care and two personal care homes. 
"Most of us in the subdivision are very concerned about this," said Fred Mayo, whose home backs up to the proposed "Celebration Village." The subdivision is located along Fischer Road.
The first plan for the property, from developer Dan Zavada, was for 137 units, but the Coweta County Board of Commissioners cut that down to 70 units in January of 2015, when the rezoning to the county's Residential Retirement Community and Care District was approved. In March of 2018, the commissioners voted to up the total number to 95. The minimum house size was set at 1,600 square feet. 
"If 137 units in the original development is too big, why in the hell are you putting in 375 now?" Mayo said. "This is a whole new ballgame."
New developer Armand Vari of Active Senior Concepts is asking that the condition limiting the development to 95 lots be removed, as well as the conditions setting the minimum house size at 1,600 square feet. 
That request will be before the Coweta County Board of Commissioners on Sept. 17, when there will be a public hearing. 
But a public hearing on the conditional use permit for the memory care and assisted living will be held this Tuesday before the Coweta County Board of Zoning Appeals. The zoning board will then make a recommendation to the commissioners on the conditional use permits. The meeting is at 6 p.m. and is held in the county commission chambers, upstairs at 37 Perry St., Newnan.
Several residents from Braves Crossing plan to be at both meetings, said Jim Lawson, president of the homeowner's association. 
"It's too much. It's too much traffic, too much for that piece of property and in our back yard. And in Shoal Creek Forest's back yard," Lawson said. 
A secondary, emergency access point is proposed through an easement through a vacant lot in Shoal Creek Forest. During the 2015 rezoning hearing, Shoal Creek Forest residents were adamantly opposed to the access through their subdivision, and the commissioners discussed finding another route onto Hwy. 34. 
The request is also receiving some opposition from representatives of the developer across the street. Fortress Ventures has been approved to build a senior development behind the new Costco, with 90 independent living units in a four-story building, a 40-bed assisted living facility and a 32-bed memory care. 
The Fortress Ventures project was rejected by the commissioners in November of last year. The request came back, with some minor changes, and was approved in June. 
A PR firm representing Fortress has contacted residents in the area. A two-sided letter has been mailed to thousands of residents in the area, according to Mike Rieman of Cookerly Public Relations. 
The letter lays out the timeline and proposal, and says "the approval for this project has been suspicious and appears to be a bait and switch."
The proposed Celebration Village would have 60 independent living units in two three-story buildings, 108 "concierge" independent living units in two three-story buildings connected by the one-story club and amenity center, 96 units of assisted living and memory care, 20 total beds in personal care homes, 46 attached cottages and 45 attached bungalows. The multi-story buildings will be situated toward the back of the property, along the boundary with Shoal Creek Village. The plat shows a 50 foot buffer. The name will have to be changed, however, as it has been rejected by the county's naming committee, which works to make sure names aren't confusing for public safety personnel. 
For Braves Crossing residents, traffic is the biggest concern. 
"The amount of traffic that is going to come through here is outrageous," said Lawson. "To allow 375-plus people coming and going every day onto Fischer is ridiculous. It's too much for this road to handle."
Though traffic is the primary concern, it's not the only one. 
"We were expecting 95 lots, small yards, median-sized homes. Kind of a subdivision," he said. "We're a subdivision, it would have been a subdivision next door, to a degree. And there would have been some traffic," he said. "Now you triple it?"
"We've slowly seen the integrity of where we are go away," Lawson said.