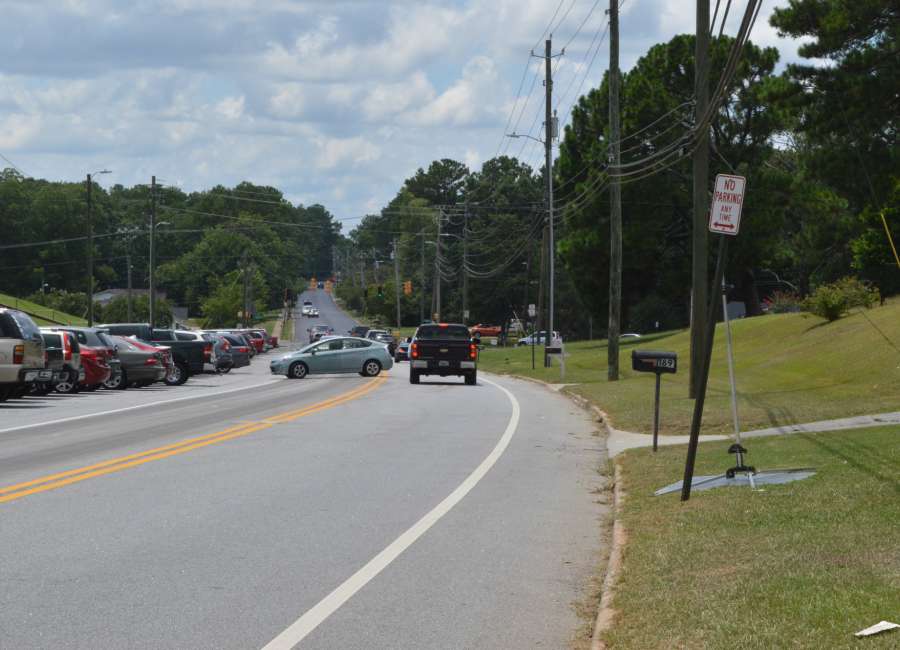 Long-needed improvements to LaGrange Street at Newnan High School, work to make the Jefferson/Jackson/Clark intersection easier to handle, an intelligent transportation system and intersection improvements on Greenville Street at Sewell Road and Spence Avenue are some of the projects that the city of Newnan hopes to complete with money from a proposed transportation sales tax. 
The city is also planning to put money from the Transportation Special Purpose Local Option Sales Tax toward major improvements on Lower Fayetteville Road and Bullsboro Drive, but those are massive projects that will take much more than local TSPLOST money. 
Coweta voters will head to the polls Nov. 5 to decide whether or not to implement the five-year, 1-percent sales tax. Under the state law that created the single-county TSPLOST option, the tax revenue goes to a specific list of projects, which must be approved before the vote. Coweta County and all of its cities have approved their lists, and the county and smaller municipality project lists will be detailed in later stories. 
There are a total of 13 projects on the city's TSPLOST list.
While the basics of the projects are in the list, the specifics may change. 
"The intent is to be transparent," City Manager Cleatus Phillips said. "But these projects are not engineered at this point in time. Until we get into the specific engineering and determine the scope of each project… we may not know exactly what the project looks like."
Planning work on improvements at Jackson/Jefferson/Clark streets, commonly referred to as "the cemetery curve," at the main entrance to downtown Newnan, is already underway, and a kickoff meeting with the Georgia Department of Transportation was recently held, Phillips said. He hopes to have a conceptual design for the improvement by November. 
The intersection itself tends to operate very well, but there are issues with accidents, Phillips said. It can also be confusing for people who are not familiar with it, so improvements in signage and marking are planned.
Phillips said the city won't be taking homes for the project, and the cemetery shouldn't be impacted. Even if the TSPLOST doesn't pass, he said the city is going to try to find a way to make those improvements. 
Four other intersection projects are planned.  Sprayberry Road's intersection with Jefferson Street will be moved so that it intersects with Greison Trail in a roundabout. The intersection at Greenville Street and Spence Avenue will get upgrades, and an intersection improvement is planned at Greenville and Sewell Road. The intersection of LaGrange Street and Boone Drive has been problematic for years, and, unlike most intersections in Newnan, has never been upgraded with a modern signal. It will get one, and possibly some other improvements, with the TSPLOST.
The two other major projects, which will be fully funded with TSPLOST, are the Andrews Parkway extension and improvements to Newnan Crossing Boulevard from Stillwood Way – where it becomes two lanes – to Poplar Road. 
Andrews Parkway will be a new entry into downtown, and is a project that has been talked about for years. The city built the first phase of the extension when the new Newnan Police Department was built. The entry road to the police station, Joseph Hannah Boulevard, would be extended across Augusta Drive, where it will tie into the existing Andrews Street. The road will then be extended to tie into Beaupel Street and across East Washington Street, where it will tie into the previously constructed section in front of the historic Train Depot.
The new Andrews Parkway extension will complement McIntosh Parkway, both of which offer more connectivity into downtown, according to Phillips. 
The city has looked at a few different options for improvement Newnan Crossing Boulevard. A full-scale widening of the road would be expensive and wouldn't give much return on investment, Phillips said. An alternate plan with operational improvements "has a higher cost-benefit ratio and achieves the same affect," Phillips said. Exactly what those improvements will look like will be determined once engineers start working on the project. 
The city is allocating $2.3 million for an intelligent transportation system network that will help with traffic flow, particularly at intersections. The system will allow "real-time monitoring and timing adjustments" of traffic lights, Phillips said. The timing of lights could be adjusted, on the fly, to account for things such as wrecks, parades or heavier holiday traffic. 
Lastly, the city has allocated $5 million for work on the LINC multi-use path. 
Improving Lower Fayetteville Road and Bullsboro Drive are critical issues, but the city can't pay for that work by itself. Instead, the city has set aside money in the TSPLOST list to fund the engineering and design of the widening of Lower Fayetteville, as well as widening and other improvements on Bullsboro between Lakeside Way and Jefferson Street. 
Phillips said he hopes to use that as leverage to get state and federal funding to complete those projects. Coweta County took a similar route in funding engineering work on the Poplar Road interchange, which allowed the project to be completed sooner than it would have been otherwise.
With the Bullsboro Drive improvements, "Hopefully we can come up with a design that is so good that we can convince the state to fund it quickly," Phillips said. 
The city is already in a "scoping phase" on Lower Fayetteville Road, with consultants doing an intense study of the road to determine exactly what type of improvements are needed. 
"The scoping phase will tell us exactly what those first phases should be," Phillips said, and the TSPLOST funded work could include some operational improvements – smaller tweaks, such as longer turning lanes, can make a big difference in how well traffic flows. 
The Lower Fayetteville Road improvements are divided into three projects: Greison Trail to Newnan Crossing Bypass, Newnan Crossing Bypass to Newnan Crossing Boulevard – including the bridge over Interstate 85 and Newnan Crossing Boulevard to Sullivan Road.
* * * 
Newnan's TSPLOST projects
All numbers (except for The LINC) are estimates because projects have not been engineered
Lower Fayetteville Road (three sections) – funding for engineering and design – $5.5 million
Bullsboro Drive from Lakeside Way to Jefferson Street – funding for engineering and design – $2.56 million
Andrews Parkway extension – $2.34 million
Jefferson/Jackson/Clark intersection improvements – $1.29 million
Sprayberry/Jefferson/Greison realignment and roundabout – $2.34 million
LaGrange Street and Boone Drive/Waterworks Road intersection improvement ª $950,000
The LINC – $5 million
Newnan Crossing Boulevard from Stillwood to Poplar – operational upgrades – $4.25 million
Greenville Street at Spence Avenue – intersection upgrades – $1.84 million
Greenville Street at Sewell Road – intersection improvement – $1.3 million
Intelligent Transportation System – $2.3 million