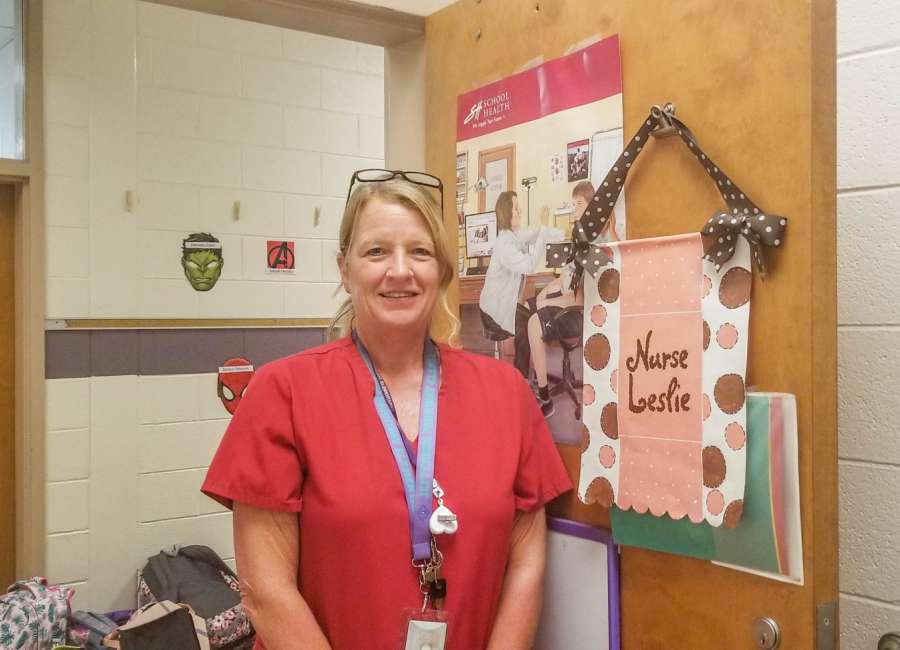 Coweta students officially returned to school Monday, reuniting students with friends to not only share summer stories, but also germs that may cause various illnesses.

Handwashing is the No. 1 most important step to prevent the spread of the flu, colds or any germs, according to Leslie Storey, school nurse at Jefferson Parkway Elementary School in Newnan.
According to the Centers for Disease Control, handwashing with soap could help protect the one out of three young children who get sick with diarrhea and the one out of five with respiratory infections like pneumonia. Handwashing with soap removes germs more effectively than handwashing with only water.
Approximately 1.8 million children under the age of 5 die each year from diarrheal diseases and pneumonia, the top two killers of young children around the world, according to the CDC.
Shannan Hendrix-Caplinger, lead nurse for Coweta County Schools, said that all Coweta schools and school nurses encourage handwashing.
"School nurses have already begun the discussion regarding handwashing and how important it is to discuss this with our students and our staff," Hendrix-Caplinger said. "Flu season is right around the corner, and we know that this is the No. 1 tool in combating flu during cold and flu season."
Hendrix-Caplinger said all school clinics have handwashing signs displayed in some form.
Storey said signs encouraging handwashing are posted throughout JPES in bathrooms and hallways.
Storey said she encourages both students and adults to cough or sneeze in the crook of the elbow.
"Also, try to avoid touching the mouth, nose or eyes throughout the day," Storey said. 
Brittany Cook, registered nurse and Piedmont Newnan Infection Preventionist, and Dr. Neha Shah of Piedmont Newnan agree.
Cook and Shah said people frequently touch their eyes, noses, and mouths without even realizing it. Germs can get into the body through the eyes, nose and mouth, which may cause illness.
"Germs from unwashed hands can get into foods and drinks while people prepare or consume them," Cook said.
"Germs can multiply in some types of foods or drinks, under certain conditions, and make people sick," Shah said. 
The health care professionals also said germs from unwashed hands can be transferred to other objects like handrails, tabletops or toys, and then transferred to another person's hands.
"Removing germs through handwashing therefore helps prevent diarrhea and respiratory infections, and may even help prevent skin and eye infections," Shah said. 
Storey encourages students to sing the "Happy Birthday" song twice when washing hands with soap and water. Shah and Cook with Piedmont Newnan endorse that practice as well.
Hendrix-Caplinger said proper handwashing is often encouraged and taught one-on-one with students and parents when students are sent home sick.
"The simplest way for schools and parents to help avoid illnesses at school is to wash their hands," Hendrix-Caplinger said. "We encourage students and staff to wash their hands before eating food, after using the restroom, after blowing their nose and coughing or sneezing."
Effective handwashing can also prevent staph infections, which are common during the start of the school year, according to Mindy Leech, pharmacist at Lee-King Pharmacy in Newnan.
Staph infections are caused by staphylococcus bacteria, types of germs commonly found on the skin or in the nose of even healthy individuals, according to www.mayoclinic.org . Most of the time, these bacteria cause no problems or result in relatively minor skin infections.
Leech said the infection is common at the beginning of the year and is more prevalent these days.
"When the kids return to school, they're interacting with each other," Leech said.
Leech said the infection is not serious and is typically treated with an antibiotic ointment and an oral antibiotic for seven to 10 days. She said the pharmacy is dispensing more medication these days to treat the infection.
She said the child's pediatrician will advise parents on the next steps and whether or not to return to school on a case-by-case basis. 
Piedmont Newnan offers the following tips for handwashing:
 – Wet your hands with clean, running water.
 – Lather your hands by rubbing them together with soap. Be sure to lather the backs of your hands, between your fingers, and under your nails.
 – Scrub your hands for at least 20 seconds. Need a timer? Hum the "Happy Birthday" song twice. Friction is key.
 – Rinse your hands well under clean, running water.
 – Dry your hands using a clean towel, or air dry them.
According to the CDC, washing hands with soap and water is the best way to reduce the number of germs on them in most situations. If soap and water are not available, an alcohol-based hand sanitizer that contains at least 60 percent alcohol may be used.
The sanitizer must be allowed to air dry to be most effective, Cook said.
Shah and Cook with Piedmont said since the flu season is coming up, handwashing is important– as is getting an annual seasonal flu vaccine.