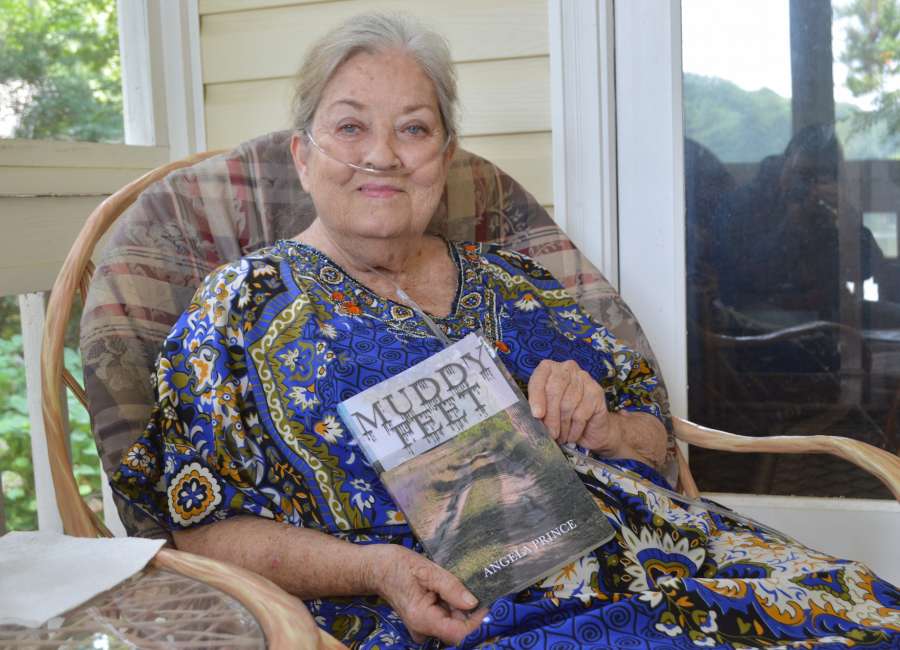 It was nearly 20 years ago, while waiting on a double-lung transplant, that Angela Prince first began writing what would become "Muddy Feet." 
But as her new lungs began to fail her, Prince made sure her book would finally be published before her death. 
She hopes her book sales will help pay for cannabis oil for her daughter, who battles with debilitating seizures. 
"I had always wanted to write a book, but I never had the time. I was too busy working, raising Stacy and all that," Prince said. "Then when I found myself on the transplant waiting list, I had nothing but time. Because I wasn't able to do anything."
"So one day I just got out a pencil and pad and said, 'I may as well make the best of this,' and started writing this story," she said. 
Prince has bronchiectasis, a chronic lung disease that is similar to cystic fibrosis. Her new lungs have lasted an incredibly long time. 
"Back then, the life expectancy with the original double lung transplant was five years," Prince said. "I set out to prove everybody wrong. I've stretched it into 19 years – it's unheard of."
When Prince was on the transplant list, she had to move down to Gainesville, Fla., to be near the hospital where the surgery would be done. 
"I spent two and a half years down there, hooked up on oxygen, half the time on IVs, at death's door by myself waiting for a transplant," she said. "It was hard, and, 'Muddy Feet' was born."
Prince wanted it to be a story about the Deep South way back in the 1930s or '40s, in "an era where it wasn't so crazy like nowadays," she said. 
"It was a hard life because they didn't have all of our modern conveniences; at the same time it was a better life. We didn't have all of this crap," Prince said. 
She had worked out a general idea of the story and sketched out all the characters.
"When I did that little outline, the story just kind of took hold of me and grew," she said. "I went where it took me."
After getting the call that a match had been found, she boxed up her work and shelved it.
As she recovered from the transplant, she got busy enjoying life again and didn't think much about her book. 
"Over the years, every now and then, I would think about it – take it down, look through it, add to it, take away from it," she said. "Then I got tired of messing with it and put it back in the closet."
That went on for a while, but she finally got it finished and began looking for publishing companies. 
Prince contacted hundreds of publishers, but kept getting letters saying they weren't accepting new authors. 
But as her health declined, Prince knew she had to do something. 
"I wanted this book published," Prince said. "This is why I've really pushed myself to get it done." 
She eventually found a publishing company and began the process of working with the publisher on edits and design. 
Progress slowed as she was often too sick to work on the book, but her dream is now a reality.
"Muddy Feet" is the story of Elle, who wakes up one night in 1933 to screams and finds both of her parents dead – the night after her brother left home to seek his fortune. 
Elle goes to live with her harsh Aunt Betsy, who constantly rails at her for entering her immaculate home with her muddy feet. 
Aunt Betsy forbids her from going into the nearby woods, which are full of homeless campsites, moonshiners and other undesirables, but Elle sneaks off there every chance she gets and makes friends there. 
As Elle and her friend Mary Jo spend time snooping around town, they uncover a dark secret involving a beloved and prominent townsman. 
Her book is now published, and available on Amazon and Barnes and Noble. Because her health prevents her from doing typical book promotion events, she's made a YouTube video with the help of friends and family. 
Prince is currently on hospice care. "It's a miracle I'm even still here," she said. "God keeps snatching me back. I think it's because I can get all of this done."
"I've had so many guardian angels along the way, you wouldn't believe it," she said. 
Prince said she's always wanted to do a sequel to the book. She knows she won't be around to write it, but she's given an outline to her daughter. Prince said it feels good to know her book is finally finished and out in the world. 
"Now it's just up to the universe to do whatever it is going to do with it," she said.