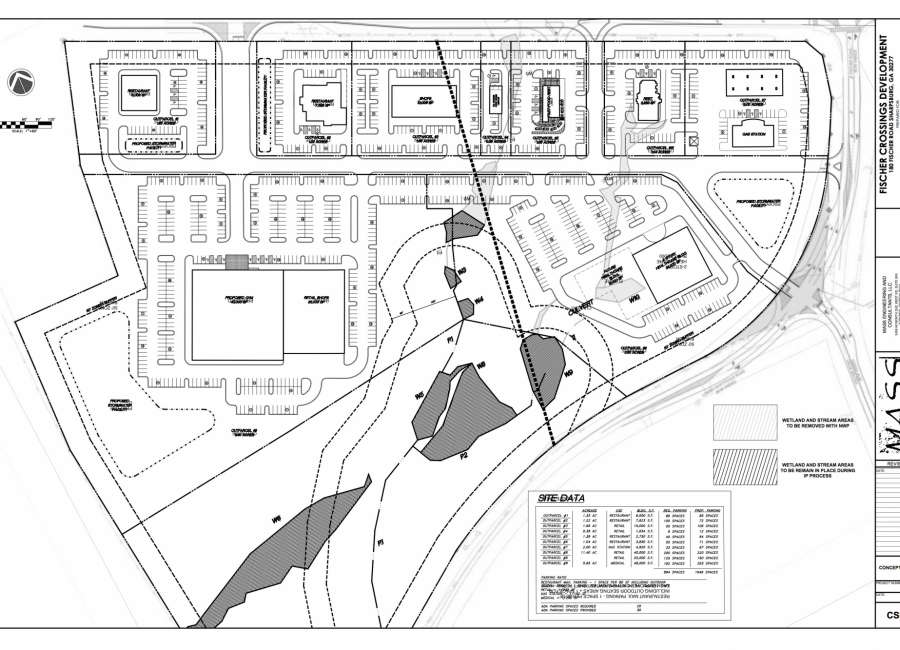 The third corner of the intersection of Fischer Road and Ga. Hwy. 34 is headed for development.
Again. 
The 41-acre property, formerly the Rare Plants nursery, was rezoned back in 2006, along with two other corners, for the Fischer Crossings development, which was envisioned as covering all three corners. It took many years for the other two corners to develop, but the third corner has remained vacant.
The property has gone through ownership changes and currently exists as two tracts with different owners. 
The 28-acre western tract was proposed for an office development in 2016, and the Coweta County Board of Commissioners approved several changes to the original zoning conditions at that time. That project was never developed. 
ForCAST Real Estate Development is now proposing to join the two tracts back together for a development known as Fischer Marketplace. 
The developers requested several changes to the original zoning conditions on the eastern tract, and some changes for the western tract. 
The original rezoning conditions called for meandering, shaded sidewalks, shaded seating areas throughout the development and storefronts or entrances spaced no less than 50 feet apart. 
The conceptual site plan for Fischer Marketplace shows a development with several single-tenant buildings along Hwy. 34, and larger buildings, including a proposed gym and medical offices, on the interior. There is also a gas station proposed at the corner. 
According to the Community Development Department report, the plan is for 20,203 square feet of restaurants on 4.5 acres, 76,634 of retail on 13.39 acres, a 4,920-square-foot convenience store on two acres and 48,000 square feet of medical facilities on 5.65 acres. 
The developer will perform a traffic study to determine the best improvement at the intersection of Lower Fayetteville Road and Fischer Road, and the developer will be responsible for 75 percent of the cost of that improvement. A traffic light is also anticipated at one of the two entrances on Hwy. 34, with the developer covering the entire cost of that light. 
The site plan shows an entrance at the new intersection of Fischer and Lower Fayetteville, and a second entrance on Fischer, as well as the two entrances on Hwy. 34. 
Residents off Lower Fayetteville Road were concerned about losing their buffer and the rural feel of their area, and asked for some consideration that the back part of the property not be disturbed. 
 The county approved reducing the buffer along Lower Fayetteville from 50 feet to 25 feet. However, much of the back part of the property is wetland and will not be disturbed, according to Matt Boone of ForCAST. 
Commissioner Rodney Brooks asked Boone if he would be OK with a requirement that the developers must pull a permit and begin work within 12 months. 
Boone said he plans to get to work sooner than that.