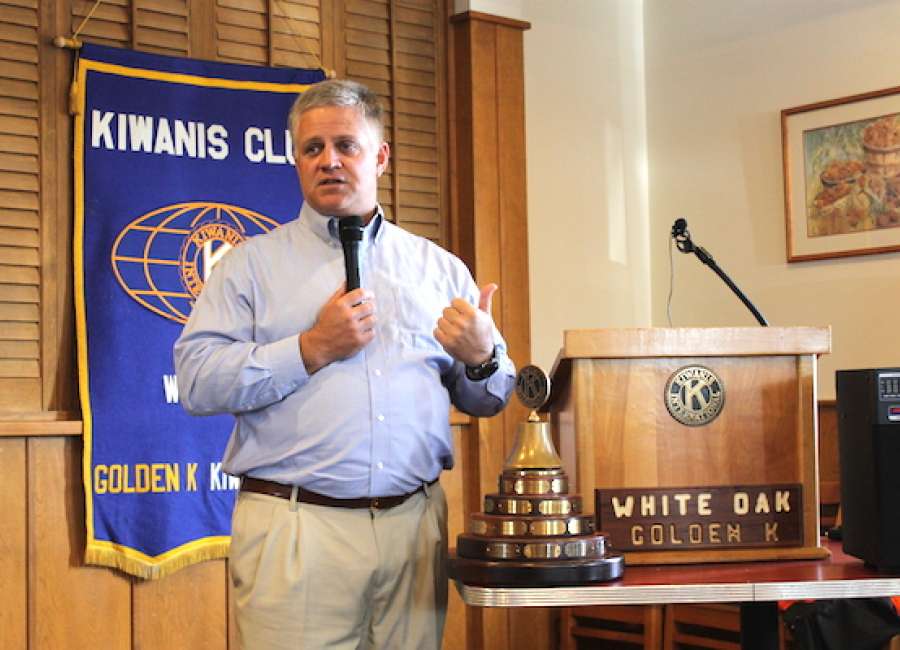 U.S. Rep. Drew Ferguson spoke at the White Oak Golden K Kiwanis Club meeting yesterday morning.
Among other issues, Ferguson discussed included the economy, gun control and the concerns of his Third District constituents. 
Ferguson explained how tax reforms and deregulation have helped the economy. He added that to keep the economy going, there must be new trade deals, and he supports the president on the trade deals. 
He said that the most important trade deal right now is the U.S.-Mexico-Canada Agreement (USMCA), which is a replacement of the North American Free Trade Agreement (NAFTA). 
Ferguson said the agreement has more protections for Americans and would permanently add a half of a point of Gross Domestic Product (GDP) to the economy. 
He said he believes that a new trade agreement with Mexico, having an agreement with Japan and getting the Europeans on board would be enough to stand against China. 
"China is truly the biggest threat to our economy and to our freedoms," he said. 
Ferguson said he applauds Trump's decisions regarding trade with China. 
He said it could be tough for the next several months, but if the USMCA agreement is approved, the outlook would be good for the U.S. economy. 
Ferguson went on to discuss the ongoing conversation surrounding the Second Amendment and access to guns, saying he does not believe the government should be able to take away someone's constitutional rights. 
Ferguson added that he would be shocked if Nancy Pelosi allows a meaningful piece of legislation regarding gun control make it to the house floor. 
Ferguson safety measures schools are in the works. He said an act is currently in motion regarding early threat assessment in schools. Ferguson said he spoke to people in this district, and school safety was one of their biggest concerns. 
Columbus State University already has an early threat assessment program in place. The program analyzes student data and evaluates how students are doing. When there are significant changes – such as a student who had good grades and is now failing – the school can address these issues early on. 
Ferguson said this program would help keep students safe and stop a catastrophic event early on. The bill is currently moving through the house. 
He added that bills like this demonstrate what happens when people can cross their political divisions to get things done. 
"If you are committed to doing what's right for the American people and the people of this district, you can actually get a few things done," he said. 
Another issue Ferguson discussed that he said especially plagues his district is access to broadband internet, and occasionally cellular service. 
He said there are counties just to the south and east of Coweta that have no access to broadband. Ferguson said broadband is extremely important for education and businesses, and that it is almost impossible to start a business in an area without broadband.  
Golden K member Ken Allen asked Ferguson how Georgia compares to other states with broadband coverage. 
Ferguson said other states that have large rural areas have the same problem. He listed states such as Alabama, Ohio, Kentucky and South Carolina. 
He said one of the only states that has large rural areas but doesn't have this problem is Montana. Montana has rural telecom companies that operate similarly to Electric Membership Corporation (EMC) companies that operate in Georgia.