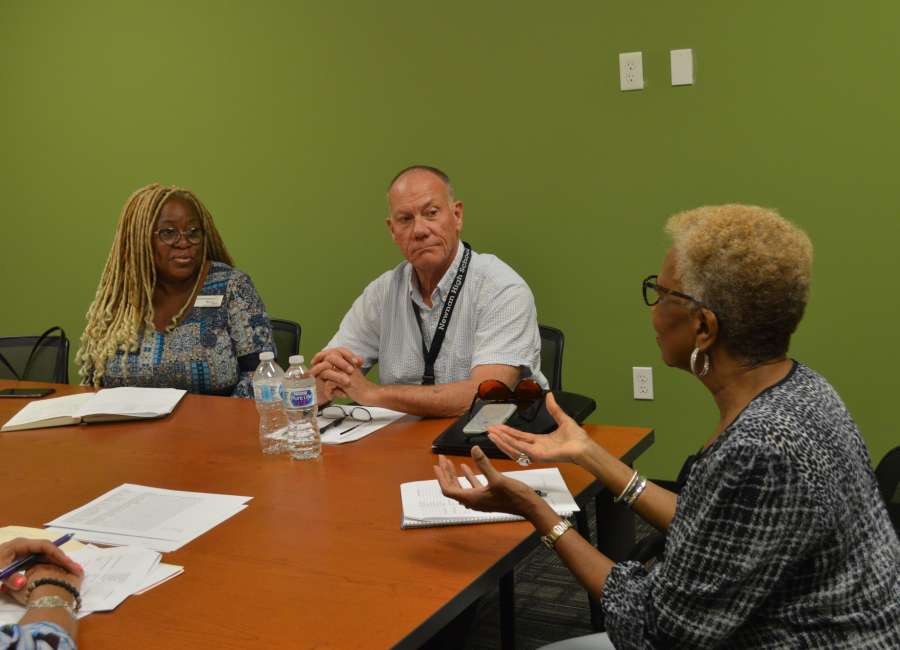 Only 60 percent of eligible 4-year-olds in Coweta are enrolled in pre-K programs, and the Coweta County Family Connection collaborative is working on increasing that percentage.
The collaborative is working on plans – including a focus group of parents of young children – to understand why some parents aren't enrolling their children in pre-K programs, which are free and funded by the Georgia Lottery. In addition to pre-K classes offered through Coweta County Public Schools, there are free pre-K programs offered at 22 daycare centers in Coweta. 
Though school has already started, parents can still sign their children up for pre-K, as long as they can find a daycare center with space available. There is no cutoff time for pre-K enrollment, according to the Georgia Department of Early Care and Learning: Bright from the Start. 
The collaborative's strategy team met Thursday to discuss how to move forward. 
A focus group meeting, with food and activities sponsored by Peach State Health Plan, is being tentatively scheduled for October. 
In looking at what should be the collaborative's strategy for fiscal year 2020 – which began July 1 – and beyond, collaborative members looked at various indicators, including Kids Count. Kids Count, by the Annie E. Casey Foundation, measures various factors for children all around the country, including poverty, school attendance and school performance. Some data sets are only available for the state as a whole, while others are broken down by county. 
The number of Coweta children age 3 and 4 who are not in preschool or pre-K is 51.3 percent, above the state average of 50 percent, and is worsening over time. Other factors worsening over time include children absent more than 15 days from school, and teens age 16 to 19 who are not in school or working. The rate of STDs among Coweta teens is also worsening over time, though it remains well below the state average.
Increasing the number of children in pre-K and preschool was chosen as the primary strategy. 
Information about pre-K was distributed over the summer at summer lunch program events, said Carol Prince, executive director of Coweta County Family Connection. 
The group discussed various reasons that some families might not enroll their 4-year-olds in pre-K. 
"Maybe they don't think there is learning going on," Price said. "We as educators and community leaders understand the importance of these early learning years. How can we transfer that to the parents?" she said. 
Other parents might be worried that their children will be exposed to germs and get sick in pre-K, she said. 
Carol Hovey, a Family Connection board member, said that for working parents who have a family member taking care of their children while they are working, it might be much easier to just have the pre-K aged child stay with a grandmother or other relative than to have to transport the child to pre-K and then make sure the child is picked up in the afternoon. And if the child gets sick and can't go to school, employers aren't always sympathetic, Hovey said.
Transportation can also be an issue for children who don't get a spot in a public school pre-K. While public school pre-K students can ride the school bus, there is no transportation provided for students at daycare centers. 
Figuring out those reasons is a goal of forming the focus group. 
Bridgette Washington, Bright from the Start early education community partnership coordinator for the local region, attended Thursday's meeting. 
Washington said she encounters people who don't know about the various programs offered through Bright from the Start/Georgia DECAL, which include pre-K, the Georgia CAPS subsidized child care program for low-income working parents and the Quality Rated program for child care centers.
The group also discussed written materials about pre-K that can be given out to parents. 
For more information about Georgia's early learning programs, including pre-K, call 877-All-GA-Kids (877-255-4251). If you are interested in serving on the focus group or otherwise participating in the effort, contact Prince at 770-480-3258.