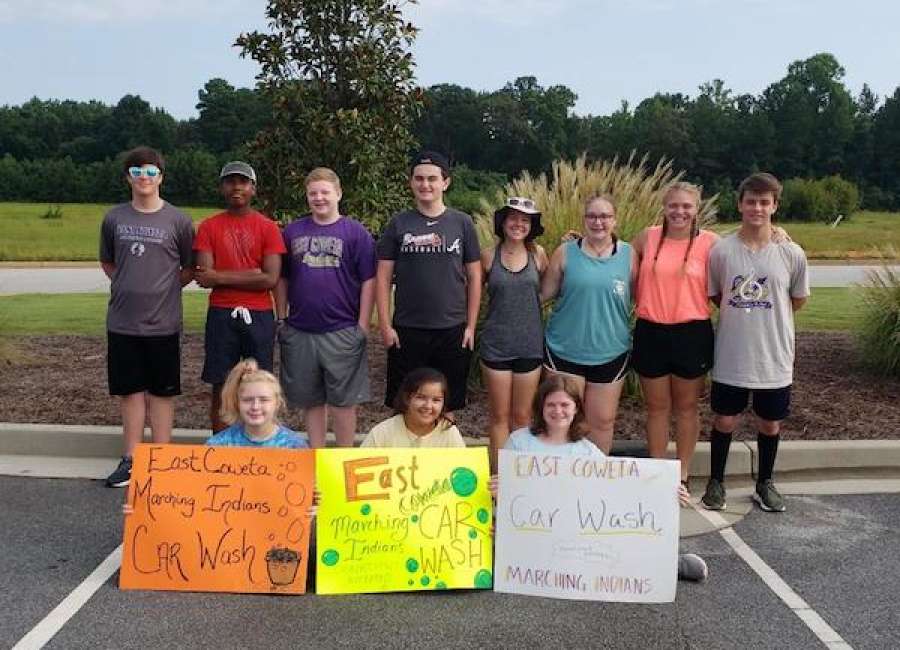 On Aug. 10 the East Coweta Marching Indians held their annual fall car wash. The car washes were free, but they accepted donations. 
The car washes were held at five separate locations simultaneously. The locations were Bojangles, Frazier's on Hwy. 154, Legacy Christian Church, Sprayberry's on Hwy. 34 and Red Robin. 
The band raised more than $2,000, and the five businesses allowed them to use their facilities and water sources, according to Fundraising Coordinator Michelle Holland.  
"They were also very kind to our students by allowing them to use their restrooms and by giving them drinks during the car wash. We are very grateful for their kindness and generosity," said Holland in a press release. 
The East Coweta High School Band, under the direction of Robert Owens and Chris Neidhardt, consists of three concert bands, a jazz band, woodwind quintet, indoor percussion ensemble, marching band, color guard and three winter guard programs.
This year the marching band and color guard will be performing the 2019-2020 show "The Magic Lamp."  Band members will perform the show at the Corky Kell Classic at Mercedes Benz Stadium on Aug. 24, at all home and away football game halftimes, at the Coweta County Marching Band Exhibition at ECHS on Sept. 24 and at four competitions. 
The Marching Indians will also travel to California in November to represent East Coweta High School and Coweta County in the Hollywood Christmas Parade. Upon their return from California, the Marching Indians will march in both the Senoia and Newnan Christmas Parades.
All money made via donations and fundraisers like the car washes are used for general band expenses. These expenses can include instrument repair, the purchase of new instruments and competition fees, according to Holland.  
"Every donation is used to enhance music education and a student's desire to learn more about an instrument and music," Holland said in a press release. 
For more information about the ECHS band program or to make a donation contact the director robertl.owens@cowetaschools.net or the fundraising coordinator ecbandlife2020@gmail.com .