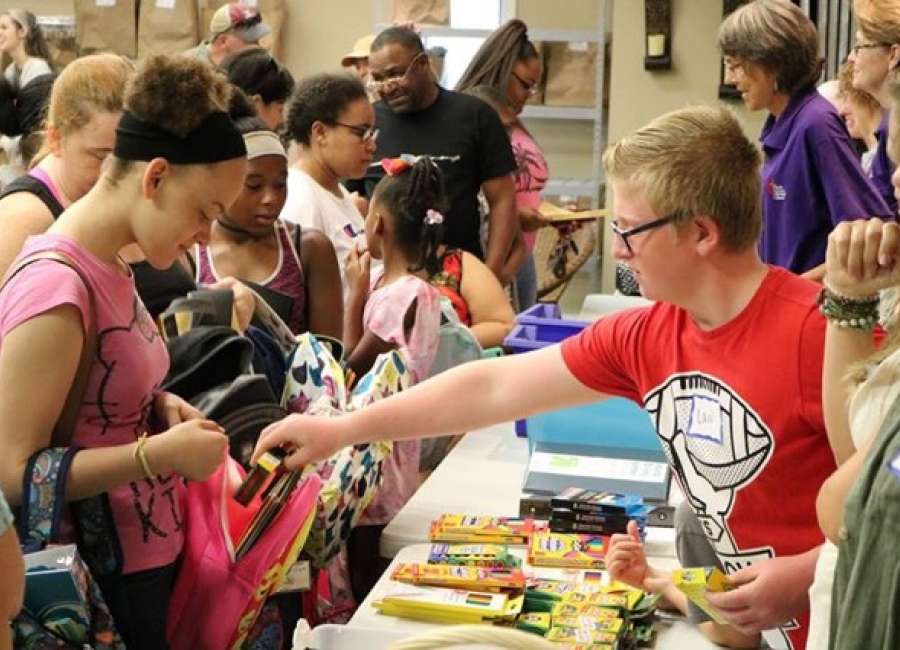 Students have returned to school in Coweta County, and area churches and ministries have helped in various ways to get the school year off to a good start.

The I58 Mission in Senoia held a Back to School Bash recently. More than 100 students received school supplies, clothes and shoes, according to Sara Walton, public relations coordinator for I58. Haircuts were also given to students at the event.
Volunteers and staff at the Real Life Center in Tyrone saw many smiles on the children's faces – kindergarteners all the way to tall high-schoolers – who came to the center in recent weeks to receive food or clothing and who left with brand-new backpacks filled with school supplies.
Efforts of the families at Southside Church provided the Real Life Center with more than 400 backpacks. Each backpack had a personal touch – with a water bottle, deodorant or even feminine products in backpacks designated for the older children.
Employees at Panasonic also helped children by donating 133 backpacks filled with supplies to the Real Life Center. Extra supplies were provided by the St. Andrew's in the Pines Episcopal Church family.
In addition to the Coweta and Fayette county families who have been served at the Real Life Center, the RLC was able to share the blessings my taking 115 backpacks to Crabapple and Burch Elementary schools in Fayette County and Poplar Road and Ruth Hill Elementary schools in Coweta.
"We feel it is a privilege to not only be a safe place for people in Fayette and Coweta counties to come to receive help, but also be a place for those who want to make a difference in the lives of others. We are grateful to our community for partnering with us in helping our neighbors," shares Cathy Berggren, executive director of the Real Life Center.
Resurrection Lutheran Church held a school supply drive. Members broughts paper, pencils, notebooks, folders, crayons, markers, colored pencils, eraser caps, glue sticks, scissors, hand sanitizer, cleaning wipes, tissues, paper towels, calculators and backpacks.
The supplies were collected through Aug. 18 and then distributed to local schools. St. Paul's Episcopal Church had a similar school supply project.
The second annual Praise in the Park/Back to School Bash was sponsored by Dent Chapel AME Church, Greater Mt. Zion AME Church, Russell Temple AME Church and Wesley Chapel AME Church. The event was held Willie Lynch Park pavilion, 23 Richard Allen Drive with live music, games, food and free bookbags and school supplies.
Powell Chapel United Methodist Church, 586 Old Atlanta Hwy., also had a school supply giveaway. Swag Life Ministries gave away school supplies and bookbags at a Back To School Bash on Aug. 10 at First Avenue Park
Newnan Presbyterian Church, First United Methodist Church of Newnan and St. Paul's held bookbag blessing services, and Rehoboth Baptist Church in Luthersville had a prayer service to specifically pray for students as they returned to school.
Allen-Lee Memorial United Methodist Church in Lone Oak has an ongoing partnership with Unity Elementary School in Luthersville. As the school year got underway, Allen-Lee provided breakfast for the Unity faculty and a ream of copy paper for each teacher.