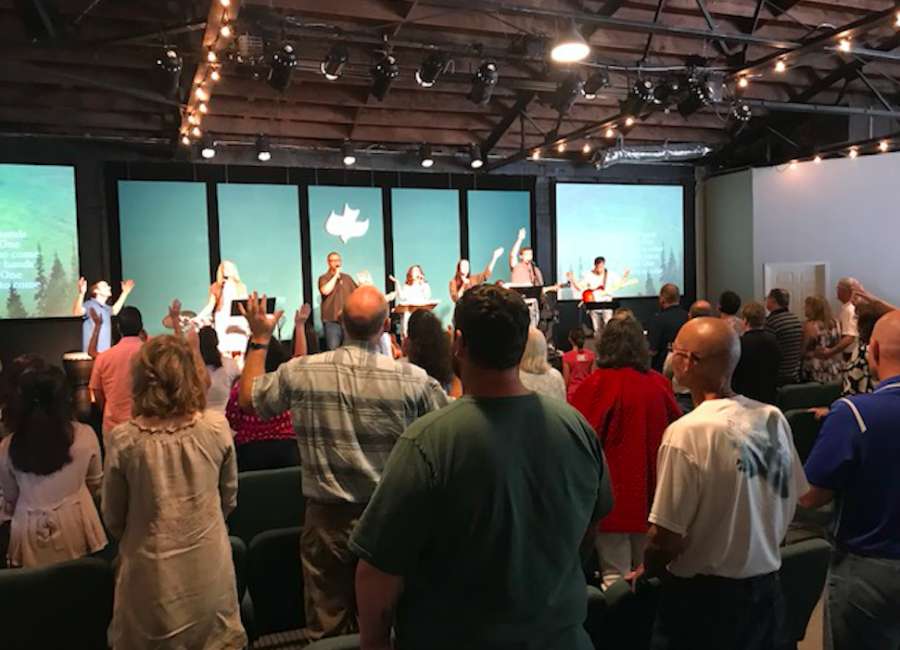 By KATHY BOHANNON
Special to The Newnan Times-Herald
Calvary Chapel Newnan was founded in 2014 and is now located at 18 Savannah St. in downtown Newnan.
A non-denominational Christian fellowship, Calvary Chapel's teaching is expository, which means biblical scripture is taught verse-by-verse. The church is one of 1,800 across the world affiliated with the Calvary Chapel Association (CCA) founded by Pastor Chuck Smith.
This local Fellowship of Calvary Chapel brings to Newnan a distinct approach to Scripture by offering a straightforward chapter-by-chapter and verse-by-verse sermon every Sunday morning and Wednesday nights. According to the CCA, teaching from the "whole word of God" cannot be accomplished with topical sermons. "Topical sermons are good, and they have their place, but when you're preaching topically… you may also tend to avoid controversial or difficult topics, and the people won't gain a well balanced view of God's truth."
The CCA cites Acts 20:27 where Paul met with the Ephesian elders, saying, "For I have not shunned to declare unto you all the counsel of God."
While topical sermons are indeed preached on occasion, the emphasis of the Calvary ministry is to teach the Bible from beginning to end in an expositional manner.
Kerry McGuire and his wife, Kathy, drive from Carrollton to Newnan to attend Calvary Chapel.
"What a breath of fresh air this church is," Kerry stated. "Contemporary music that maintains a high view of God with teaching that simply seeks to hear what God has
to say in His Word and apply it to our lives. This is a group of people who authentically
love each other without pretense or expectations."
"Calvary Chapel has achieved a unique balance between the systematic study of God's
Word and a yielding to the leadership of the Holy Spirit," said Pastor Joel Dover.
"We are a spirit filled church and believe in the present activity of the Holy Spirit. We are also a church serious about studying the Bible. We do not simply teach from the Bible, or
about the Bible, we teach the Bible – verse by verse, passage by passage, precept upon
precept, through Bible books," Dover said.
"In both the Word and the Spirit, Jesus Christ is our central focus. To know Him is our greatest pursuit," Dover said.
Dover said the church "operates with a dependency upon the Holy Spirit." 
He explained, "For the most part, we reject man's programs and schemes, and
instead, look to the present power of the Spirit to direct and grow His church and to
accomplish the will of Jesus in this local fellowship. We believe that God will build His
church His way and that He doesn't need our striving and scheming."
God "is looking for people who will yield fully to His leadership and simply walk in daily fellowship with Him," Dover said. "God will take care of everything else in His own way."
The worship environment is comfortable. "We have a very relaxed and casual style,"
Dover said. "We don't put very much value on a person's clothing or outward appearance. Rather we look deeper into the human heart and try to see everyone as a person that Jesus cares about."
Greg Smith, who has been with the church since the beginning, explained, "We have a
hunger and thirst for God's Word. God has blessed Pastor Joel with the ability to teach
His Word in an expository manner that equips us with the Gospel to share with others.
We can feel the presence of the Holy Spirit in the fellowship and enjoy the liberty of
freely worshipping and praising God."
"It is difficult to put into a few words just why this church is special," Karen Zinkowski
said. "Paramount is the fact that Pastor Dover, in all humility, teaches the Word of
God verse by verse without compromise. It is a praying church. There is a culture of
worship, welcome, love and hospitality that is a beacon in the community."
Zinkowski said that Calvary Chapel "is a place to mature and cultivate a strong relationship with the Lord."