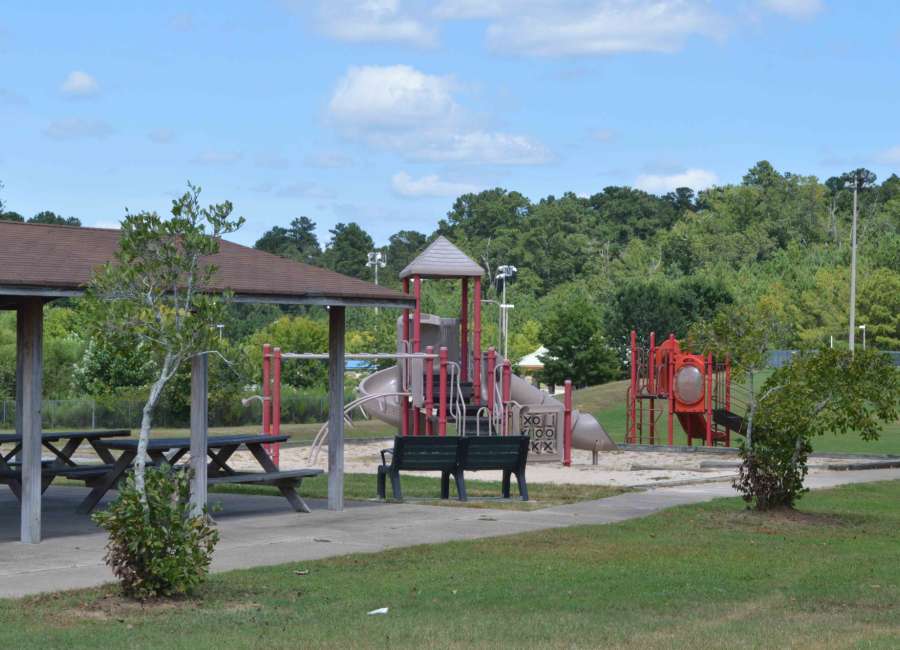 Disc golf courses, new playgrounds, more trails and bathrooms that are open year round are coming to a Coweta County Recreation Department facility near you. 
The department has $2.7 million from the 2019-2025 Special Purpose Local Option Sales Tax to spend on parks and recreation, and a final project list was approved Tuesday by the Coweta County Board of Commissioners. 
The list includes some pricey projects such as new lighting at the Hunter and Whitlock complexes which will take up more than $1 million, but also includes many smaller, less expensive projects that will bring big benefits. 
The department is proposing to create disc golf courses at the Temple Avenue and Hunter recreation complexes, said Director Jim Gay, though the exact locations aren't set yet. 
Disc golf is popular in other counties, Gay said. He worked for the Douglas County Parks and Recreation Department where the disc golf courses got a lot of use, and they are also popular in Peachtree City. 
Last year, the Coweta Parks and Recreation Task Force surveyed the public, and there was a big demand for more passive recreation. We're trying to meet some of those needs and requests through things like disc golf," Gay said. "We're excited about that. It's something you can do with your family, and get out and enjoy the parks. It's a fun, laid-back sport."
Gay said that, if the courses are put at staffed facilities, there will be disc sets that people can check out and use to play. 
Adding a playground to the Andrew Bailey recreation complex is a major project on the list, and the playground and pavilion at the Hunter Complex will be replaced with something bigger and better. 
The playground at the Sargent park is also set for upgrades, and there will also be a proper basketball court constructed. 
Right now, there's a very basic basketball court in the parking lot. "The plan is to pave a small court and install a hoop out of the road, and replace the playground," Gay said. 
The Clay-Wood Center will be getting another basketball court. Currently there is an outdoor basketball court and tennis courts. There's not much demand for tennis, so the tennis court will be converted into a new basketball court, Gay said. 
Clay-Wood and Hunter are also set to get outdoor restrooms. Currently the only restroom at Clay-Wood is inside the buildings and when those buildings are closed, so are the restrooms. 
There are some outdoor restrooms at Hunter near the baseball fields, but that's quite a walk from the playground and football fields, Gay said, 
The outdoor restrooms at some facilities used to be closed when there weren't games or other programs scheduled, even though people might still be using the parks. 
That's something Gay changed soon after he took over the director's position in March. 
Some of the restrooms are closed during the winter months to prevent frozen pipes from causing problems. Money is being set aside in the SPLOST list to do whatever work is necessary to keep those bathrooms open year round. 
"As a parent, if you're out at the playground and there is no restroom, and the child has to go to the restroom, you've got to leave," Gay said. "We want people to use the parks. I think the way you get people to use them is make it as convenient as possible."
The Hunter Complex will also get a new playground to replace the current one, and a second picnic pavilion.
Another project is the addition to water refill stations at some parks. Where there are existing water fountains, they will likely be retrofitted with the refill stations, which combine a water fountain with a way to easily refill a bottle. 
There will also be some added where there aren't exiting fountains. 
The Brown's Mill Battlefield site has started getting more use with the addition of a network of walking/jogging trails and the beginning of a network of mountain bike trails – and its first restroom facility. 
The SPLOST list includes $25,000 to expand the bike trails, which is being done in partnership with Bike Coweta. To accommodate the increased use, there is also a plan to expand the parking lot. 
"We've had good success with Brown's Mill," Gay said. "Our plan is to build out the original design that was proposed to us."
There's currently a walking trail at Leroy Johnson Park in Senoia, but there are parts that aren't connected, Gay said. Money from SPLOST will be used to complete the trail. Gay said the trail gets a lot of use and he's even seen people in wheelchairs enjoying the trail. "We want to make sure that it is well connected, and keep people off the roads," he said. 
The walking trails at Central, Hunter and Temple Avenue will be augmented with outdoor fitness equipment located along the trails. 
The Temple Avenue complex will get some expansion with the grading of the former site of the Georgia State Patrol post. That area is already used for football practice, but will be graded for proper fields, according to Gay. 
There will also be a new floor put in at the Johnny Brown building at Temple. The multipurpose building currently has a tile floor, and that will be replaced with something more conducive to athletics. 
It won't be a wooden gym floor, and probably won't be used for playing volleyball games, but will make the building more useful for practices and other uses, he said. 
And there are plans for an outdoor classroom for the Harriet Alexander Art House, where art lessons are taught. 
Other projects on the list include pitching lanes at Whitlock, field netting at Central and new signage at all parks. 
Figuring out which projects will be done when is the next step. "We have yet to sit down and come up with a time frame," Gay said. 
Some of the work can be done by county crews, and that will be dependent on other work county crews have to do. The work also will have to be based on when sales tax revenue comes in. 
Gay said he is hoping to get started quickly on some projects. "Everybody is really excited," he said.