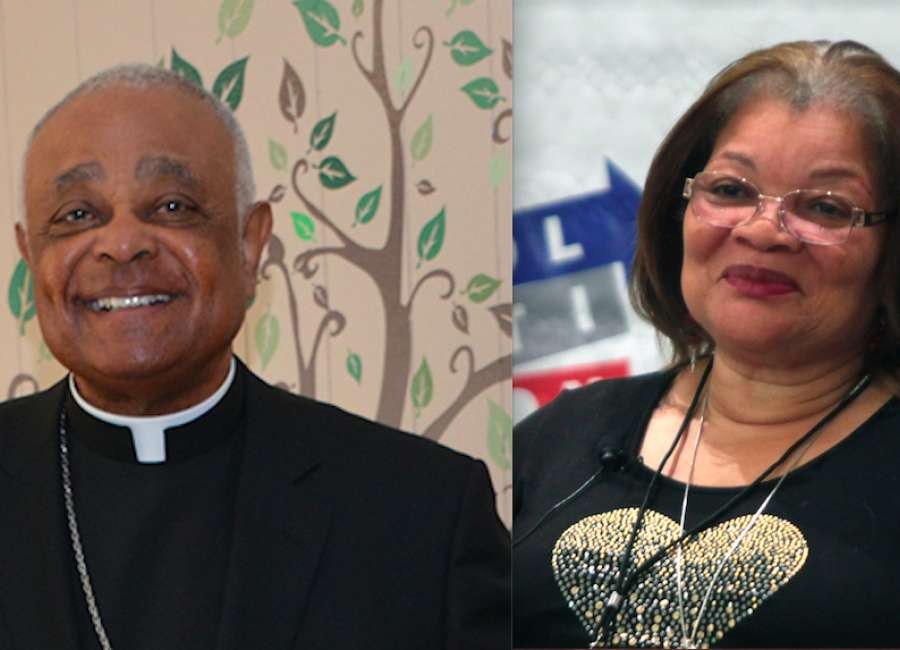 Two African American church leaders have offered strong – but very different – reactions to comments about Baltimore by Pres. Donald Trump.

Trump recently described the coastal Maryland city as "a disgusting, rat and rodent-infested mess" – also saying Baltimore was "filthy" and "dangerous."
Wilton Gregory, archbishop for the Catholic Archdiocese of Washington D.C., took the president to task for his remarks. Dr. Alveda King, director of civil rights for the unborn for Priests for Life, defended the president.
Gregory, 71, visited Coweta County numerous times while he was archbishop of Atlanta from 2005 to 2019. He officiated at Mass at St. George Catholic Church on Roscoe Road during confirmation services in 2015 and 2018.
King's most recent visit to Coweta County was earlier this year when she spoke at Ave Maria Academy's banquet at the Newnan Centre on Lower Fayetteville Road. Her first trip was some 60 years ago – when her father, Alfred Daniel Williams King, was pastor at Mt. Vernon First Baptist Church on Pinson Street.
On Aug. 1, Gregory released a reflection in the Catholic Standard, the news site for the Archdiocese of Washington:
"In my brief time in Washington, I have been doing a lot of listening and learning. I have promised to try to preach the Gospel, tell the truth and attempt to heal wounds in the body of Christ and our broader community. I have stressed that I am a pastor and fellow disciple of Jesus, not a political leader," he wrote. "There are, however, sometimes, when a pastor and a disciple of Jesus is called to speak out to defend the dignity of all God's children."
Gregory wrote that he fears Trump's comments and "the responses they have generated have deepened divisions and diminished our national life." He expressed "deep regret for the ways our Maryland neighbors in Baltimore have been denigrated in recent public attacks."
The archbishop wrote, "Our faith teaches us that respect for people of every race, religion, gender, ethnicity and background are requirements of fundamental human dignity and basic decency. This includes newcomers to our country, people who have differing political views and people who may be different from us. Comments which dismiss, demean or demonize any of God's children are destructive of the common good."
He also commented on the recent pastoral letter of the U.S. bishops on racism, "Open Wide Our Hearts." The letter states racism occurs when people ignore "the fundamental truth that, because all humans share a common origin, they are all brothers and sisters, all equally made in the image of God – When this truth is ignored, the consequence is prejudice and fear of the other, and – all too often –hatred."
The church "must …  take responsibility to reject language that ridicules, condemns or vilifies another person because of their race, religion, gender, age, culture or ethnic background," Gregory wrote. "Such discourse has no place on the lips of those who confess Christ or who claim to be civilized members of society. … The growing plague of offense and disrespect in speech and actions must end."
"I've read the statement by Washington, D.C. Archbishop Wilton Gregory suggesting that President Trump's Tweets about squalor in Baltimore are racist, and I have to disagree," King, 68, said.
"President Trump is not a racist. A racist is a person who doesn't get Acts 17:26: 'Of one blood God made all people.' I know President Trump understands that, and I'm sure Archbishop Gregory does, as well," she said.
"As my friend and HUD Secretary Dr. Ben Carson has said, there are some areas in Baltimore marred by squalor and the people of the city are suffering because of it. It was not racist when he said that in driving through the city, he saw able-bodied young men sitting idle on porches. It was not racist to suggest these men should be put to work cleaning up the city, to everyone's benefit," King added.
"We all need to acknowledge that Baltimore and other inner city areas across our country have problems. It is not racist to acknowledge these problems, and President Trump is not racist for pointing them out," King said.
King has been one of the most prominent African Americans in Trump's circle. She has traveled with him to events celebrating the legacy of her uncle, Dr. Martin Luther King Jr., and toured the National Museum of African American History and Culture in Washington with the president.