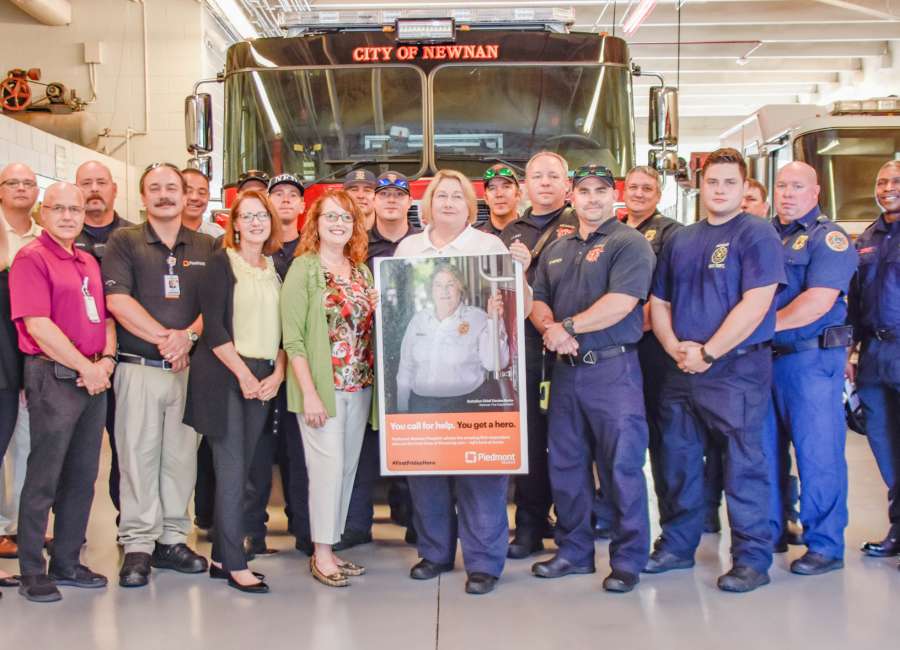 Selfless, brave and sincere – three qualities often defining those in public safety  – are no exception for describing the career of Battalion Chief Denise Burks with the Newnan Fire Department.

On Thursday, Burks was honored by Piedmont Newnan as a First Friday Hero – the hospital's program designed to acknowledge showcase the accomplishments of local first responders.
Newnan Fire Chief Stephen Brown nominated Burks and said he could think of none more deserving than the 32-year veteran.
A trailblazer and well-respected leader, Burks made history by becoming the city's first female firefighter, lieutenant, captain and battalion chief in the city of Newnan and Coweta County.
"When she started here in the mid-1980's, there weren't any women in the fire service," Brown said. "She's always had to fight a little more to prove herself and she's done so much over the years."
Outside the department, Burks' community service efforts were recognized as unique and far-reaching, including her volunteer efforts of  teaching CPR, working with EMS and at the sheriff's office infirmary.
When Hurricane Michael struck the Florida Panhandle and those living in southwestern Georgia in 2018, Burks led with a public servant's heart and was instrumental in helping those in need miles away. 
Burks, along with fellow firefighters Chris Calhoun and Brad Haralson, teamed to set up a makeshift incident command center inside a damaged condominium complex to help prepare food and support for those in need. 
They also helped to provide items such as water, bug spray and even emergency housing to those who were in need.
"She's touched a lot of lives," Brown said. "And she's done so much without any recognition. She's the first to credit someone else and has never cared for the spotlight. That's what made this so special for us."
In her remarks, Burks said she was "honored and surprised" to be selected, and immediately credited her success to those in the department. 
"I didn't get here by myself," she said. "Thanks to Chief Brown and my team. Without y'all, I'm nothing."
During her tenure, Burks was instrumental in helping the department lower its Insurance Service Office (ISO) rating to a 1 (ISO rates from 1-10 with 1 being the best), indicating that the city of Newnan is one of the best protected communities by their fire department. 
Presenting the award, Piedmont Newnan Communications Specialist Nicole Dillion said Burks provides exceptional support, service and leadership to the fire department and the local community.
"Battalion Chief Burks is always willing to pitch in for the good of community and others regardless of the mission," Dillon said. "Through many changes in leadership, Chief Burks has made a difference at the Newnan Fire Department, exemplified the mission of the department and has positively impacted so many within our community and region.
"She's been fondly known as the 'go-to' for most things at the department because of her experience and history in public service," Dillon added. "Anything that she feels will better the department; she puts her heart into it."