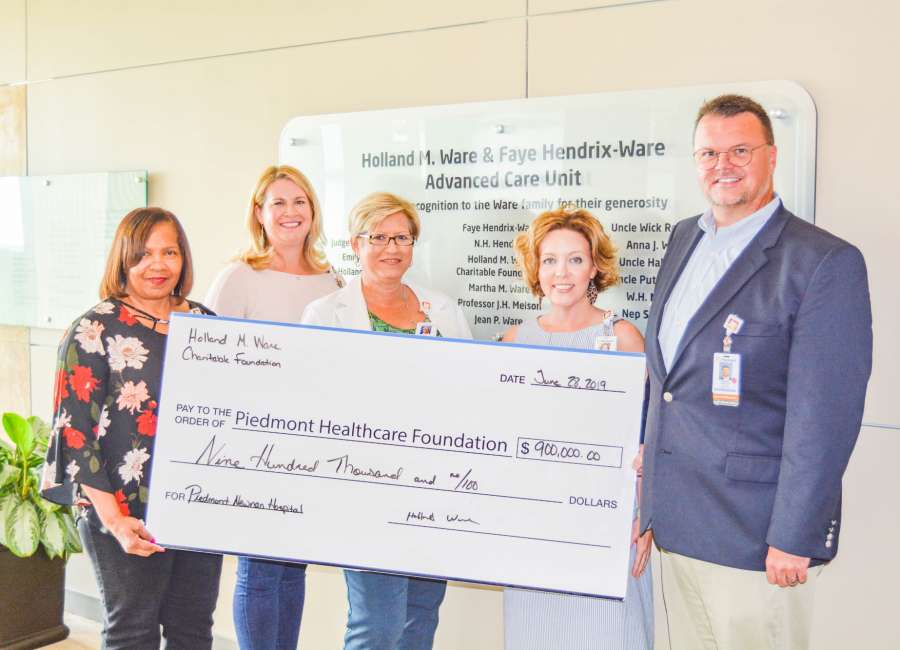 Holland Ware and Faye Hendrix-Ware have made their final contribution to fulfill a pledge of $2.5 million to support expansion at Piedmont Newnan Hospital.

The gift of the Hogansville residents helped support construction of the new 18-bed Advanced Care Unit that opened on Dec. 20, 2018, and started the High Risk Breast Clinic at the Faye Hendrix-Ware Breast Health Center. 
The final installment of $900,000 to complete the Wares' commitment was presented to Piedmont Newnan on June 28.
"It is an honor for me and my family to contribute to the expansion of our local hospital after the level of care and concern they have shown in all areas of patient care," Ware said. 
The Holland M. Ware and Faye Hendrix-Ware Advanced Care increased the total number of beds at Piedmont Newnan to 154 and has allowed the hospital to serve more critically ill patients close to home. 
Nearly 600 patients have received care in the new unit in the six months since its December opening.
The local hospital has been able to care for more than 100 more medical/surgical patients per month in 2019 compared to 2018.
In 2017, Piedmont Newnan opened the Faye Hendrix-Ware Breast Health Center, establishing a high-risk breast clinic to assess patient's risks through evaluation and examination and develop an early detection plan based on the patient's risk. In August 2018, a telegenetics program for patients at high risk for breast cancer was started.
Thanks to the contributions from Ware and Hendrix-Ware, nearly 6,000 women have been screened.
"Both Holland and I have had personal and family experiences where cancer has touched our lives, and we are both very pleased to be a part of the cutting-edge technology and early detection methods available through our contributions to Piedmont Newnan Hospital," said Hendrix-Ware.
"We are certain that not only the level of patient care and treatment will be superior, but the family experience will be greatly enhanced as well," Hendrix-Ware said. "Partnering with Piedmont is the perfect fit, and the opening of both the high-risk breast clinic and Advanced Care Unit will have such a positive impact on our communities."
Piedmont Newnan is a nonprofit, community hospital, and the only acute-care facility in Coweta County. Since opening a new facility in 2012, the hospital has seen a 54 percent increase in hospital admissions.
The contribution by Holland Ware and Faye Hendrix-Ware has allowed Piedmont Newnan to keep more patients close to home for care.
"We are extremely grateful to Faye and Holland for this monumental gift. Their confidence in the care we provide our patients is evident in this level of support," said Mike Robertson, CEO, Piedmont Newnan Hospital. 
"Piedmont Newnan is dedicated to providing high-quality, patient centered care close to home. Thanks to their contribution, we continue to make a positive difference in the lives we touch," Robertson said. 
Holland Ware has given millions of dollars over the years for cancer research and animal protection causes. The Wares' interest in health care locally is likely to continue.
The old Piedmont Newnan facility on Hospital Road has been considered for several health and community related purposes since it closed.
"We've been working with Piedmont for about a year on the old hospital and hope something will be announced in the next few months," Holland Ware said. "We look forward to continuing to partner on bigger projects that will be beneficial to Coweta County."