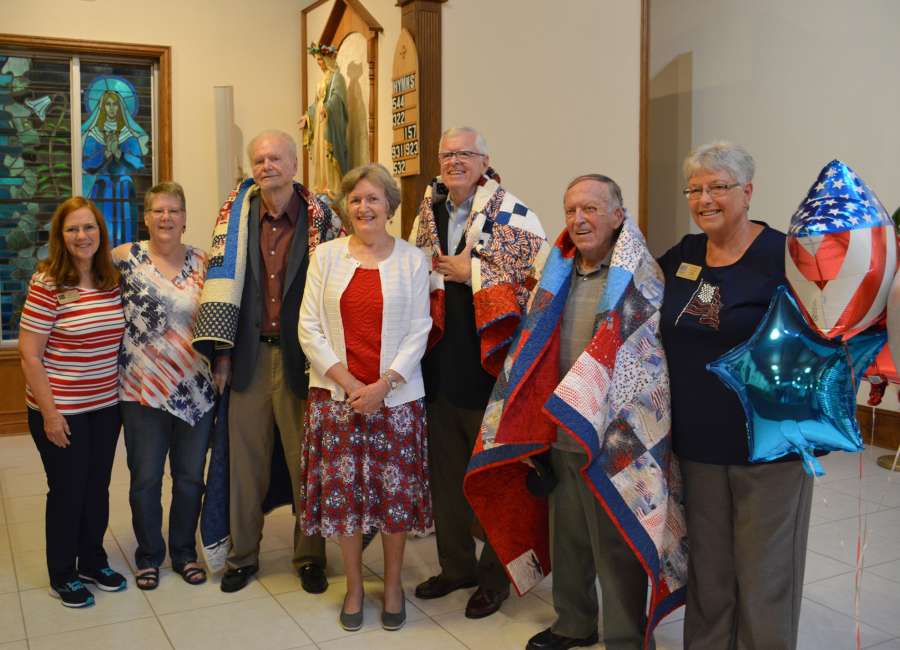 Three parishioners of St. George Catholic Church received of Quilts of Valor in ceremonies at the church recently.

Volunteers with Coweta Quilts of Valor made the quilts, which are created to present to veterans. Receiving quilts at St. George on June 9 were Lt. Col. Patrick Finneran Jr., Lt. Col. William Alston Johnson and Storekeeper Petty Officer 3rd Class Patrick Mulligan
Finneran served in the U.S. Marine Corps 1963-1987. He attended Naval Reserve Officer Training Corps at the University of Notre Dame and Marine Corps Officers Candidate
School. He was an honor graduate of the Marine Corps Infantry Officers basic course.
Finneran was part of a team of four officers who redesigned the training curriculum to make it more combat relevant, resulting in a significant increase in aircraft, instructors and enlisted staff. He completed Marine Corps Amphibious Warfare course as an honor graduate and served as casualty assistance officer for nine Marines killed in a training accident.
He held a temporary assignment as personal aide to Donald T. Regan, Secretary of the Treasury during the transition from the Carter to Reagan administrations.
Finneran's numerous military awards include the Legion of Merit, Meritorious Service Medal with gold star in lieu of second award, Air Medal – two awards, Navy Commendation Medal with combat V for Valor and Gold Star in lieu of second award, Navy Achievement Medal, National Defense Service Medal, Vietnam Campaign Medal, Sea Service Deployment Ribbon, Republic of Vietnam Meritorious Unit Citation/Gallantry Cross, Pistol Expert – 12 and letters of commendation and appreciation.
Johnson served in the U.S. Marine Corps 1953-1976, starting his career when a
Navy recruiter asked if he would like to fly jet aircraft. He said "yes," not having a clue as to what lay ahead.
Throughout his career, Johnson had various phases of instruction including formation,
instruments, culmination in carrier qualifications and advanced training in jets at several bases in Texas. He gained his wings in 1957.
Johnson's first assignment was in Hawaii, VMA 24. He was deployed to Atsugi, Japan during the Formosan crisis assigned classified one-way targets with nuclear weapons. He returned to Hawaii after Japan.
Following an assignment as a jet flight instructor in Texas, flying the F9F-8 Cougar, he was sent on an unaccompanied tour in Japan. He spent time in Vietnam, Chu Lai, where he flew 1,959 combat missions, 79 of those into North Vietnam. He was awarded two Distinguished Flying Crosses and 12 Air Medals.
Johnson was then assigned to the 1st Marine Air Wing G-3 and assigned control of all fixed wing assets of the Air Wing. In the last years of his career, he was assigned as assistant program manager for logistics at the Naval Air Systems Command in the D.C. area, and Pensacola to VT-25 as flight instructor for Naval Flight Officers (NFO)Q.
Johnson was promoted to lieutenant colonel and designated the flight training officer. After
being sent to CNET as Marine Corps liaison for one year, he retired in 1976.
Mulligan served in the U.S. Navy 1951-1955 aboard the USS Malabar in the Atlantic Ocean – for one year as Storekeeper. The ship traveled to Trinidad, Nova Scotia and Cuba.
He was stationed at Banbridge, Md. as storekeeper. He received the National Defense Service Medal and Good Conduct Medal.
Mulligan continued his career for 20 years, flying 80 combat missions in the Republic of Vietnam and later as a Naval Aviation Training Command flight instructor.
The Quilts of Valor Foundation has awarded more than 220,000 quilts to veterans since 2003. Coweta County Quilts of Valor has awarded 486 Quilts since August 2014.
Participating in the ceremonies at St. George were Kathy Wilson, coordinator for Coweta County Quilts of Valor, and CCQOV volunteers Louise Sinclair, Deborah Sweeney and Beverly Watkins.
Sweeney made Johnson's top and it was quilted by Debbie Fowler. Beverly Watkins made Finneran's quilt top, and it was quilted by Pam Hayes; Mulligan's quilt top was made by Louise Sinclair and quilted by Fowler.