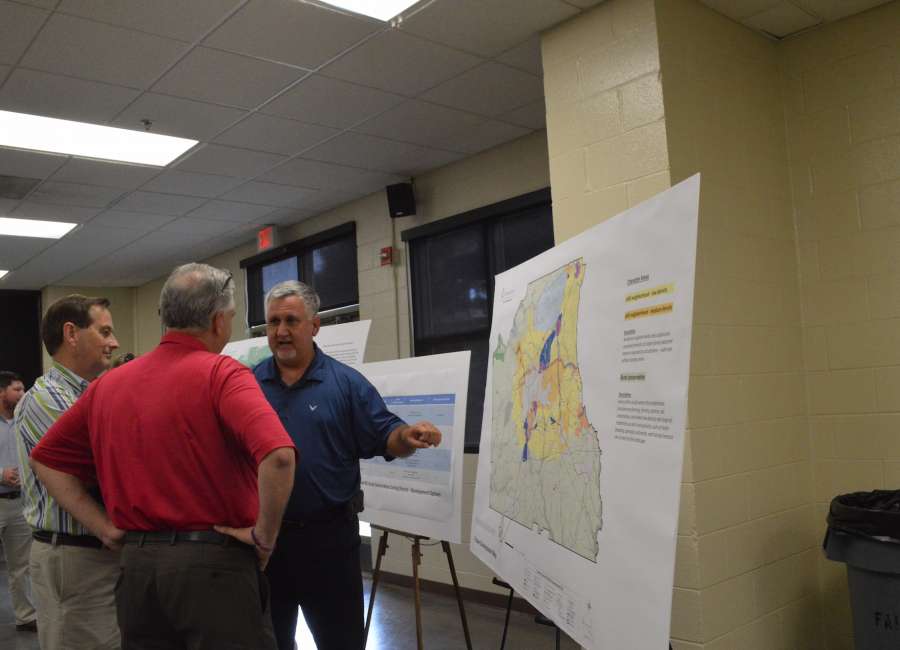 Several dozen people turned out to the first of three meetings on Coweta's proposed rural preservation strategy. 
The drop-in open house meeting meeting on the "land development guidance system" was held at the Coweta County Fairgrounds. 
The remaining meetings are July 17 from 10 to 11:30 a.m. in the county commission chambers, upstairs at 37 Perry St., Newnan and July 23 from 6 to 7:30 p.m. at the Central Community Center, 65 Literary Lane, Newnan.  
Visitors to the meetings are asked to fill out a survey, and the survey is also available, along with supporting information, at www.coweta.ga.us .
The land guidance system seeks to concentrate higher density residential development in the areas around cities and towns, while significantly limiting residential growth in the most rural areas. 
The system assigns a point value to every undeveloped residential tract in the county, based on proximity to services, development, and infrastructure. There are four tiers of allowable density, based on a particular tract's point value. 
Just how high the density will go near cities or how large lot sizes must be in the most far-flung areas is something that is still being figured out. 
Current policies allow for a density of one home per acre with a rezoning to the Rural Infill-A zoning district. The new proposal would allow that type of development, without a rezoning, in the highest scoring tier. 
When the system was originally discussed at a Coweta County Commission meeting, the lowest tier of property would only allow development on 5-acre lots, or the "equestrian community plan" subdivision. 
At Tuesday's meeting, information boards showed a proposed minimum lot size of 12 acres. 
"We're trying to see what people's comfort level is at both ends of the spectrum," said Teresa Crow, development review manager for the Coweta County Community Development Department. "Do we need a higher tier and a lower tier?"
Density could be higher for residential development with sewer, Crow said. Lot sizes could be five, 10 or 12 acres in the low-density areas. "I believe it's still open for discussion," she said. 
The commissioners will have some decisions to make on allowable densities, as well as whether or not to allow one unit per acre without a rezoning process. 
"We're in the information gathering stage," said Ben Sewell, assistant director for development review. He said he heard from people both in support of and opposition to the proposal at Tuesday's meeting. 
"The reality is we're going to hit 240,000 in population," Sewell said, referring to population estimates for the year 2040. "We may have, through zoning power, an ability to hedge that a little bit," he said. 
"But this is about focusing that 240,000 in an area where it makes sense, rather than spreading it over the county evenly."
Community Development Director John Amason said he spoke to people with different opinions about rural character.
"There are different perspectives, different ideas, of what that means. So that's the challenge," he said. 
"It will be interesting to see what the surveys show," Crow said. 
Sharpsburg Mayor Blue Cole said the proposal is a good start. "We need to drive growth towards the places that can support it, including all of our municipalities. We have the infrastructure," he said. 
"Newnan and Senoia are great places to live… but unless you want them to continue to crowd on top of each other," more residential development needs to go toward the smaller towns, Cole said. 
"If you have development in all the little towns, you're not going to have the bigger towns continue to grow and sprawl," he said. "Let's focus it in some other areas and we're not bottlenecking ourselves."
County officials were pleased with the healthy turnout, but Commissioner Bob Blackburn hopes to see even more people at future meetings. He also would like to see more input from the younger generation. "It is going to affect them the most," he said. 
County Administrator Michael Fouts said he answered a lot of questions at the meeting but didn't get a lot of feedback. He was happy to see so many people. 
"I think ultimately the more input we get, the better product we'll be able to take to the board," Fouts said.