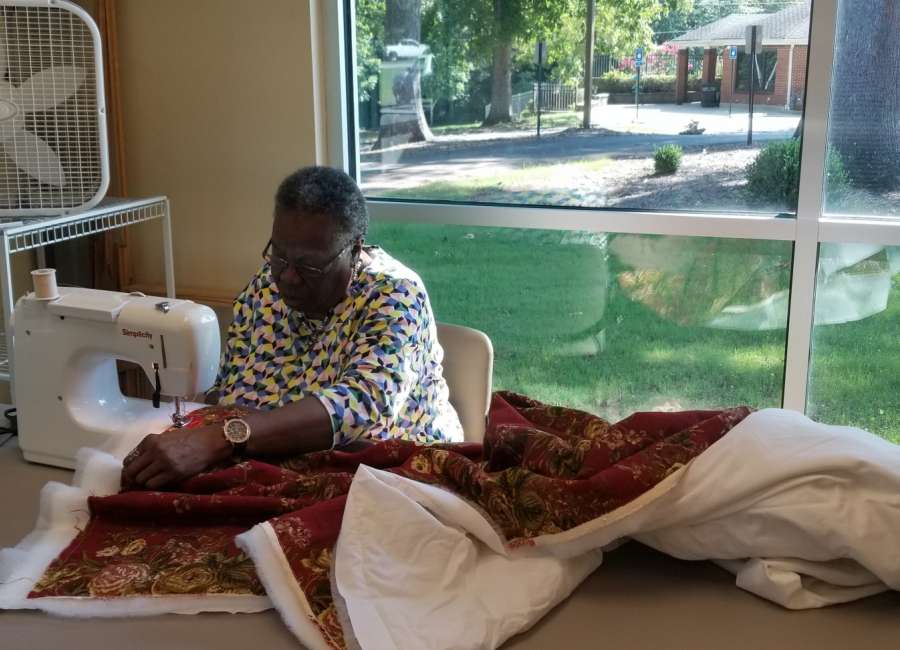 According to Crossroads Church member Roxanna Kerling, the Newnan church takes a mission trip each year, but this year the church is visiting a village in Haiti they've never visited before.
Seniors at the Tommy Thompson Senior Center have spent the last couple of weeks sewing quilts for widows in Haiti.
Kerling said the mission trip is planned through Operation Mobilization, an organization that leads Christian-based missions throughout the world. 
Kerling said the church usually takes some sort of gift when on a mission.
"We were asked to bring the quilts," Kerling said. "There are nine widows who will receive a quilt."
As far as getting the seniors at the senior center to make the quilts, Kerling said she was in Goodwill one day buying fabric and met a lady who wanted to help. Kerling describes the lady as an angel, not catching her name.
She suggested Kerling meet her at the senior center the following week, and the group of about five ladies has been working on the quilt for about two months.
"This is a God thing, I'm telling you," Kerling said. 
Kerling said the ladies typically work on the quilt on Mondays.
"They have done all the work," Kerling said. 
Margie Williams is one of the women working on the quilt. The Newnan native said she has been sewing all of her life.
"My mama used to buy flour in the big flour sacks, and I would tell her to get two of the same bags and I would make dresses and skirts on the pedal machine," Williams said.
Mary Daniels also said she has been sewing most of her life. She said her mother was a seamstress.
"We couldn't afford all these expensive clothes, so she would go to these stores and sketch out what she liked," Daniels said. "We would come back and cut it out on meat paper. That's how she started. It just went from there."
Hazel Rush, another volunteer, said she also crochets, knits and makes jewelry.
Betty Moore said she learned to cook and sew in high school. She said she would often make her own clothes.
"That way, you had something different, "Moore said. "If other kids had store-bought skirts, yours could be different. You could customize it."
The ladies said they have enjoyed working on the quilts.
Daniels said she believes it keeps her mind sharp.
According to www.briacommunities.com, a senior living community, many seniors are concerned about cognitive impairment, which can range from occasional forgetfulness to more serious health issues such as dementia. 
The best way to keep your brain sharp is to regularly challenge it – knitting and sewing is the perfect activity for this, according to the website. A neuropsychiatry study found that engaging in activities such as knitting or sewing could reduce the chance of developing mild cognitive impairment by 30 to 50 percent for seniors. 
Knitting is especially good for this, since it requires you to use many parts of the brain at the same time, according to the Bria Communities. 
Kering said the quilts will also be monogrammed, and each quilt will also have a card.
The Tommy Thompson Senior Center often hosts craft and jewelry making classes.
The ladies at the center plan to sew for more projects in the next coming weeks. 
Kerling and the rest of the group visiting Haiti will leave within the next week.