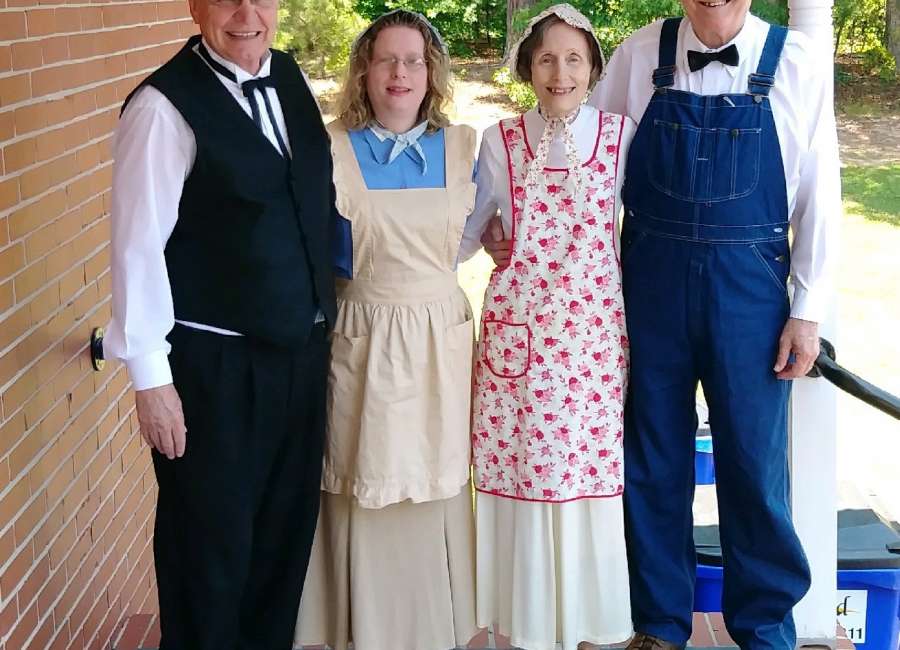 Started under a brush arbor and built initially with supplies from another church, Pleasant Hill Baptist Church has celebrated 125 years of ministry.

The church, located on Gordon Road, celebrated the milestone at its recent homecoming service.
"The special worship service that day included wonderful music and singing by Line Creek Bluegrass," according to Diana Fowler.
A commemorative video was also shown. The message was delivered by Dennis Fowler, a former pastor of the church.
Some of the current members marked the occasion by dressing in old-fashioned style.
"Everyone was invited to stay after the service to share in a time of fellowship, delicious food and reminiscing," Diana Fowler said.
According to "Pleasant Hill: Our First Hundred Years," published in 1994, families began holding services in their homes and talking about starting a church in the area in 1893. The initial families were those of J.S. Adcock, O.B. Chappell, R.L. Conner, Z.M. Couch, W.D. Feltman, H.C. Kelley, James M. Kelley, W.R. Kendrick, Polk Morris, John Neill, John Nick Neill, Luke Slaughter and S.W. Washington.
"They organized a church, built a brush arbor and held services until they could build a church," according to the church history. Haralson Baptist Church "gave their old building material to them, and it was hauled by mule and wagon to the present site."
W.D. Linch gave the land for the church, an acre three miles west of Haralson.
P.L. Hudson was the church's first pastor. Henry S. Reese, who came from a pioneer Coweta family, pastored Pleasant Hill from 1897-1902 and again from 1904-1915. Reese wrote a newspaper column, pastored many other area Baptist congregations and was a composer and singer of Sacred Harp music.
H.L. Stephens also served the church twice – from 1923-1927 and from 1944-1947. According to the church history, Stephens preached his first and last sermons at Pleasant Hill.
Other pastors included J.E. Clay, who took a lead role in modernizing the church building; John W. Borders, who served several churches in Coweta, Fayette and Meriwether counties; Henry Calhoun, whose pastorate saw the expansion of the church building; and Winston Harmon, who pastored at Pleasant Hill for several years around the time of the church's centennial.
Numerous improvements were made to the church building over the years. Outdoor baptisms were the norm for most of Pleasant Hill's history, with the first baptismal service being held in September 1973. Gary and Tommy Cheney, Mrs. Judy Cheney, Ray Milner and Mrs. Connie Neill were baptized.
Pleasant Hill has had many faithful members who served in positions of teaching and service for long periods. At homecoming, the church's members enjoyed reflecting on Pleasant Hill's rich history, but they are focusing on what lies ahead.
"It was a joyous day to be in God's house celebrating 125 years of community ministry and looking toward the future and all that God has planned," Diana Fowler said.