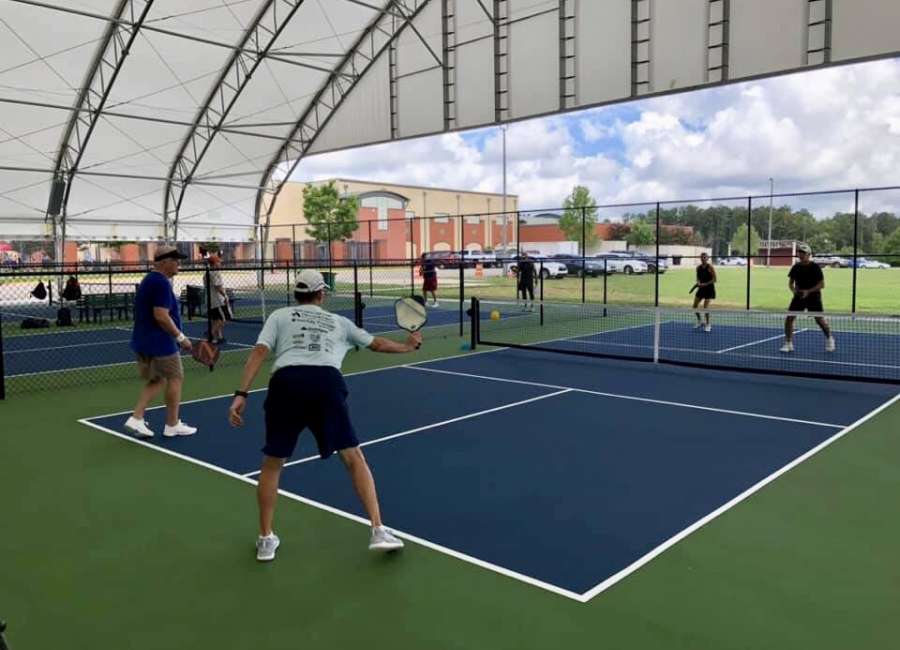 By BRITTANY SHIVERS
brittany@newnan.com
In Coweta, there is a high demand for pickleball courts, and many of the local sports facilities and clubs have accommodated for those needs. However, only members of those clubs or those willing to pay a fee can get access. 
Pickleball is growing in popularity in Coweta and is one of the fastest growing sports in America, according to the USA Pickleball Association.
Converting tennis courts into pickleball courts is only a temporary solution to the pickleball community's problem of getting access to public pickleball courts.
"It doesn't really work because tennis courts are almost twice as wide as pickleball courts," said Billy Perkins, a local ambassador for the sport. "The net extends about five feet further out on each side, which eliminates a popular pickleball shot around the post, so it's a big compromise to play on a tennis court."
Currently, the low-cost option for locals hoping to play pickleball is the Coweta County Recreation Department. There, individuals can pay a year-long membership fee or they can pay five dollars each day they wish to play.
Players set up their nets and they mark off their courts in the gymnasium according to Jim Gay, recreation director.
"We hope in the future that we can make some changes in the Johnny Brown Building to be better for not just pickleball but for all sports," Gay said.
For players who prefer to play on courts made specifically for pickleball, they have to be a part of a private subdivision or club, such as White Oak or the YMCA.
The White Oak Golf Club is one of the few places in the county that have dedicated pickleball courts. The club converted some of its tennis courts into six permanent pickleball courts earlier this year.
The YMCA converted a few of its tennis courts into pickleball courts as well at the beginning of July. The courts are taped off, and they have the proper length that a pickleball net should have. 
"We're trying it out. I firmly believe its highly popular," said Biff Lloyd, tennis director at the Summit Family YMCA in Newnan. "The idea is to go to six courts if the demand is there. I think it's going to be by the end of this year."
These clubs are listening to what their members want, so pickleball courts are being added. White Oak even gained some memberships just because of the new courts, according to Perkins.
Although these clubs are making pickleball courts available for the county, it still does not solve the issue of Cowetans having free public access to certified pickleball courts. This is because at these types of places individuals must be a member to play.
"The challenge for us is that we have no public courts that are dedicated pickleball courts," said Perkins.
In other nearby counties, pickleball courts and facilities are being built to meet the high demand. 
The city of Opelika in Alabama opened its new pickleball facility on July 12 which has 12 new courts. Griffin also has a facility with 18 courts where they have hosted tournaments. 
Many pickleball players are going to these other counties to play pickleball in these facilities according to John Huddleston, a USAPA certified pickleball instructor at the Summit Family YMCA in Newnan. 
Essentially, Coweta is running behind in developing pickleball courts. 
"There's a lot of people in Coweta County that would come out and play if there were courts to be played on," Huddleston said.
"One of the things that we don't quite understand is why the city or county is wanting to improve baseball fields and build more, but some are unused and pickleball courts are in high demand," Perkins said.
Fortunately, Newnan is looking to develop some pickleball courts, but specific plans still have to be established, presented and approved by the city council.
"Council had asked me to look at the feasibility of three different places," said Cleatus Phillips, City Manager. "We're taking a look at sites around the city where infrastructure may already exist, then we'll report back to council."
As a local ambassador for pickleball, Billy Perkins is getting some plans ready to present to council. 
"We were thinking about having a pickleball park with at least 10 courts maybe more," said Perkins. "You really need more if you're gonna do tournaments. 10 is a good start and that's what we're hoping to do. It's too early to say if it'll get approved or not, but we've gotten good feedback and I'm hopeful."
The new plan will be proposed in August or in early September at the latest, according to Phillips.