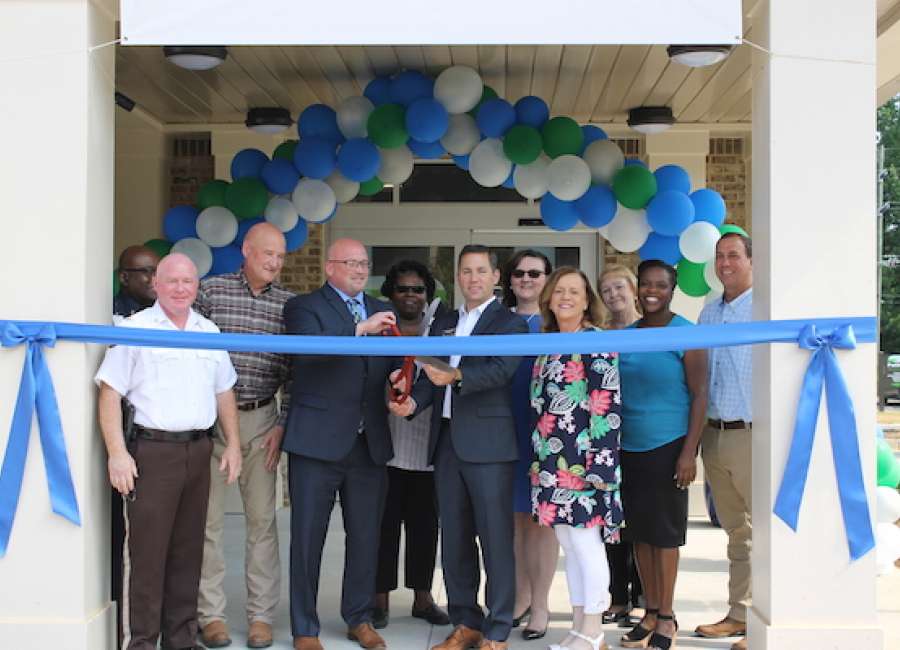 The new Pathways Care Campus located on Hospital Road was dedicated Friday morning.
The Care Campus includes a child and adolescent unit and an adult unit.  
Members of the Pathways Center board attended the ceremony along with local officials, firefighters and police officers. 
"It's really just a labor of love. It's something the Pathways Center and the county can take pride in," said Jenelle Hess, special events director for Pathways.
Pathways Center is a behavioral health organization that serves a 10-county area, according to CEO Jade Benefield. 
The new crisis centers will provide walk-in evaluations for those in a mental health crisis, inpatient crisis stabilization and substance abuse detox. 
The child and adolescent unit will have 16 beds, and the adult unit will have six 24-hour observation beds and 24 crisis beds, according to Benefield. 
Benefield said the project began about four years ago when he met with County Administrator Michael Fouts and ran the idea of a crisis center by him. Benefield said he expected Fouts to say no, that it would be too big of a project or too much money. 
However, Benefield said that Fouts thought that the center would be a great thing for the county. 
"It's definitely an exciting day to see the new facilities. Our county and our citizens will be proud of this for a long time," Fouts said. 
The facility is a joint project of Pathways, Coweta County and the Coweta Hospital Authority. The authority, which manages money from the 1982 sale of Coweta General Hospital to Humana, is funding the construction.
Benefield said he is not aware of any other mental health crisis center with both child and adult units next to each other. 
"The truth is, we are not at the end of a project. In fact, it's the opposite. We're at the beginning of a project," he said. "We owe it to the people we serve, and we owe it to this community to not stop now. Instead, we need to continue to ask the question why not." 
Benefield said the buildings have unique features that set them apart from other crisis centers. The units have original artwork donated by local artists, exercise rooms and high ceilings, so the buildings don't feel claustrophobic. 
The children's unit features a reward room with a TV and games and a playground. 
Pathways Care Campus is named for a program called Coweta Cares. Coweta Cares is a mobile integrated health care unit for behavioral health calls. 
The program is a collaboration between Coweta County Fire Rescue and the Pathways Center. 
"If we're going to be successful, we have to work with the community. We can't work in separation from everything else," Benefield said.