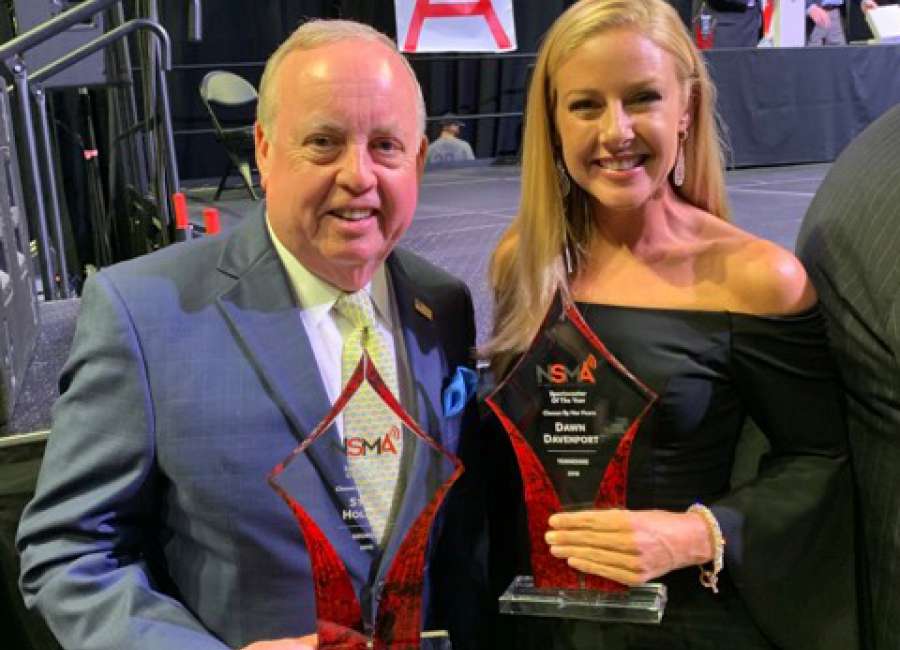 Unlike Dominique Wilkins or Spud Webb, Newnan resident Steve Holman has never taken a shot, pulled down a  rebound, or sank a clutch free throw, but the veteran Atlanta Hawks broadcaster has turned into a legend in his own right after more than three decades sitting courtside behind the mike calling the Hawks' games over the airwaves.
Last weekend, Holman was honored by the National Sports Media Association as the Georgia Sportscaster of the Year at a banquet held in Winston-Salem.
Holman has now been named the Georgia Sportscaster of the Year three times.
Along the way, Holman has been a part of an amazing milestone, calling 2,581 straight Hawks' games.
Holman never really thought the streak would get that high.
"I kept track of the games when John Sterling left to go to the Yankees," he said. "Then one thing led to another. The Hawks let me know when I was hitting 1,000, 2,000 and 2,500."
Holman has a long collection of memories sitting courtside with the Hawks, with many of his best broadcast moments centering around the Hall of Fame career of  Wilkins.
The 1988 seven-game Eastern Division Semifinal playoff series between the Hawks and Celtics still standouts as  one of Holman's favorite moments behind the mike.
The Hawks won  game five in Boston before eventually losing the series in a classic game seven as the Celtics prevailed 118-116.
The Celtics' Larry Bird scored 34 points in the fourth quarter to spoil Wilkins' 47-point performance.
Holman has been in Atlanta since 1980 when he came to town to work at WGST after being hired by program director Mike Wheeler.
Holman did sports for the morning drive and also called Atlanta Falcons games when he first arrived.
The veteran broadcaster grew up idolizing Curt Gowdy and got his first job in radio working for Gowdy at his radio station in Lawrence, Mass.
 He broke into the play-by-play business when  he introduced himself to long-time Celtics' announcer Johnny Most.
Holman starting out keeping stats for Most, but had to fill in for the Celtics' announcer when he lost his voice during a game in 1976.
Over the years, Holman has watched sportscasting evolve, especially with the  advancement of technology.
In addition to the old-fashioned radio, fans can now listen to Hawks game via the Internet, the NBA app and satellite radio.
"It's more of a world-wide audience now," he said. "When I first started, it was whatever local radio station carried the games and maybe a small network of stations in Georgia."
Holman has heard from listeners as far away as Brazil and Australia, as well as servicemen and women from Atlanta stationed around the world.
"It keeps them close to home," he said.
The streak will continue this season for Holman as he enters his 35th year as the voice of the Hawks.
Holman was joined at the recent banquet by Tennessee Sportscaster of the Year Dawn Davenport who grew up in nearby Peachtree City.
Davenport now works in Nashville where she co-host 3HL, the city's top-rated sports talk show.
The show is on the air for four hours a day during the afternoon drive from 2-6 p.m.
"There is a lot of preparation that goes into it," she said. "Lucky for me, my preparation for college football coincides, but we also talk about the Titans and Predators and there is a lot of work that goes into that."
She also does sideline reporting for college football games for ESPN and  also calls college volleyball and basketball games.
Davenport has watched the evolution of hockey in Nashville.
"I remember when they made the playoffs for the first time, people started to get into it," she said. Now it is just crazy."
Davenport's  settled in Peachtree City in eighth grade when her Dad took a job in Newnan.
After graduating from McIntosh High School, Davenport played college volleyball at Auburn before beginning her broadcasting career.
Her parents are in the restaurant business and own Grinds and Wines in Peachtree City. so she still gets to Georgia often. 
She  sees plenty of  similarities between Atlanta and Nashville.
"There are parallels  between Nashville and Atlanta. Nashville is sort of where Atlanta was as a few years ago in terms of growth," she said.
Davenport was excited to meet Holman last week.
"I grew up listening to him," she said. "He is such a legend."=