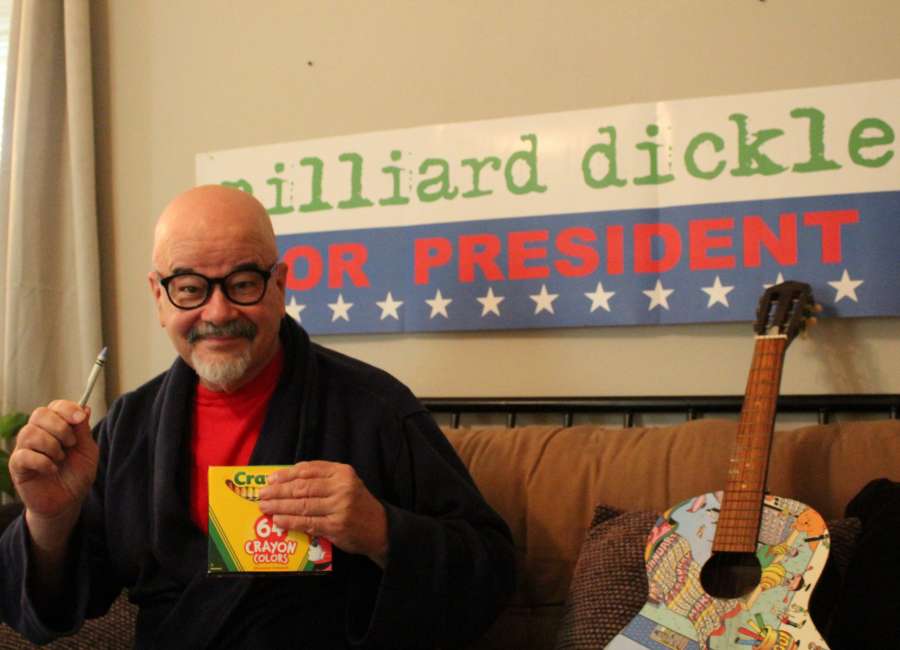 Wearing a blue robe and sitting on a futon, Pilliard Dickle — pen name of Newnan resident Joe Chandler — announced his presidential campaign.
Dickle said his budget consists of $175 and "two Beatles glasses worth of coins." He is not seeking or accepting donations.
According to Calvin Green, Dickle's 13-year old campaign manager, the purpose of the campaign is to prove that a candidate without big donors "can make it into the mainstream media."
The whimsy of Dickle's campaign extends to his political party. He said he isn't running as a Democrat or a Republican, but as a member of the newly created Periwinkle Party — a center left platform.
"It's named after a crayon," Green said. "The point of the campaign is to point out the ridiculousness of the candidates that we have."
According to Dickle, the campaign began as a reaction to the Trump administration.
"I'm running a polite campaign. That doesn't mean skirting the issues. There's a blend of humor and substance," Dickle said. "I think I'm able to make these points, that would normally be in an angry ranting way, and blend that with humor. I don't use derogatory terms which seems to be – hopefully temporarily – the norm."
Dickle received international media in 2016 after refusing to learn the results of that year's presidential election, in a self-imposed exile.
"That was not a publicity stunt or anything," he said. "I simply just didn't want to know for a couple of days, and it got out on social media."
Dickle described his presidential run as halfway between joking and being serious. But he said he does feel that it serves a purpose.
"I'm using humor as a means to get substantive points across," Dickle said. "It's like a coping mechanism. You go crazy or you do something positive and productive and, in my case, with humor rather than reeling and agonizing and hand-wringing."
"The part of him becoming president is more of a joke since there's a microscopic chance to be president," Green said. "The serious part is about how we need more candidates who aren't wealthy to run for offices."
According to Green and Dickle, the online response has been mixed. Some internet commenters told them the election is too serious to make a joke of, while others showed enthusiasm for the idea.
Despite the reactions, the presidential candidate said he wants people to donate to candidates they believe will win.
"We encourage people not to donate (to Dickle) but to donate to candidates that have a good chance of winning," Green said.
Even with the odds against him, Dickle said he isn't intimidated.
"The bizarre and the absurd have become everyday occurrences, and sooner or later something as bizarre as what has happened will happen," he said. "Because we're no longer beholden to three TV networks, we're all talking to each other through social media and something could come up through the grassroots that captures the imagination of the American people. But this time, something good."
For more information on Pilliard Dickle and the Periwinkle Party, go to www.theperiwinkleparty.com .