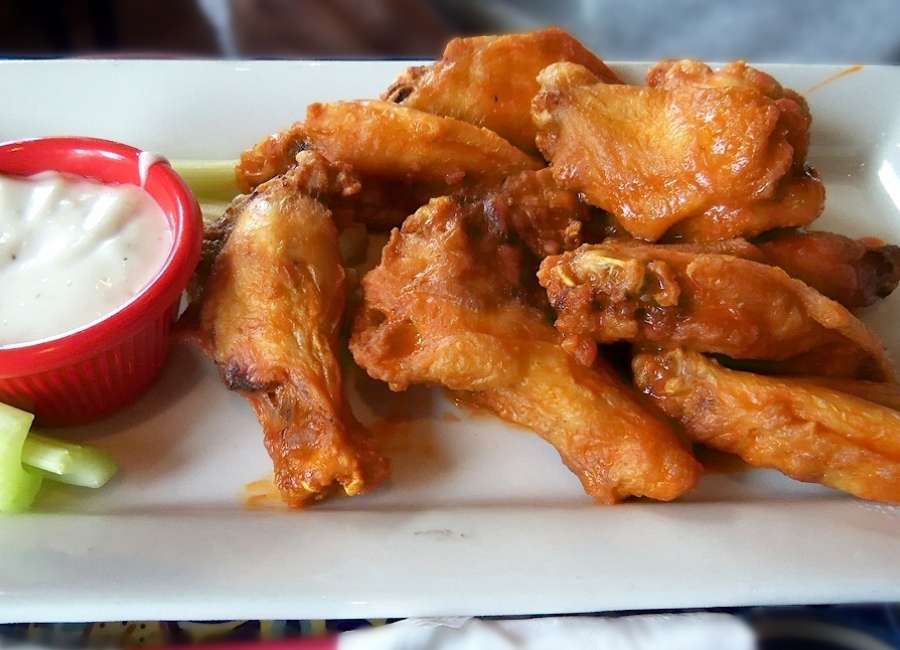 Here are some recipes for chicken wings and lasagna.
The national days for both foods will be on Monday, July 29. 
Buffalo-Style Chicken Wings
Ingredients:
Wings:
2 cups all-purpose flour
1/2 teaspoon cayenne
1/2 teaspoon fine salt
Vegetable oil, for frying
2 pounds chicken wings, split at the joint, wingtips removed and discarded
1/2 cup unsalted butter, melted
1/4 cup hot sauce, or to taste
2 tablespoons fresh lemon juice
Blue Cheese Dressing:
1 cup mayonnaise
1/2 cup half-and-half
2 tablespoons sour cream
1 tablespoon fresh lemon juice
1/4 teaspoon Worcestershire sauce
1/2 cup crumbled blue cheese (about 3 ounces)
Kosher salt and freshly ground black pepper
Celery sticks, for serving
Carrot sticks, for serving
Recipe:
For the wings: Preheat the oven to 400 degrees F. Line one large or two small rimmed baking sheets with foil.
Whisk together the flour, cayenne and salt in a large bowl.
Heat 2 inches of oil in a large, heavy-bottomed pot over medium heat until a deep-fry thermometer registers 375 degrees F. Working in 3 batches, dredge the wings in the flour mixture and fry until lightly browned, 10 to 12 minutes per batch. Transfer the wings with a slotted spoon to a paper-towel-lined plate. (Make sure the oil returns to the proper temperature before frying each batch.)
Combine the butter, hot sauce and lemon juice in a large bowl. Toss the fried wings in the hot sauce mixture; transfer the wings and sauce to the prepared baking sheet(s). Bake, flipping the wings occasionally, until they are crispy and have absorbed most of the sauce, about 35 minutes.
For the blue cheese dressing: Whisk together the mayonnaise, half-and-half, sour cream, lemon juice, salt, Worcestershire and 1/4 cup of the blue cheese in a medium bowl until smooth. Gently stir in the remaining 1/4 cup blue cheese and season with pepper to taste. Use immediately or refrigerate for up to 3 days. (Makes about 2 1/2 cups dressing.)
Transfer the wings to a serving platter and serve with the blue cheese dressing and celery and carrot sticks.
(Recipe courtesy: foodnetwork.com)
Lasagna
Ingredients:
2 pounds hamburger meat
1 pound hot breakfast sausage
3 cloves garlic, finely chopped
One 28-ounce can diced tomatoes
One 6-ounce can tomato paste
Freshly ground black pepper
1 tablespoon olive oil
Salt
10 ounces lasagna noodles
1 pound mozzarella cheese
10 to 12 fresh basil leaves
1/4 cup fresh flat-leaf parsley leaves
3 cups low-fat cottage cheese
1 cup freshly grated Parmesan
2 eggs, beaten
Recipe:
In a large skillet over medium-high heat, saute the hamburger, sausage and garlic until brown. Drain off the excess fat. Add the tomatoes with their juice, tomato paste, 1/2 teaspoon salt and some freshly ground black pepper. Stir together well. Simmer over low heat, uncovered, for 45 minutes, stirring occasionally.
Meanwhile, bring a large pot of water to a boil. Add the olive oil and a dash of salt. Cook the lasagna noodles according to the package directions until al dente. Drain the noodles and lay them flat on a piece of aluminium foil to keep their shape. 
Preheat the oven to 350 degrees F.
Grate the mozzarella cheese and set aside.
Cut the basil into a chiffonade by stacking the leaves on top of one another, rolling them tightly and then cutting across. Finely chop the parsley. Add half the herbs to the meat mixture and stir together. In a medium bowl, combine the other half of the herbs, the cottage cheese, 1/2 cup of the Parmesan and the eggs and stir together well.
Lay 4 lasagna noodles in the bottom of a deep rectangular baking pan; the noodles should slightly overlap. Spoon half the cottage cheese mixture onto the noodles; spread to distribute evenly. Sprinkle half the mozzarella on top of the cottage cheese mixture. Spoon just under half the meat mixture on top of the mozzarella, and spread evenly, being careful not to disrupt the layers below. Now repeat the process, beginning with a layer of lasagna noodles, followed by the cottage cheese mixture, followed by the mozzarella and ending with a thick layer of the meat mixture.
Sprinkle the remaining 1/2 cup Parmesan over the top. Bake until the lasagna is hot and bubbly, 35 to 45 minutes. Allow to stand 10 minutes before cutting into squares.
(Recipe courtesy: foodnetwork.com)
Garlic and Parmesan Chicken Wings
Ingredients:
cooking spray
3 quarts cold water
1/3 cup balsamic vinegar
1/4 cup salt
1 bay leaf
1 teaspoon dried thyme
1 teaspoon dried oregano
1 teaspoon dried rosemary
8 cloves garlic, minced
1 pinch salt
3 tablespoons olive oil, or as needed
1 tablespoon freshly ground black pepper
2 teaspoons red pepper flakes, or to taste
4 pounds chicken wings, separated at joints, tips discarded
2 tablespoons fine bread crumbs
1 cup finely grated Parmigiano-Reggiano cheese, divided
Recipe:
Preheat an oven to 450 degrees F. Line a baking sheet with aluminum foil and coat foil with cooking spray.
Combine water, vinegar, 1/4 cup salt, bay leaf, thyme, oregano and rosemary in a large stockpot and bring to a boil. Add chicken wings, return to a boil, and cook for 15 minutes. Remove chicken wings with a slotted spoon to a cooling rack and allow to dry for 15 minutes.
Mash garlic and a pinch of salt together in a mortar and pestle until smooth.
Combine mashed garlic, olive oil, black pepper and red pepper flakes in a large bowl. Add chicken wings and bread crumbs; toss to coat. Sprinkle with 1/2 cup Parmigiano-Reggiano cheese. Transfer to the prepared baking sheet and sprinkle with remaining 1/2 cup Parmigiano-Reggiano cheese.
Bake in the preheated oven until browned, 20 to 25 minutes.
(Recipe courtesy: allrecipes.com)
Spinach Lasagna
Ingredients:
20 lasagna noodles
2 tablespoons olive oil
1 cup chopped fresh mushrooms
1 cup chopped onion
1 tablespoon minced garlic
2 cups fresh spinach
3 cups ricotta cheese
2/3 cup grated Romano cheese
1 teaspoon salt
1 teaspoon dried oregano
1 teaspoon dried basil leaves
1/2 teaspoon ground black pepper
1 egg
3 cups shredded mozzarella cheese
3 cups tomato pasta sauce
1 cup grated Parmesan cheese
Recipe:
Preheat oven to 350 degrees F .
Bring a large pot of lightly salted water to a boil. Add lasagna noodles and cook for 8 to 10 minutes or until al dente; drain.
In a skillet over medium-high heat, cook mushrooms, onions and garlic in olive oil until onions are tender. Drain excess liquid and cool. Boil spinach for 5 minutes. Drain, then squeeze out excess liquid. Chop spinach.
Combine ricotta cheese, Romano cheese, spinach, salt, oregano, basil, pepper and egg in a bowl. Add cooled mushroom mixture. Beat with an electric mixer on low speed for 1 minute. Lay 5 lasagna noodles in bottom of a 9x13 inch baking dish. Spread one third of the cheese/spinach mixture over noodles. Sprinkle 1 cup mozzarella cheese and 1/3 cup Parmesan cheese on top. Spread 1 cup pasta sauce over cheese. Repeat layering 2 times.
Cover dish with aluminum foil and bake in a preheated oven for 1 hour. Cool 15 minutes before serving.
(Recipe courtesy: allrecipes.com)