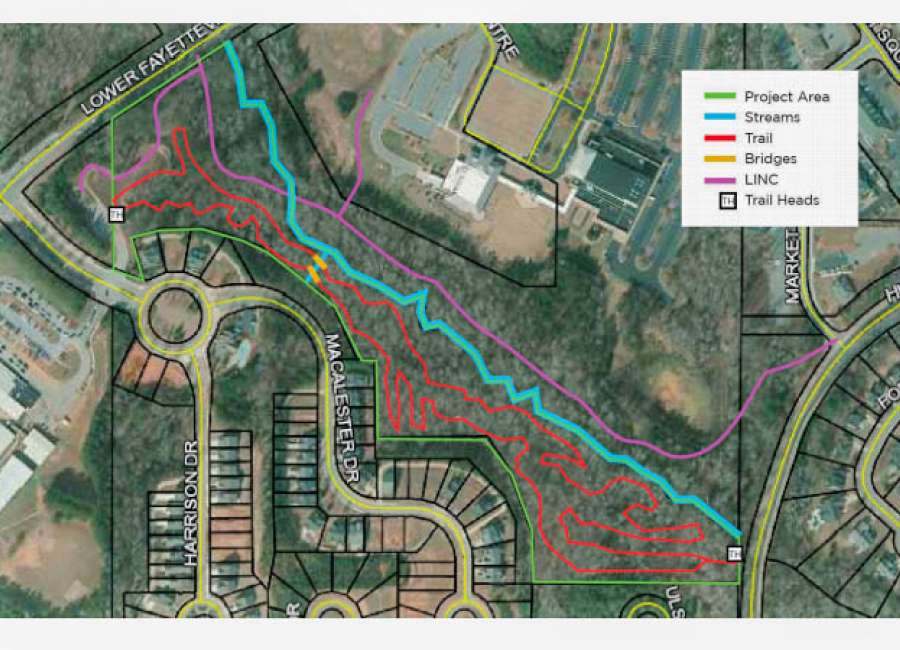 Construction on the second section of The LINC will now accommodate hikers and cyclists looking for dirt, not pavement.
Tuesday, the Newnan City Council approved an agreement with IMBA-SORBA to create a 2-mile mountain biking trail that would run adjacent to the LINC section between Lower Fayetteville Road and Highwoods Parkway in Summergrove.
The 13.38-acre city-owned property where the trail will be located is bounded by the Summerlin Neighborhood to the southwest and the Newnan Centre to the northeast.
IMBA-SORBA Atlanta would manage the construction of the 2-mile mountain bike trail adjacent to the Newnan Centre LINC for an amount not to exceed $15,840.00, according to city documents. 
Funding for the trail will come from the 2019 SPLOST (special purpose local option sales tax). 
City officials said the trail will open up the LINC section for the average trail user.
The trail would accommodate bike riders of all ages and skill levels as well as hikers. The project will also utilize city-owned property that is otherwise unusable, officials said. 
With an estimated completion date of fall 2019, this would mark the second mountain bike trail constructed in Coweta County this year. 
Last spring, a 1-mile trail was officially completed and opened to the public at Brown's Mill Battlefield. 
MTB Atlanta's vice president, Chris Doane, has spearheaded local advocacy efforts and also serves as chairman of the newly formed Bike Coweta, a local advocacy group working as an arm of the Coweta Community Foundation to promote all forms of cycling in Coweta County.
Doane said the new trail aligns well with the LINC and Bike Coweta's goals for providing more opportunities for kids and parents to get out and get active.
"Not only does it provide a natural-surface hiking and mountain biking trail, it's a nice amenity for the LINC greenway," Doane said. "It's about something a little more natural and serves as a 'mini-destination' along the way of the larger network."
Copyright 2019 - The Newnan Times-Herald