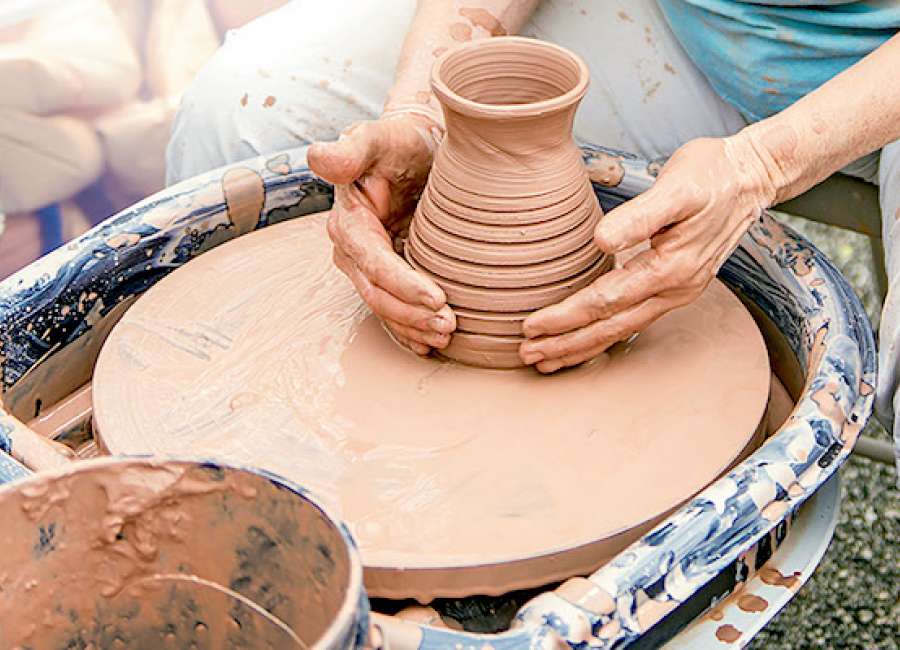 The Makers have a day, and now they need a space.

For years, Artisans Heritage Guild of Newnan-Coweta director Michael Sebacher has hit the lecture and demo circuit, connecting local artisans and pleading with communities not to let traditional arts die off with its dwindling number of masters.
The four-year-old, nonprofit AHG has held increasingly popular Makers Days each year – with the attending crowd swelling to more than 700 people in 2018 – with demonstrations in everything from pottery to forging to quilting. But while the annual events may provide a peek or even a hands-on opportunity to get involved, it barely scratches the surface of the benefits of a traditional arts center in the community, Sebacher said.
"We are hardwired to make stuff," he said. "No other creature is. Making clothes, shelter and weapons with our hands is how we got here. But we just don't do that stuff any more. Creation is something that's not emphasized. And you have to be creating something in order to be a fulfilled, real human being."
Sebacher – an engineer by trade – operates a blacksmithing/metal arts studio in Sharpsburg, taking on a couple of students each month.
"Alchemy, smelting, steel artifacts, blacksmithing – we already know we didn't invent anything," he said of his students. "This is a huge body of knowledge, and we know it's been practiced for a long time. They have a connection to the past as soon as they start hitting the metal. Teaching is a way to honor those who taught us. We add to the body of knowledge, and we pass it on."
But the numbers of artisans with the skills or desire to pass on their knowledge are diminishing at an alarming rate because less and less importance is placed on the fruits of physical labor.
"Working with your hands used to be valued, but it has less and less value now," he said. "These skills are diminishing, going away from disuse and atrophy. Once the people who know it – who inherit it and learn from their ancestors – once they pass away, the knowledge is gone. I think that's tragic. It makes you wonder how much we've forgotten that we used to know."
It's not just a body of artistic expertise that's lost, Sebacher said, but the experience of creating and what can be learned in the process. The value of failure, for example, along with perseverance and resourcefulness, are acute lessons on the road to artistic mastery. Reclaiming once-common artistic traditions is a noble goal for communities, he said, especially when the healing benefits of "making" are well-documented.
Sebacher said a central arts center would go a long way toward promoting the social, psychological and emotional benefits of actively learning and expression through art, in addition to passing along skills in danger of being lost, supporting local art, fostering artistic inspiration through interaction with master artisans in a variety of areas and honoring our history, and he is urging the community to get involved.
Providing accessible, high-quality, community-based instruction in traditional arts and crafts – a cornerstone AHG goal – will require plenty of room. Space would be needed for classrooms, rental studios, rental storage, meetings, media resources, large equipment necessary for wood, glass and metal arts, kilns, material and tool storage, exhibitions and food preparation and service.
You don't have to be an artisan, a master, or even an aspiring creator to help bring that vision to life, Sebacher said. You can just be willing to use the talents you already possess – grant research/writing, nonprofit business planning, fundraising, accounting and finance, branding and marketing.
"That's where I need the help," Seabacher said. "Someone who shares my vision and enthusiasm and also has talent and experience in areas I do not. I'm a teacher, an artisan, an engineer and a speaker. I'm far from being properly equipped to do what I've set out to do. But it needs doing, so I'm doing it."
For more information, visit the AHG Facebook page or call 678-876-1654.