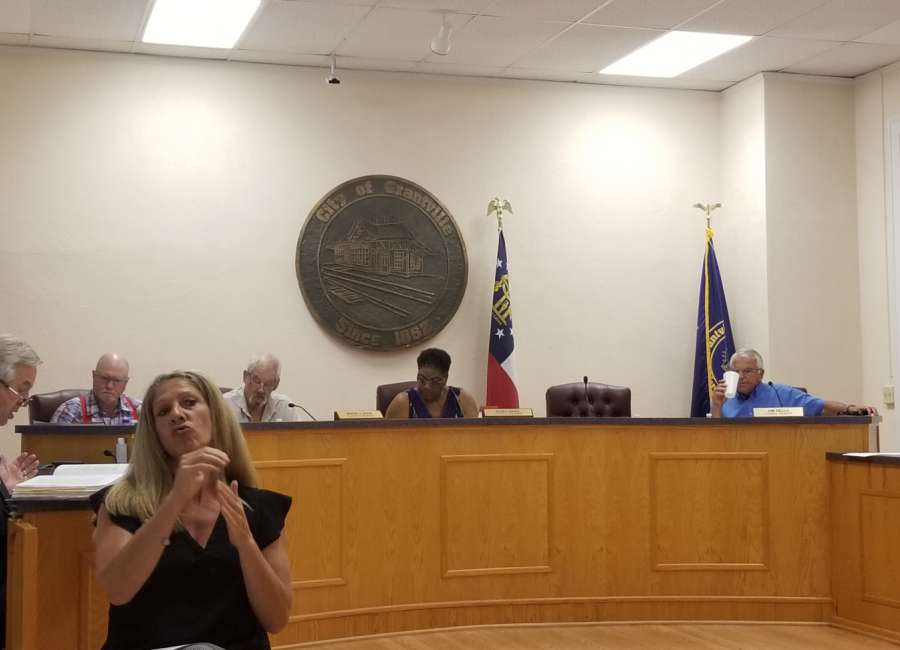 Grantville Mayor Doug Jewell has vetoed a resolution that would require city officials to get approval from the city council to travel at city expense, no matter what type of event they will be attending.
The council approved the resolution last month, 3 to 1. Councilmembers Jim Sells, Alan Wacaser and Mark King voted in favor of the change. Councilwoman Ruby Hines was against it. Jewell was also against it.
Jewell vetoed the resolution on June 17, stating the new resolution was against the city's charter, according to city documents.
Sells brought the issue up last month and said citizens should be informed when they're footing the bill and that the travel policy has been abused.
At Monday night's city council meeting, Sells said Jewell was currently on a trip at city expense.
Last month, the council approved Jewell's travel to the 2019 MEAG Power Annual Election in Amelia Island, Fla. to vote for three-year terms for MEAG board members. 
Sells also said Jewell was staying at the Ritz Carlton.
According to former City Clerk Lynn Basham, the registration fee was $415 and the entire trip would cost the city about $702, including a stay at the Ritz-Carlton from July 7-10.
Wacaser mentioned the council should set a travel budget for each member and require approval after the budget is reached.
"I would like to see some sort of accountability for what we spend, whether it's him or me or anyone up here," Wacaser said. 
Wacaser said transparency was important, as well as attending some of the meetings. 
Sells said the mayor is not following a budget.
"The mayor has abused this policy to stay in these nice hotels at this city's expense," Sells said. 
Councilwoman Ruby Hines, who presided over the meeting in Jewell's absence, said she had to spend nearly $800 out of her own pocket for expenses at the Georgia Municipal Association conference in Savannah last month.
Hines said her daughter had to drive her and husband down to the conference. 
"I was willing to pay that difference because of what I have learned at attending these conventions," Hines said. "This last convention my classes were very good and had very valuable information that I'm going to share with our mayor and manager and council to see if we can implement some of the things we have learned."
In a previous Newnan Times-Herald interview, City Manager Al Grieshaber said the mayor or council members may travel for education and training as long as the elected officials "stay within budget limitations."
Budget limitations for the mayor are $4,000 for travel and $3,000 for training and education. Budget limitations for council members collectively are $5,000 for travel and $8,000 for training and education.
Grieshaber said once the travel is approved by the council, the city clerk will make the arrangements and payments going forward.
The issue will be up for another vote at the council's July 22 meeting.