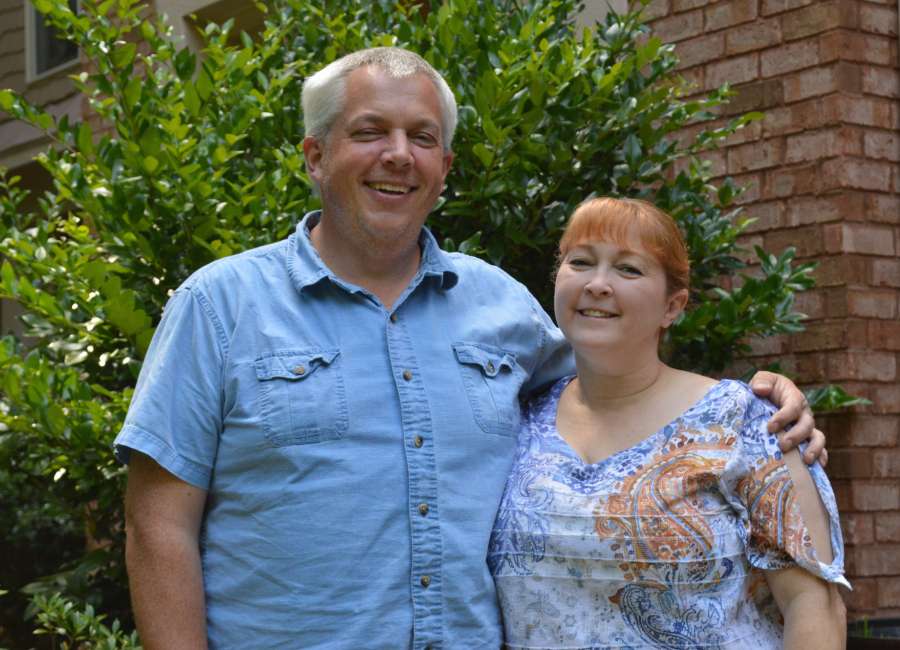 Michael and Deborah Triggs and their children moved from a subdivision to a large house in the woods when their oldest child had already graduated and the rest were in high school. 

They had so much space and a large house and it was starting to empty out. 
Michael recalled getting home one night and nobody was there. He said he remembers asking himself "why in the world, at this point in our lives, did we move from a house that was smaller into this house?
"The house was a little big – a lot big – for where we were at that point," he said. "It was one of those odd moments."
Deborah was at a Boy Scout meeting that night, and she had been chatting with a couple who were foster parents. When she got home, she asked her husband if he'd ever thought about fostering. 
"And I said, 'It's very funny you asked that, because the other day I would have said that's not where we are,'" Michael said.
But that night, things were different.
"I had this feeling. I believe very strongly in divine intervention," Michael said." I had this thing that day so when she brought it up I was very receptive to it. I don't think that would have been the case any other day. 
"I think I missed the chaos that we had had for so long."
Deborah said that she and her husband "felt like there was more than just writing a check to church."
"I said – what do we do well?" she said. "We raise children together very well."
The next night she was chatting again with the foster parents from the scout meeting and asked who they fostered with. They were with Bloom, a private foster care agency in Fayette County. She called them the next morning, and a few days later, they went in for an interview and were signing up for training classes, getting a home study and filling out lots of paperwork. 
They had to make some changes to their home. Everything that could be dangerous had to be locked up. That included cleaning products, other chemicals and kitchen knives – even butter knives.
"The idea is to provide as safe an environment for them as possible," Deborah said.
Children who have lost everything will do everything they can to get away from a new foster home, she said. 
"Especially in a fresh placement, here is strange, here is unusual. It smells funny, there are different rules, it is not my home," she said. "So you have to keep an eye on them. It's work. You have to make sure that they are watched at all times, you have to make them comfortable, you have to make it home for them. And that doesn't happen just because you have this great place with every toy under the sun that they want. All they want is their momma and dad. Everything else doesn't matter. That is all they want and that is what they can't have."
During the training, the Triggs found out just how bad things are for some children before they are removed from their homes.
"I would say 80 percent of the population has no idea how bad this stuff is," Michael said. 
"They don't trust the food is going to be there. They steal it. They hide it," Deborah said. 
Though they'd raised four children already, this was something brand new. 
"Parenting four children who have grown up knowing what to expect is significantly different than parenting children who are fighting for their very existence," she said. 
"It was a big adjustment at first," said their son Justin.
When his parents first told him they wanted to take in foster children, it sounded great, he said.
"We've always grown up with ample food on the table and we have great parents. There's nothing wrong with sharing that with more children," he said. "I don't think any of us anticipated exactly how much energy goes into it. You quickly adjust and adapt and it gets easier. It's worth it even if it's not what you were initially expecting." 
In their training and preparation for fostering, the Triggs learned that sibling groups are the hardest to place. 
"Siblings get split up all the time. They can't find a home willing or able to take the entire group," Michael said. 
Both Michael and Deborah come from large families, and "we know how important brothers and sisters are," he said. "We said, 'If we're going to do this, this is where the need is.'"
When Deborah got the call for a placement, it was for a young sibling group. While she was talking to the social worker "God spoke to me and said, 'These are your children,'" she said. "God said, 'Say yes.'"
So she said yes. And so the children came to live with the Triggs. Soon, a baby came to live with them. A little later, even more siblings were located. 
The Triggs are full of praise for Bloom and the support it provides to its foster families. In addition to the case worker from the Division of Family and Children's Services, there is also a case worker from Bloom. Bloom provides help with groceries, and there is the Bloom Closet, where families can get clothing for their foster children.
There are also meetings and trainings throughout the year. There is respite care when foster parents have an emergency or just need a break, though the Triggs haven't needed to take advantage of it. All the meetings and events also lead to a lot of networking between foster parents.
"We are able to trade ideas and suggestions of things that work for us," Deborah said. "Networking with other foster parents who know what you are going through and know what it's like is really beneficial."
Now, the Triggs are beginning the process of adopting all of the children. It's not at all what they expected, but it's good. 
"We expected to have children placed and have them reunited with their parents and have more children placed and have them reunified," Deborah said. 
Isabella, the Triggs' youngest biological child, went from being the baby of the family – with all that entails – to being in the middle.
"It was a really weird transition," she said.
But she gained the sister she'd never had. 
"My mom said when I was little I always begged for a baby sister and it never happened," Isabella said. "Now, I've got two of them."