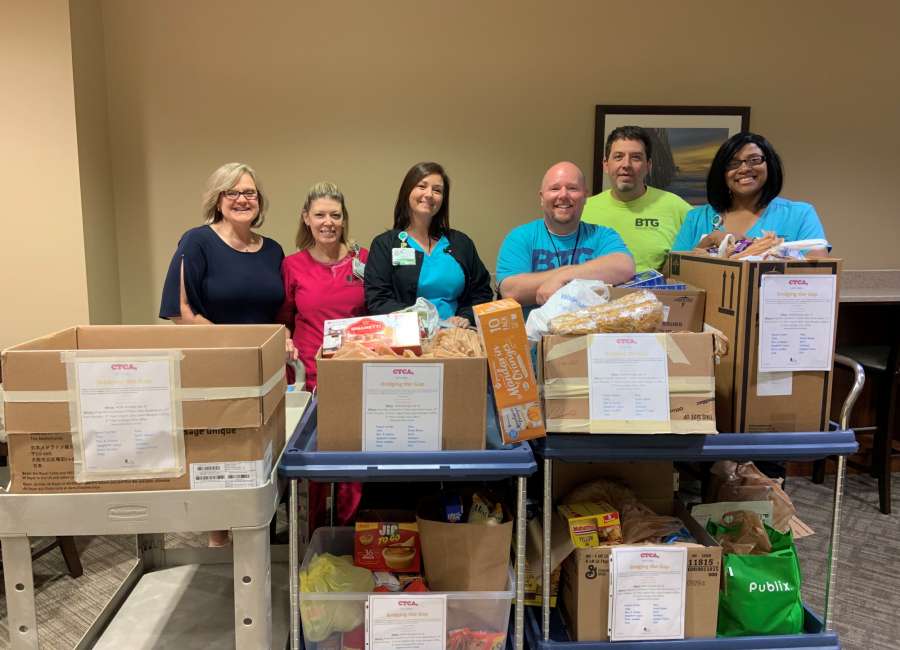 Nurses and other members of Cancer Treatment Centers of America's Outpatient Clinic Unit-Based Council organized a food drive that brought in 430 pounds of food for Bridging the Gap. 
"By donating this food, CTCA is stepping forward to contribute to those in our community that need this support the most," said Kellie Yeager-Nelson, executive director of BTG.
BTG provides food, clothing, ministry and other services to Cowetans in need.
According to Kristin D. Schaner, director of external affairs and communications, CTCA employees spanning the hospital donated the food items. 
Schaner said CTCA supports BTG's annual Glow Run, the Christmas in Coweta gift collection for children, and more.
Melanie Russell, registered nurse, oncology certified nurse and chair of the Outpatient Clinic Unit-Based Council, said the drive is part of CTCA's outreach efforts. 
"We are finding new ways to extend care beyond our hospital walls and improve Coweta County's quality of life," Russell said. "Bridging the Gap's work is vital and we are so grateful to share the community with them." 
BTG does several outreach activities in Coweta County, including its summer lunch program, which helps kids in the local area with free lunches. 
Last year 9,213 lunches were served, according to BTG leadership.
"We are always excited to have community partners support BTG's food pantry through these efforts," said Yeager-Nelson.
BTG serves hot meals on Tuesdays and Thursdays, and clients can wash clothes and take showers while at the facility. 
For the month of June, BTG served 383 hot meals, touched 1,166 households and gave away 31,412 pounds of food, according to its website. 
On Saturdays, BTG runs a drive-up food bank that serves approximately 100 families per week.
Donations to help with the ministry may be sent to Bridging the Gap, 19 First Ave., Newnan, GA 30263.