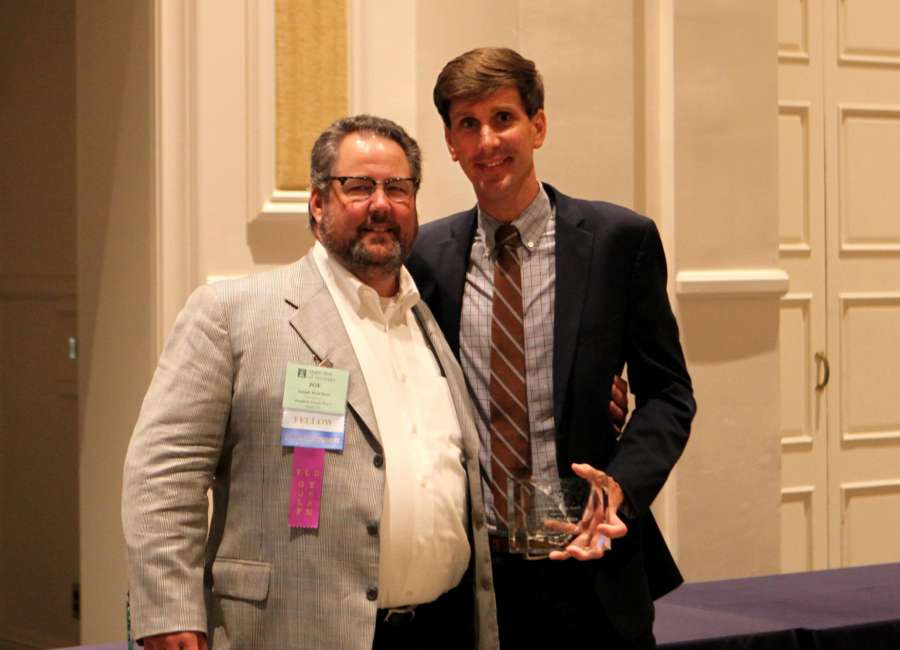 Coweta attorney honored by Young Lawyers Division

Jared Parrish of the Coweta County District Attorney's Office in Newnan was honored by the Young Lawyers Division (YLD) of the State Bar of Georgia on June 7 during the organization's annual meeting.
Parrish received the Joe Dent Hospitality Award for his steadfastness and commitment to the YLD. The award is named for past YLD President Joe Dent of Watson Spence LLP in Albany. The award is not presented annually, but only when a deserving candidate is deemed worthy, according to a press release.
* * * 
Kemp appoints first statewide business court judge
Gov. Brian P. Kemp recently appointed Walter W. Davis to serve as the first statewide business court judge. The Georgia Statewide Business Court was approved by Georgia voters in the November 2018 election and codified with bipartisan support in the 2019 legislative session.
Davis currently serves as the administrative partner of the Jones Day Law Firm in Atlanta where he oversees a wide range of operational and financial matters. Over the last 17 years, Davis has focused his practice on securities litigation, shareholder disputes, and corporate governance matters and regularly counsels boards of directors and senior management in connection with governmental and internal investigations. 
He currently serves as co-chair of the Securities and Corporate Litigation Subcommittee of the Atlanta Bar Association, and he is also a member of the Atlanta Bar Association's Judicial Selection and Tenure Committee. He also serves as the administrative partner for the Atlanta Office.
Davis is active in the Atlanta community, where he currently serves on the board of directors of the Atlanta Volunteer Lawyers Foundation, and he is a member of the leadership council of Zoo Atlanta. 
He formerly served on the board of directors of Kate's Club Inc. and Make-A-Wish Georgia, and he was a member of the alumni board of Mercer University's College of Liberal Arts. 
Davis is also a member of Leadership Atlanta's Class of 2018, as well as LEAD Atlanta's Class of 2007.
* * * 
Local business connections and opportunities
July 22 
Sizzlin' Summer Series: Hot Diggity Dog, 3:30-4:30 p.m. The Newnan-Coweta Chamber of Commerce, 23 Bullsboro Drive, Newnan.
July 23
Ribbon Cutting - Resurgens Orthopaedics, 5-6 p.m. 2301 Newnan Crossing Blvd., Newnan.
For more information on these activities, visit www.newnancowetachamber.org .
Items for consideration as business briefs should be emailed to business@newnan.com, faxed to 770-253-2538, or mailed to Business Briefs, The Newnan Times-Herald, P.O. Box 1052, Newnan, GA 30264. Email submissions are preferred.