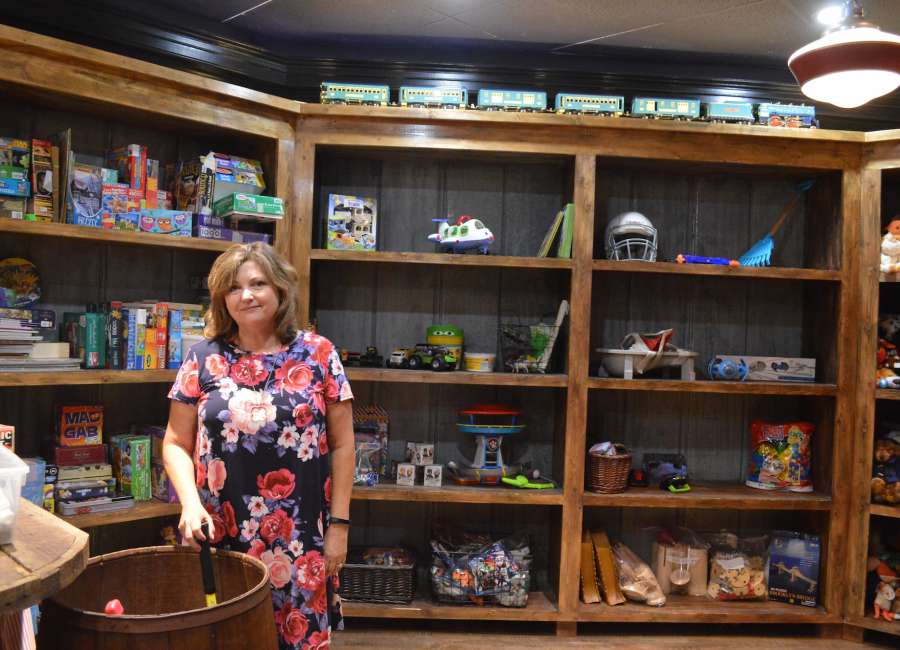 Though it's located in Fayette County, Bloom – a private foster care agency – has foster families in several local counties, including Coweta, and serves children in a 90-county area. 
The organization is bringing its biggest fundraiser to Coweta County this summer. 
The Frocks and Rocks Charity Fashion Show will be held Aug. 17 at the Newnan Centre. The ladies-only event connects women with local boutiques while raising funds for The Bloom Closet. 
The Bloom Closet is a boutique-style thrift store packed with gently used clothing, toys, school supplies, and other items for foster children. The Bloom Closet provides approximately $700,000 worth of free clothing and other items to nearly 4,000 children a year, said Mary Norman of Bloom. 
Demand for the closet is growing about 30 percent a year, "so we have to be very strategic about getting donations," said Becky Davenport, executive director of Bloom.
At each visit, a child gets a week's supply of clothing.
Foster parents get a clothing stipend from the state, but "so often kids come into care with nothing but the clothes on their backs," Davenport said.
And it can take months for that clothing allowance check to arrive. 
Foster parents drive from many miles away to get to the closet, but not everyone can get there. Bloom is working on launching a mobile closet – the Zoom Closet – next year.
"I think we can serve an additional 1,000 foster children over the course of a year with this truck," Davenport said. 
As a child placing agency, Bloom trains and certifies foster parents and works with the Division of Family and Children's Services. DFCS contacts Bloom when it has children who need a foster placement, and the organization gets about 175 referrals a month, she said. Staff will look at their available foster homes to see which one would be the best placement for that child or group of children.
"We're very sensitive about making good placement choices – to set people up for success," Davenport said. 
She said, on average, about 60 percent of children in Georgia's foster care system are placed through agencies such as Bloom. Other child placing agencies include Families First, Faithbridge, Wellroot, GCAC and Georgia Baptist Children's Homes. 
Davenport said the children referred to her agencies are often those that are harder to place, such as older children, sibling groups, or kids with significant psychiatric issues. 
"Most people will come to us and say 'We just want some sweet little 5-year-old with no issues – and just one,'" Davenport said. "We're trying to find people who are willing to take in these kids that are older and have more trauma.
"The families that step up to take in these kids – they are heroes," Davenport added. "They are people that are committing to something very, very big."
As an agency, Bloom tries to do what it can to support those parents.
"Our goal is to provide the full continuum of care for those kids," Davenport said.
The organization also works on recruitment. The number of children in foster care in Georgia has doubled since 2012, Davenport said. Currently, nearly 14,000 children are in foster care. 
Then again, recruitment can be the easy part.
"To keep them in – that is the No. 1 challenge," Davenport said. "You've got to get them the supports they need."
Bloom foster families get a Bloom case worker, and there are ongoing training opportunities through Bloom University. Their social workers are also being trained on a new program called Facing the Challenge.
"It's evidence based training to go and equip our foster families, to give them the resources, the training they need to parent traumatized children," Davenport said.
Bloom also provides respite care when foster parents have an emergency or simply need a break.
"We have an 88 percent retention rate, which is very high," Davenport said. "That is something that we are proud of, and I think that is because of the level of support."
For more information about Bloom, visit www.bloomouryouth.org .