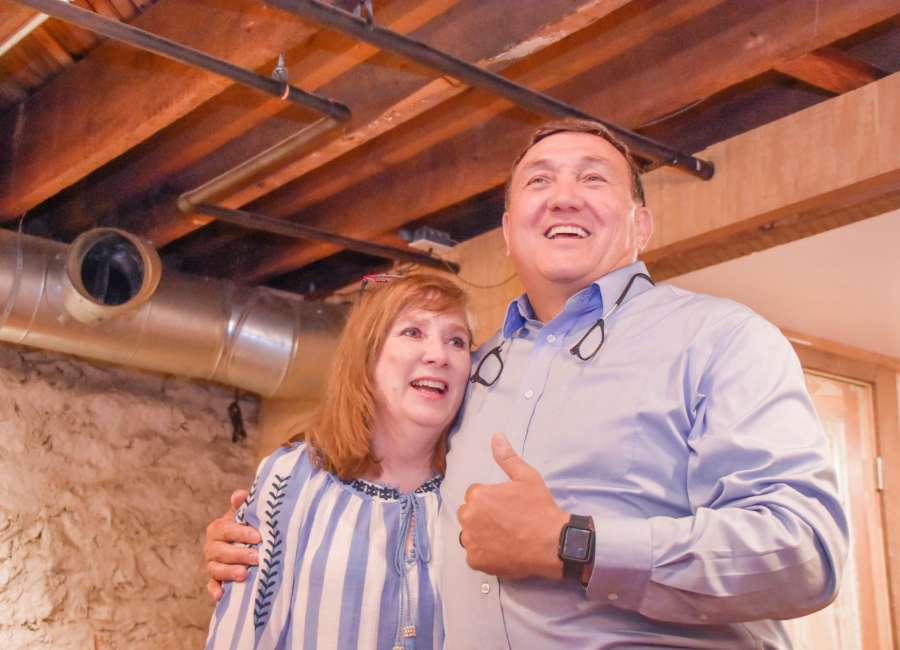 Lenn Wood defeated three opponents – with 74.6 percent of the vote – to hold onto the sheriff's post on Tuesday night.

Wood said he had been overwhelmed by the support and donations received during his campaign.
"We met a lot of good people, and a few we weren't too happy about," Wood said after the results were clear. "But it's been a great learning experience, and I'm thankful for all of you and to Jesus Christ."
Wood went into the race as the incumbent, but also as someone who had not been elected to the post. The vote was required because of the retirement of Mike Yeager, the longtime sheriff who was appointed as a federal marshal by Pres. Donald Trump.
Wood, who had been Yeager's chief deputy, became sheriff – taking the oath on March 1.
On Tuesday night, Yeager said he was proud of Wood and his campaign.
"He's done a fantastic job the past few months and will continue to move our county forward," Yeager said. "He's my sheriff too, and I congratulate him and look forward to the continued hard work and success from him and the team members at the sheriff's office in keeping our community a safe place."
Final results were posted on the Coweta County website about 8:40 p.m. Wood had 7,559 votes to 1,466 for James "Jimmy" Callaway, 931 for Randolph Collins and 171 for Doug Jordan.
The totals remain unofficial and incomplete until certified.
Wood ran strong throughout the evening.
The first results posted on the county's website – about 7:40 p.m. – showed 3,666 votes for Wood, 733 for Callaway, 383 for Collins and 84 for Jordan. Shortly after 8 p.m., updated results showed 5,006 for Wood to 904 for Callaway, 610 for Collins and 100 for Jordan.
A half hour later – with nine precincts reporting – the tally was 6,600, Wood; 1,261 Callaway; 800, Collins; and 153, Jordan.
The sheriff's vote was the only item on Tuesday's ballot.
The race was spirited and hard fought, with four candidates with law enforcement experience. Callaway has worked in several jurisdictions and is the current police chief in Morrow. Collins is a former state trooper and Secret Service agent, who also served as a Coweta County commissioner at one time.
Jordan was police chief in Grantville for several years.
There was a large turnout for Woods' election party at the Redneck Gourmet in Newnan. When the first results were posted, the crowd cheered as Lenn Wood looked on at the numbers.
"I think we've done everything we could have done," Wood said.
Callaway spent election night at a gathering with about 70 supporters at Isabel Mex Grill in Senoia. Collins and Jordan were at their respective homes on Tuesday evening.
County Election Superintendent Jane Scoggins said there are 62 outstanding military absentee ballots. If they come in, they will be counted Friday afternoon. There is also one provisional ballot.
The final, official vote report should be certified Friday.