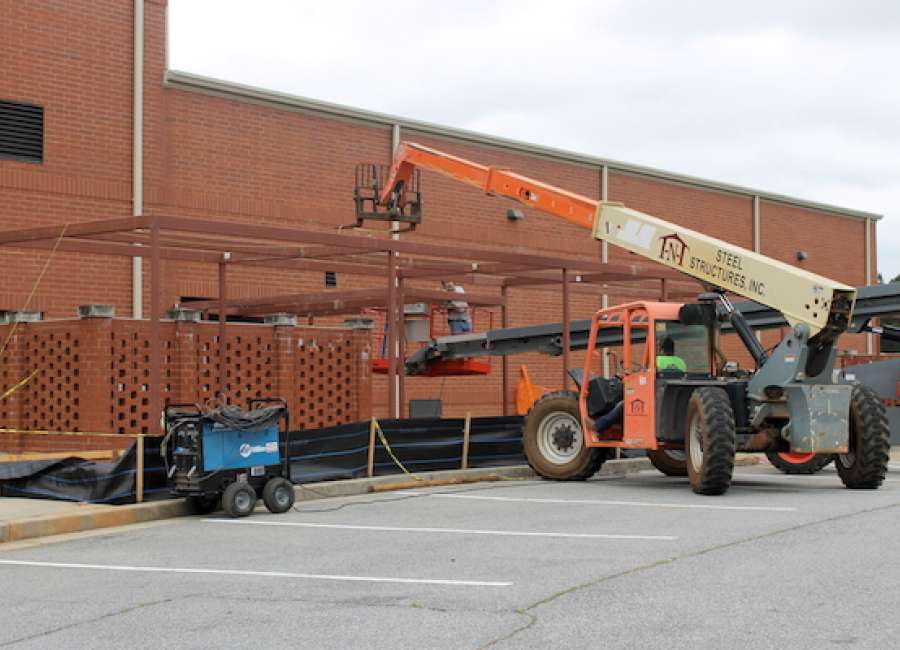 The school board unanimously voted to approve the $23,000 replacement of a gas line at Newnan High School as part of a re-roofing project.
The replacement of the gas line is part of the re-roofing of the 700 building. During work, it was discovered that the gas line serving the HVAC units was in disrepair.
"The gas line serving these units was deteriorated to the point that it was not safe to connect the existing gas trunk line," said Superintendent Steve Barker at a Tuesday meeting of the Coweta County Board of Education.  
The re-roofing on the fieldhouse, main gym football locker area and gym lobby is complete with the media center and science building almost complete.
The re-roofing of Newnan High School is one of many summer facilities projects that are taking place all over the county.
Elementary Gym HVAC and re-roofing
HVAC modifications to the gyms at Moreland, Arnco-Sargent and Eastside are substantially complete.
These schools will also be re-roofed, and stormwater modifications are taking place at Eastside and Moreland.
Nixon Centre renovations
Engineering design work is complete for the renovations at the Nixon Centre. The estimated cost of the project is $6.3 million.
Work is scheduled to begin in August and completed by the spring of 2020.
Brooks Elementary car rider canopy
The car rider canopy structure is being installed this week. The work is scheduled to be completed this summer.
Security upgrades
Security systems will be installed at four elementary schools, Atkinson, Welch, White Oak and Willis Road. The work will be completed this summer.
Sewer line extension
The school board is working with Coweta County Water and Sewage Authority to extend a sewer line to Northgate High School, Canongate Elementary School and the new middle school at Shaw Road.
The expected completion date will be summer 2020.
New middle school
Preliminary designs for the middle school that will be built on Shaw Road were submitted to the Georgia Department of Education for approval.
Building construction is scheduled to begin in September, and the proposed date for the school to open is August 2021.