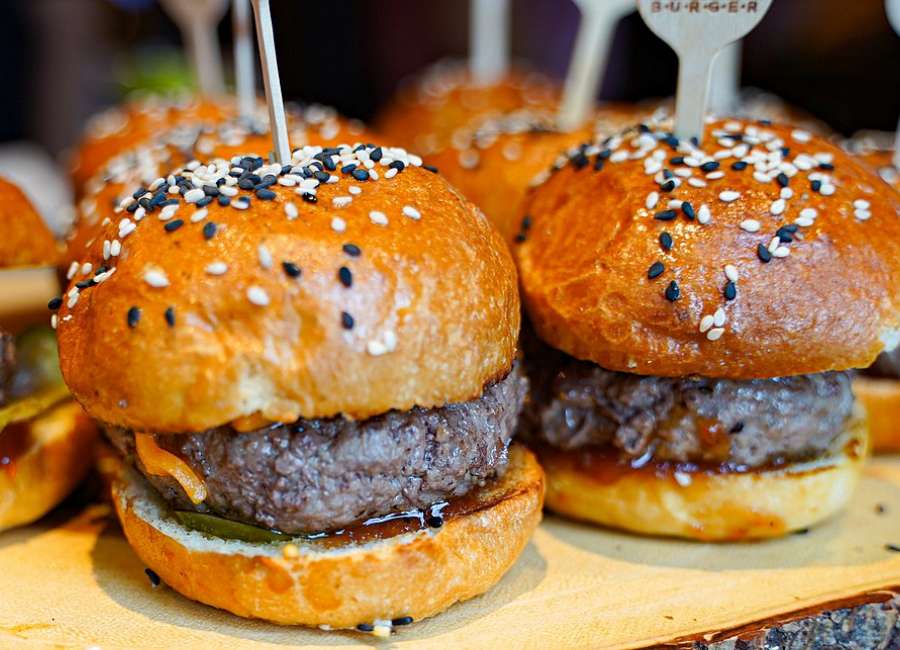 Here are some recipes inspired by the food grown at local farms.
Hamburgers
Ingredients:
1 1/2 pounds ground chuck (80 percent lean) or ground turkey (90 percent lean)
Kosher salt and freshly ground black pepper
1 1/2 tablespoons canola oil
4 slices cheese (optional)
4 hamburger buns, split; toasted, if desired
Recipe:
Divide the meat into 4 equal portions (about 6 ounces each). Form each portion loosely into a 3/4-inch-thick burger and make a deep depression in the center with your thumb. Season both sides of each burger with salt and pepper.
Heat a gas grill to high or heat coals in a charcoal grill until they glow bright orange and ash over. Brush the burgers with the oil. Grill the burgers until golden brown and slightly charred on the first side, about 3 minutes for beef and 5 minutes for turkey. Flip over the burgers. Cook beef burgers until golden brown and slightly charred on the second side, 4 minutes for medium rare (3 minutes if topping with cheese; see step 3) or until cooked to desired degree of doneness. Cook turkey burgers until cooked throughout, about 5 minutes on the second side.
Add the cheese, if using, to the tops of the burgers during the last minute of cooking and top with a basting cover, close the grill cover, or tent the burgers with aluminum foil to melt the cheese.
Sandwich the hot burgers between the buns and serve immediately.
(Recipe courtesy: foodnetwork.com)
Cloud Eggs
Ingredients:
Nonstick cooking spray
4 large eggs
Kosher salt
4 slices buttered brioche toast, for serving
Recipe:
Preheat the oven to 350 degrees F. Line a baking sheet with parchment and coat with nonstick cooking spray.
Coat four small bowls with nonstick cooking spray. Separate the eggs and put the whites into a medium bowl and the yolks in the small bowls (one yolk per bowl). Add a large pinch of salt to the egg whites and beat with an electric mixer on low speed until stiff peaks form, two to three minutes.
Dollop four large spoonsful of the egg whites onto the prepared baking sheet and make a small well in the middle of each with the back of a spoon. Bake the whites until they are firm, no longer wet and just beginning to turn brown, about six minutes. Gently pour one yolk into the well of each white. Bake until the edges of the yolk just start to set while still being runny, three to four minutes. Season with salt.
Serve on top of buttered brioche toast.
(Recipe courtesy: foodnetwork.com)
Hearty Shiitake Mushroom and Miso Soup
Ingredients:
1 bunch scallions, sliced thin, white and green parts separated
One 1-inch piece fresh ginger, chopped
3 cloves garlic, chopped
2 tablespoons toasted sesame oil
8 cups water
Three 6-inch pieces dried kelp (kombu)
1/4 cup bonito flakes
3 ounces dried shiitake mushrooms
1/2 cup light miso
1 pound baby bok choy, cut in quarters
8 ounces firm tofu, cut into cubes
Recipe:
In a large soup pot over medium heat add the scallion white parts, ginger, garlic and sesame oil.
Cook for 1 minute and add 8 cups water.
Rinse the kombu and add it to the pot along with the bonito flakes. Bring it to a simmer and cook for 10 minutes - do not let it boil. Remove the kombu and set it aside.
Add the dried mushrooms and miso to the pot and let it simmer gently for 10 to 15 minutes, or until the mushrooms are hydrated and tender.
Add the bok choy and simmer until it is tender, about 10 minutes. Add the tofu and cook for another 5 minutes.
Ladle into bowls and garnish with the reserved green parts of scallions.
(Recipe courtesy: foodnetwork.com)
Eggplant Parmigiana Sandwich
Ingredients:
1 large firm eggplant
3 large eggs
Salt and freshly ground black pepper
4 cups Italian seasoned bread crumbs
1/2 cup olive oil, approximately
6 Italian style hoagie rolls, warmed in a preheated 350 degree F oven for 5 minutes before serving
1 cup part-skim Mozzarella, shredded
2 cups prepared marinara sauce, warm
Recipe:
Slice the eggplant crosswise about 1/4 to 3/8-inch thick - make slices as consistent as possible. If the base of the eggplant is very large, cut it in half lengthwise. Soak the sliced eggplant in a large bowl of warm, salted water for 1 to 2 hours. Make sure the eggplant is completely submerged in the salt water.
Scramble the 3 eggs with salt and pepper to make an egg wash. Remove eggplant slices from the salt bath, shake off excess moisture, and dip into egg wash. Then dip the eggplant slices, 1 at a time, into a flat plate filled with seasoned bread crumbs, covering all surfaces, and set aside. Continue breading the eggplant until all slices are done. Discard excess egg wash and bread crumbs.
In a large skillet over medium-high heat, add enough olive oil to lightly coat the bottom of the pan and allow it to heat up. (Add more oil as necessary during cooking.)
Add the breaded eggplant slices to the pan, cover and cook until you begin to see the eggplant become translucent, about 5 minutes. If it begins to burn, lower heat and allow it to cook slowly. Using a large spatula, turn eggplant onto the other side and cook 1 to 2 more minutes with the lid on until eggplant is completely tender.
When eggplant is completely cooked, remove from frying pan and place onto paper towels to blot any excess oil.
Place 2 or 3 eggplant slices onto warmed Italian roll, top with shredded mozzarella cheese, then warm marinara sauce.
(Recipe courtesy: foodnetwork.com)