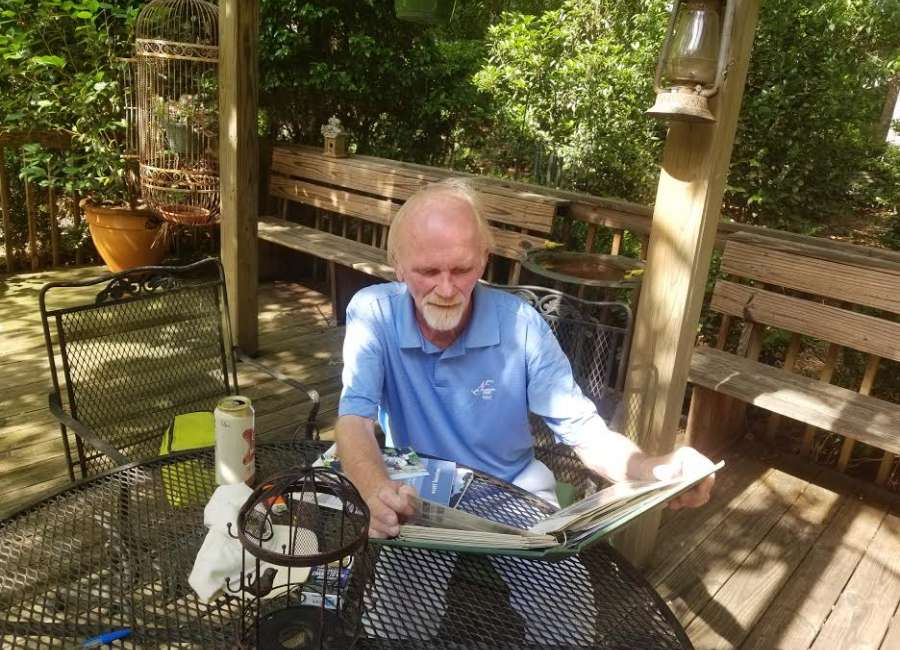 BY DOUG GORMAN 
Newnan resident Scott Houston has been a jack of all trades when it comes to how he has earned a paycheck over the years.
Sports stringer for the Boston Globe and sports information director at Keene State College in New Hampshire are just two of the ways he made a living.
The stringing job allowed Houston to cover the NBA's Celtics and the NHL's Bruins in the 1970s and vote for All-Americans as the SID of the small NCAA Division II and III college.
He can even add bartender to his diverse resume.
Without a doubt, however, his best career memories come from his days working as a caddy at famed Pebble Beach in California, the site of this year's U.S. Open, won earlier this month by Gary Woodland.
"When I interviewed at Pebble, the caddy master asked me if I had ever caddied before, I told him no, but it was just like bartending, same vantage just a different shot," Houston said. "He laughed and said you're hired."
Houston might have been an inexperienced caddy, but he wasn't unfamiliar with the layout of the famous course, once having shot an amazing 75 during an 18-hole round.
Another one of Houston's jobs along the way was working as vice president of property management.
However, starting in 1992  Houston was drawn to the job carrying golf bags for the rich and famous as well as every day players  who wanted to pay money to challenge the famous course.
For Houston, taking a job as a caddy at the picturesque golf club was a no brainer after working in the high-stress property management business.
One particular not so good day at work sealed the deal for Houston and changed the direction of his life.
"I returned from an afternoon meeting with my boss and my numbers were good, but his numbers coming back at me weren't good. I went back to my office, put on a little Miles Davis, started chipping my wiffle golf ball and I am looking out my window at Monterey Bay and asking myself what I wanted to do now. Sort of a reoccuring theme  in my life," Houston said.
In the end, it was an easy decision for Houston who had grown tired and frustrated with the corporate world.
"I love being outdoors, I love meeting people and I love golf. The light bulb went off and two days later I got the uniform and I was there for almost 11 years," Houston said.
His decision to become a caddy turned out to be a perfect fit and in 2002 he was awarded for his hard work by being inducted into the National Caddy Hall of Fame.
Houston has captured his life on the links in his books "Yarns from the pebble's caddie yard." and "Holeyland."
He also has an extensive collection of golfing keepsakes that he pulls out whenever he wants to walk down memory lane and remember his time caddying on the famous course.
At first, Houston admits he wasn't always welcomed by more experienced caddies who resented the fact that he hadn't paid his dues.
"I got a lot of stares and cold shoulders. Normally you have to work your way to Pebble Beach," he said. "I had to work my butt off to get approval in the world of caddying, and I worked my butt off."
Because of his work ethic, it didn't take long before he had the respect of his fellow caddies.
"I was starting to get some of their jobs and the director of golf was assigning me certain people," Houston said.
Houston carried bags for everyday golfers, CEO, politicians and celebrities such as Clint Eastwood and John Denver, but he  knew he had arrived when he was assigned to caddy for Arnold Palmer, maybe the most popular player to ever walk up a fairway or sink a putt.
Palmer, who died at the age of 87 in 2016, helped put the game on the map, often turning tournaments he played into must-watch television.
He was one of the first golfers to draw large galleries and his group of followers would go on to be known as "Arnie's Army."
Palmer won 95 events, including 62 on the PGA tour. His resume included  four victories at the Masters, one at the U.S. Open and two titles at the Brittish Open.
Even though Palmer was no longer playing competitively on tour when Houston began his association with the golfing legend in 1997, he was still active in promoting and playing the game, and without a doubt was still golf's greatest ambassador.
He also still needed a caddy and Houston won the job over about 200 other candidates the first time they met.  It was a relationship golfer and caddy shared fondly for the next six years.
It started at a tournament when Palmer and other famous players from the golf world were at Pebble Beach for a sponsor's event.
Houston remembers it was a who's from the world of golf.
"If you kidnapped this group, their net worth would be more than some countries," he said.
Pebble Beach's director of golf broke the news to Houston that he would be carrying Palmer's bag.
"He told me you are caddying for the king and you are on the tee," Houston remembered. "I got so nervous, my teeth started sweeting."
Palmer quickly put him at ease.
After shaking hands with several spectators who were lined up around the course as he exited the pro shop, Palmer walked up to Houston with a friendly greeting.
"Mr. Palmer extended his hand, and said 'Scott Houston, my name is Arnold Palmer and it's a pleasure to meet you.' That's why he was so great. I wasn't some idiot caddy, I was Scott Houston and that's how he treated people. He was really quite something."
Throughout the round, people who were playing the course came up just to meet and shake Palmer's hand.
"Here they were paying $400 bucks to play Pebble Beach but they wanted to meet him." Houston said.
In 1999, Palmer along with Peter Ueberoth, Richard Ferris and Clint Eastwood bought ownership into the course.
According to Houston, Palmer never took his fans for granted and never turned down an autograph request.
"He would sign anything," Houston said.  "I sat for hours after one of his rounds. He was an icon and he thought it was his responsibility to take care of these people who came out to see him."
Houston took his duties as Palmer's caddy seriously.
"It was more than just carrying his bags. When you are with him, you are more than a caddy," Houston said. "It was about crowd control and other things and it was a job I took on," Houston said. "I was selected from over 200 caddies and was with him for almost six years."
Houston says sometimes Palmer would seem surprised by all the admiration fans were still showing him.
"I would say, hey boss, they heard you were here," Houston said. "He really did have an army of fans."
There were times Houston would have to be prepared to caddy for Palmer on short notice.
"I would get a call and somebody would tell me Arnie is here," Houston said. "Once he bought the club, he was there pretty regularly."
Houston knew had earned his place as Palmer's regular caddy during a trip to Spyglass Golf Club and it all started over what hat to wear and what not hat to wear.
The king of golf put on a big floppy fishing hat before switching to a visor when he thought Houston disapproved of his first choice.
"I see him a couple of weeks later and we are on the first tee and word passes around that Arnie needs a hat. So he gets this big safari hat with a big brim and he comes walking down to me and says you don't like my hat. I asked him if we were going to talk chapeaus or play golf," Houston said.
After briefly talking about what club to use on Palmer's next shot, the golfing legend gave Houston a playful jab to the ribs and said "You don't like my hat."
It is one of Houston's most special moments with the golf champ.
He said you are looking after me Houston and I told him I can't have hm looking shabby. Then I get the shot to the ribs. That moment I knew I was his caddy," Houston said.
Another great  Arnold Palmer moments had to do with a divot that came from the famous 18th hole at Pebble Peach in 1999.
Houston kept the divot even replanting it.
The caddy and talented writer even penned about the divot for a story in "Sports Illustrated that Palmer later signed with his Best Wishes and Good Job.
When the divot finally died, it even had its own obituary that circulated around the wire services.
"It really took on a life of its own," Houston said.
.
Houston wouldn't trade his memories at  Pebble Beach and Arnold Palmer for anything.
"It produced two books and was a really special time," he said.